HELLO, IT'S NICE TO MEET YOU!
With us you can set yourself apart by creating unique building that blends function, form, flair and finish to deliver that special place you will never want to leave.
We design, build and install high-quality bespoke garden offices, summer houses, garden guest rooms and storage rooms. All our garden rooms are fully insulated, beautifully finished and offer our clients a great all-year-round space.
LOVE AND PASSION…
It all started with these two.
Ivana, with a Fashion Degree from the University of Florence, and Lukas, with an Architecture Degree from Wroclaw University of Science and Technology. They met in 2015, fell in love and after enjoying refurbishing their own garden space decided to start 'A Room in the Garden', immediately ditching the marketing company they ran before.
Although Lukas designs most of the garden buildings, Ivana often breaks his simple lines by adding a spark of Italian flair. Each day they put a lot of love and passion into each project they work on and they keep enhancing and changing the lives of many clients they work with.
WHAT MAKES US UNIQUE?
At the beginning we started with the idea to deliver unique, beautifully designed garden rooms that work perfectly with their surroundings.
As the company grew and we had more and more people working with us, we have noticed some core values emerging and each one of us working with them in mind. Almost subconsciously we put together a group of people whose core live and work ethics could be wrapped in those five words: care, passion, creativity, innovation and integrity.
Those values continue throughout everything we do, and we keep applying them to every interaction and relationship we build. Today our turnkey formula of 'function, form, flair and finish' using highest quality materials allow us to deliver unforgettable spaces.
THE GREATEST GARDEN ROOM IN THE WORLD
The greatest garden room in the world starts in your mind. You have the idea of what you and your family would like to have. After you find our website and fill in the form, the dream you have slowly becomes a reality. With a click of a button you started a machine that will deliver your outdoor space exactly the way you want it.
From this moment we work tirelessly to fulfill your desire. Although much of it is hidden and happens behind the scenes, we thought it would be nice for you to see how your garden room is being created from the very first moment you decided to send us your request.
A ROOM IN THE GARDEN STORY
It all started on a beautiful warm evening with a glass of wine and a very innocent joke, back in June 2017
And now here we are! That joke became a dream and the dream became reality. A few years down the line we still look at our story and find it amazing how one little thing can change so much.
So, my husband and I live in a lovely flat in Brighton and Hove, East Sussex. Although it's not very common for a first-floor flat, we have a decent sized garden. Unfortunately, for a long time we denied it care and attention. The grass grew ever higher, and the small shed that sat in the corner was so full of stuff that we gave up getting things out of it! The garden was unloved and rarely used.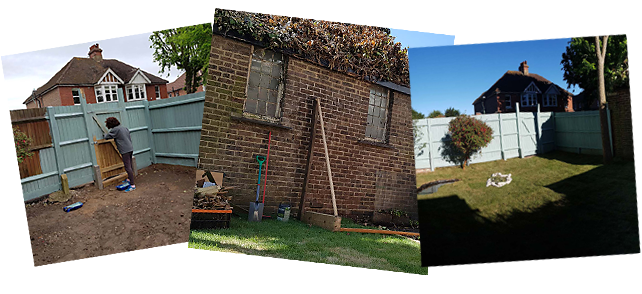 One day, we decided to go for it and started our 'grand garden design'.
After clearing the garden, which revealed its real size, we could see how much better we could use the available space. It was time to search for a new shed, the thing that would keep our new space practical and tidy.
We browsed the internet to see what was out there, but we couldn't really find what we were looking for. They were too small, too big. Not the right shape. If only it had the roof like this or the doors opened that way… None of them seemed to answer all our needs and wants.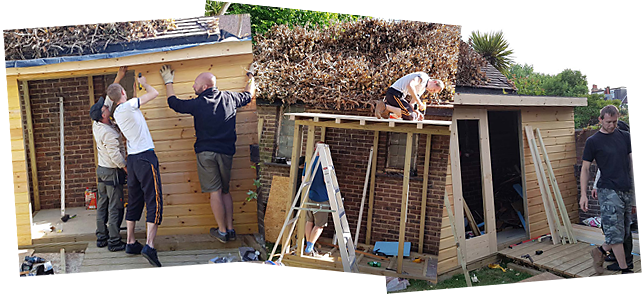 We decided to take the matter into our own hands and designed our perfect garden storage room
Lukas' Architecture studies and construction experience became very handy when it was time to jot down our ideas. My fashion degree and practicality meant I had a lot to add too.
We went through so many different scenarios. We changed the size, shape, location, materials… but eventually, we designed our own perfect storage room! Exactly what we needed, exactly how we wanted it. No compromise, it was our room in the garden.
And then it was time to build!
So we turned to a great team of builders who were refurbishing our flat at the time. We asked if they could build it and luckily they said yes. We got involved too and actually helped a lot.
We were blown away by the result which had been so much fun to design and complete. One evening, while sitting on our new decking, admiring this 'grand garden design', Lukas said, "We should quit everything and start a shed company – bespoke garden offices and summer houses. That sort of thing."
A few seconds of silence followed, then we looked each other. Something just felt right about it. I said "Yes. I think we should!"
A Room in the Garden was born and today here we are.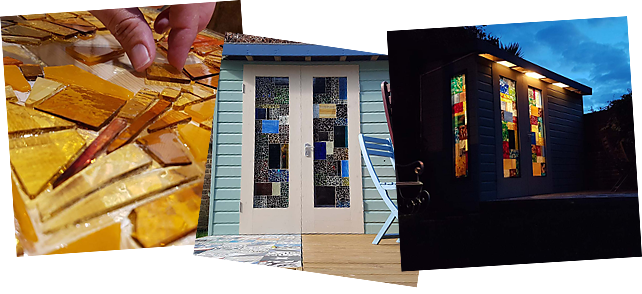 TODAY…
A Room in the Garden changed and grew a lot from the moment we started. From husband and wife plus two builders it turned into a few people working full time, and several builders working to complete all of the projects.
From our office on a high street in Hove we keep overseeing the operation of building amazing garden rooms for clients all over the country. With orders from Cornwall, Peak District and all over South East we make countless miles and deliver smiles to many families each year.
In a short space of time we have become known for bespoke, very unique structures, which not many companies can deliver. Top it all up with unrivalled quality of finish and customer service, and it is not surprising why we are one of '10 Companies to Know When Creating A Garden Room' in the UK.
WHY CHOOSE US
We can try convince you as much as we want, but instead of that take a look at some of our testimonial videos we've recorder with our amazing clients. You can see what we have done for them, what they thing about their new garden rooms and their experience of working with A Room in the Garden.
WHAT IS HAPPENING RIGHT NOW?
Below you can see latest updates from our Instagram, where we show how A Room in the Garden life looks like from behind the scenes. Follow us on Instagram for more updates.