Garden room: 20 great architecture ideas to be inspired by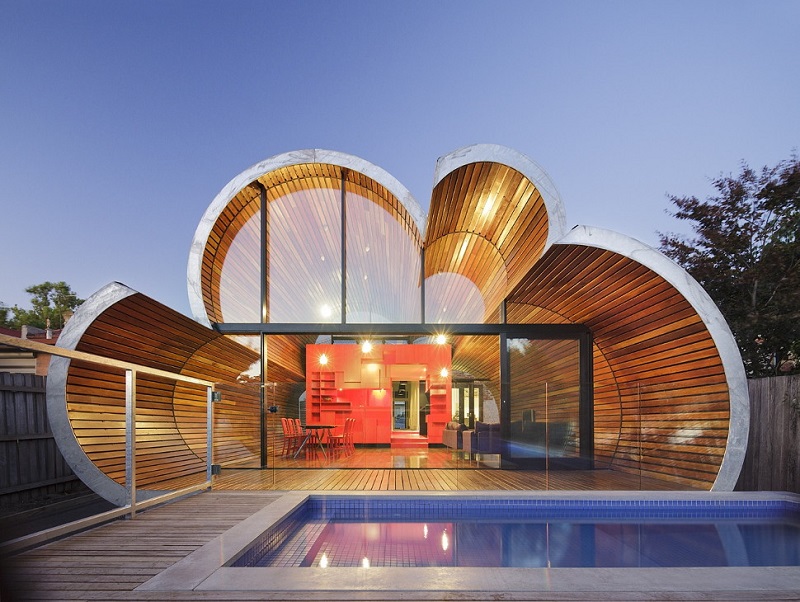 Imagination. It's a tricky old thing, isn't it? Sometimes it can put a thought in our heads that we just can't shake out, and we're pretty sure is impossible. Like when you're designing your new garden room, been a garden office or summer house. You know what you really would like, but you're annoyingly constrained because of things like floors being flat and walls being straight.
Here at A Room in the Garden, we've taken a look around the world and come up with a whole heap of buildings that might have seemed impossible right up to the moment they weren't. From super minimalistic to mad extravaganza, there's something there for everyone! Take a look, and be inspired!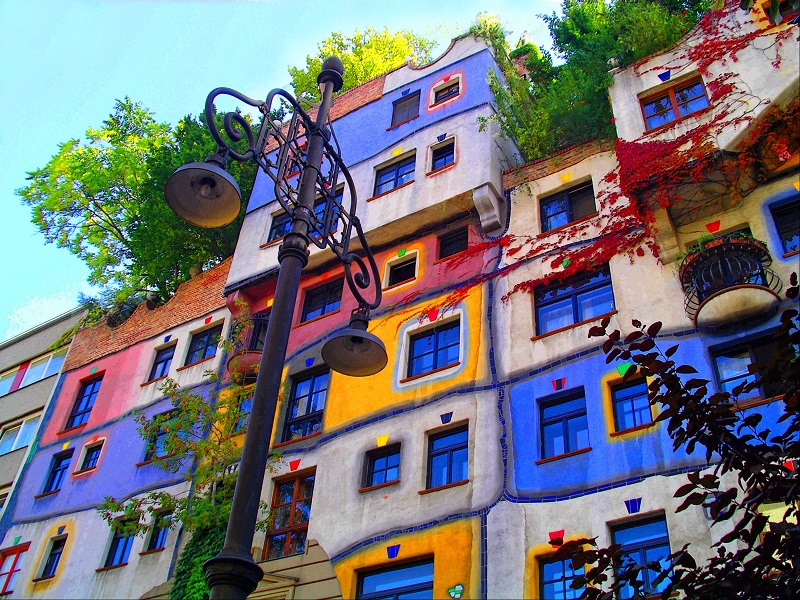 Hundertwasser house is just pure joy in building form. The strong, contrasting colours and the wobbly lines makes it look like it's just popped out of a child's drawing! Artist Friedensreich Hundertwasser in collaboration with the architects Josef Krawina and Peter Pelikan created this building, and we think it's a perfect idea to integrate into your child's playhouse. You could even ask them to draw it themselves!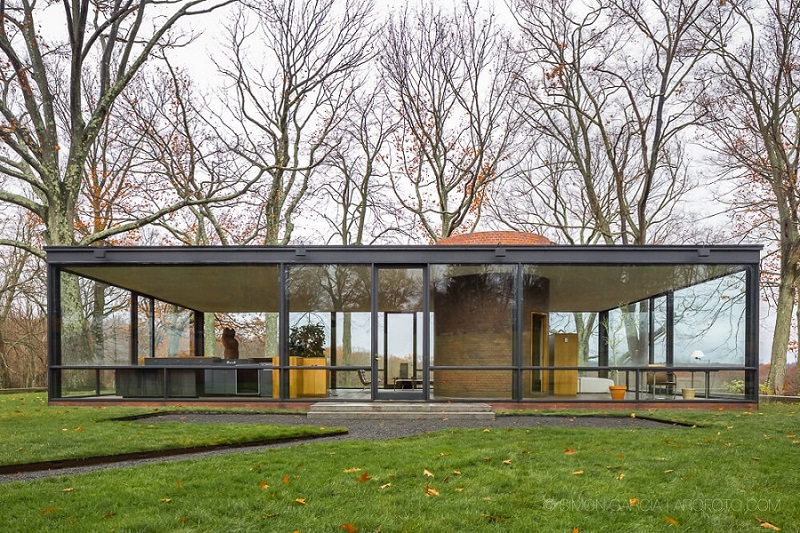 The Glass House was built in 1949 by architect Philip Johnson in a 49-acre pastoral landscape. We love it. The glass all around makes the inside and outside come together as one, so you feel that you're working as part of the natural landscape. That's great for productivity and creativity, and is a great idea for a garden office.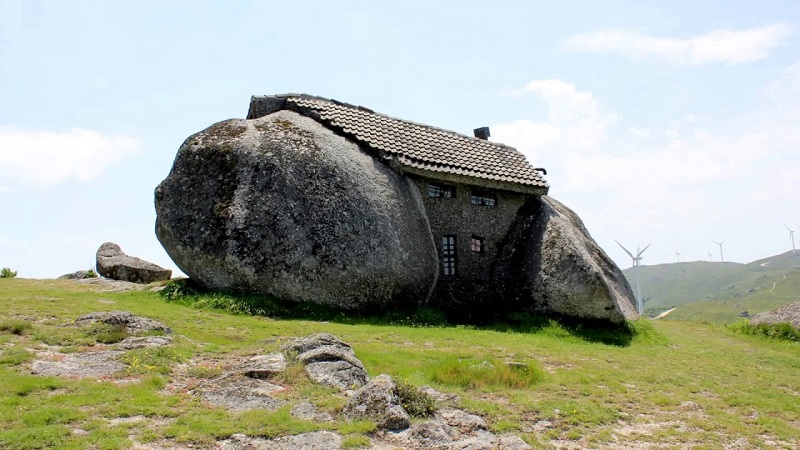 The Casa do Penedo, or 'Stone House', was built between 1972 and 1974 by a Portuguese engineer as holiday home. It's actually built between four large boulders which have been integrated into the house's foundation. Built almost entirely from stone, inside and out, it's another example of seeing how humans and nature can work so perfectly together, to the extent that it's hard to see where one ends and the other begins. If you want to see it close up, you're not alone; so many tourists go to visit so that it's now a small museum. It's a lovely thought, isn't it? Using something that is already a part of your landscape as an integral part of your new garden room.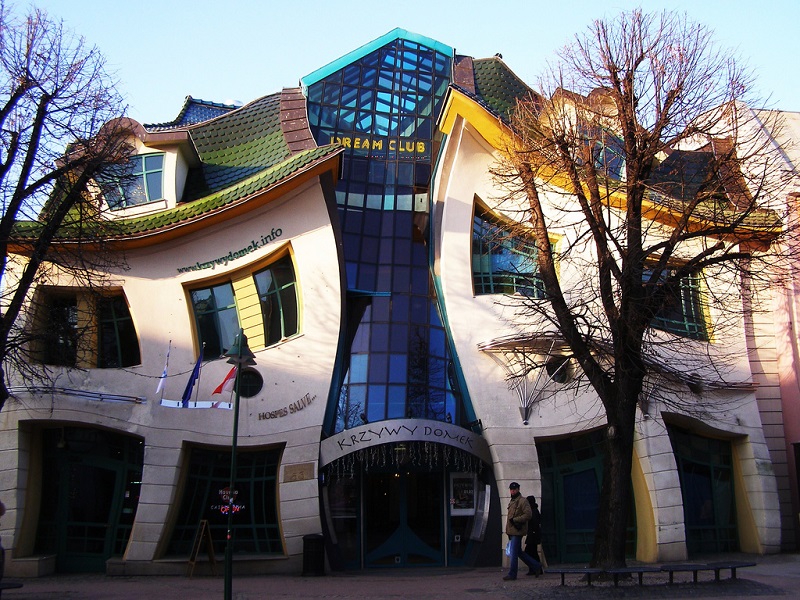 Krzywy Domek is rightly considered one of the most unusual buildings in the world. It was built between 2001 and 2004 by architects Mr and Mrs Szotynski, using Jan Marcin Szancer's drawings for inspiration. Wobbly walls, stretched windows, uneven roof… something like this would make a wonderful kid's playhouse… or a garden bar!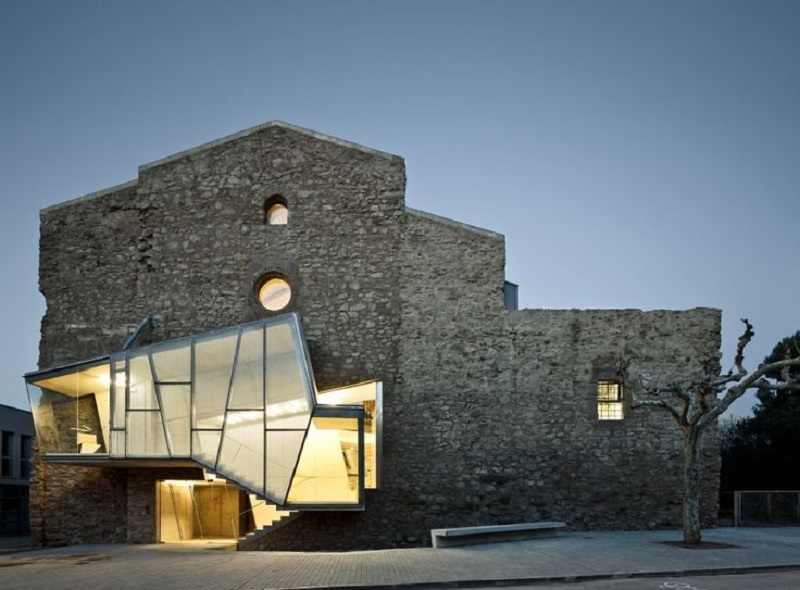 As conversions of old buildings go, this one is particularly special. It was originally an old church, but is now an auditorium designed by the architect David Closes. The harmonious coexistence of old and modern materials creates a firm look to the past with a romantic look to the future. If you have an old, dilapidated out-building, you could bring it to life again using it as a backdrop for a very elegant summer house or garden office.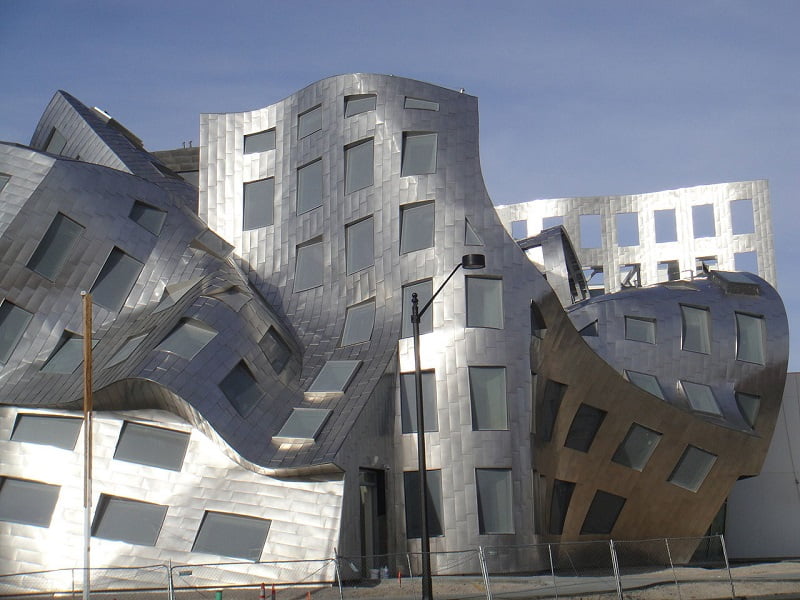 Lo Ruvo was commissioned by the entrepreneur Larry Ruvo, and designed by the architect Frank Gehry for use as an Alzheimer Research Centre. We love the metal clad skin and the complex use of curves and lines. This building is on a grand scale, but could you imagine the look on your teenager's face if you were to show them something like this for their new garden room!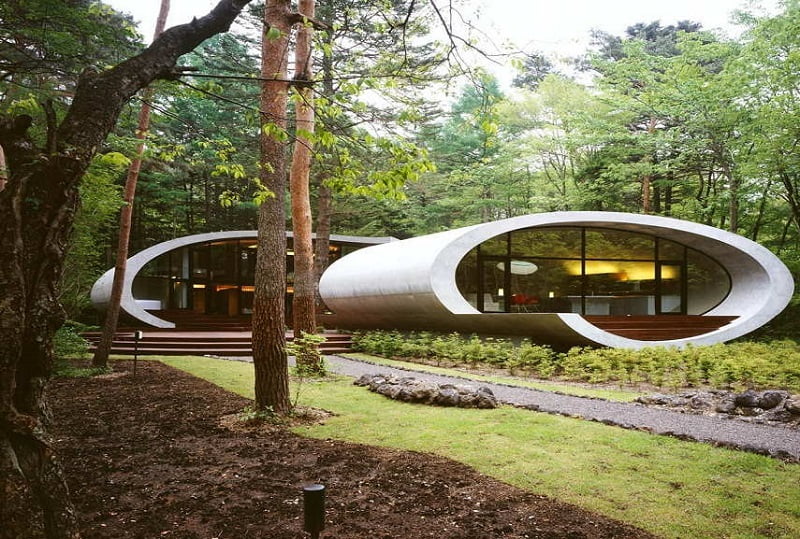 This one is one from ARTechnic architects. Their mission was to create a building that could withstand time and the harsh, cold, humid weather of the Japanese region where the building is set. Does that sound familiar? Using a shell shape made from concrete will protect your summer house from the damaged caused by the elements and humidity, which will greatly extend its lifetime. This sort of shape is clean and modern, yet it has a solid base in the natural world.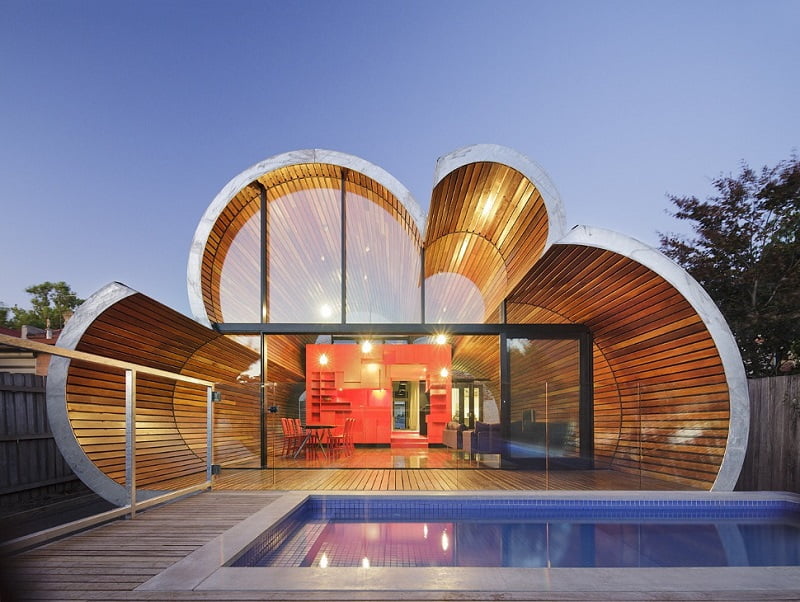 This is rather wonderful. Again, it's inspired by nature; a beautiful, fluffy cloud letting you reach right up into the sky! The contrasting use of straight lines throughout the inside of the building which merge with the outside area makes you feel as though you're drawn into it. This one is a house extension by the Australian architecture firm McBride Charles Ryan. I guess we need to rethink the idea of a house extension here in the UK!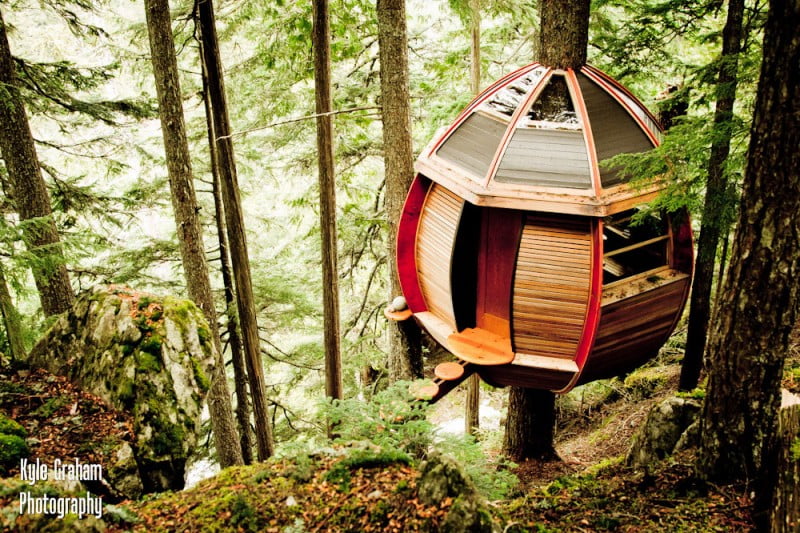 This one sits like an egg in a tree. It was imagined and built by Joel Allen, a former software designer turned carpenter, so don't feel that you have to be born as an architect to turn your imagination to something rare and different. A big tree can take up quite a lot of space in a garden, and it's tempting to get rid of it just for the light. You can actually make it a feature of your new garden room, using what's already there to increase the use of your space.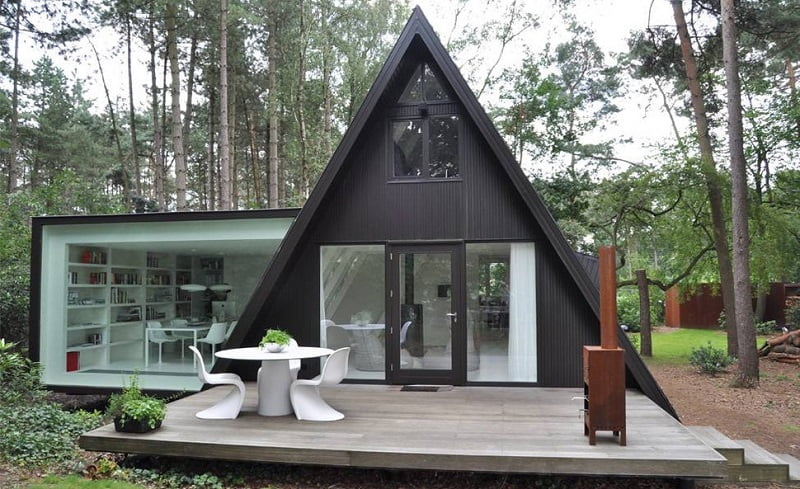 Originally built as a summer cabin, this building was then transformed into a permanent house by dmvA Architecten. The classic and sturdy A-shaped design has been used for centuries as a base for buildings. On a smaller scale, this would bring a very funky look to a playhouse, and I guess we can all see the slide that your children will use! Then the glass surface gives the building a really dramatic and spacious feel. This is something that can easily be adapted to even a small summer house, and then you can claim it as your own for use as a garden office.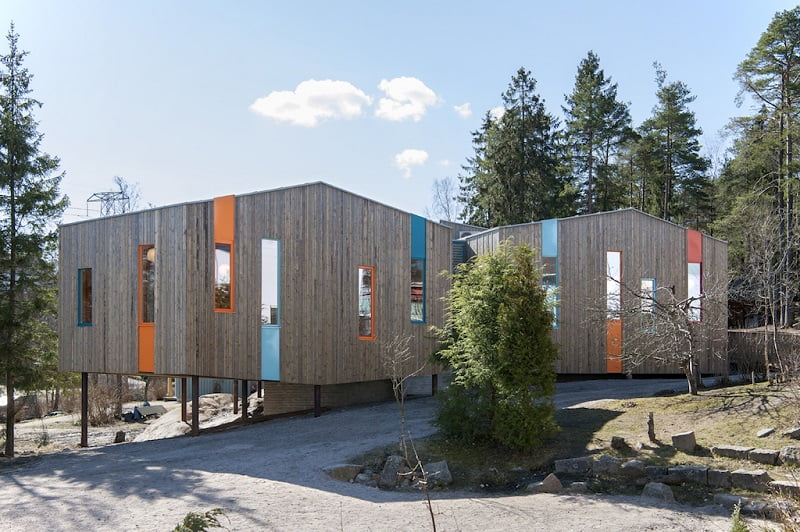 This new addition to Waldford school was designed by LINK Arkitektur in 2016, and it's easy to see how the pupils would draw more inspiration and creativity from it than they might from a more standard cube of brick. The use of silver-grey Kebony wood as cladding is intercut with bright windows, and this comes together to give the impression of the sun through the trees in the surrounding forest. From the practical side, raising your summer house on stilts like this will reduce the damage to the building as well as the impact on the environment, and it's worth knowing that Kebony wood is a great, sustainable alternative to hardwood if you want a natural, wood look to your garden room.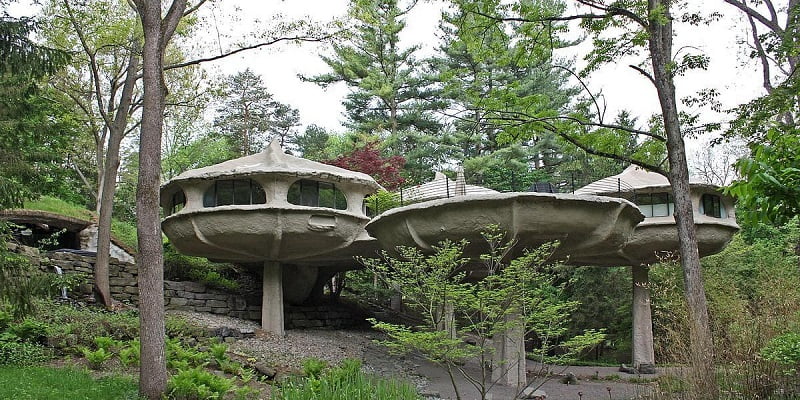 James H. Johnson built this house in 1971 and said he was inspired by 'a stem of Queen Anne's lace in a Coke bottle'. Unsurprisingly, due to its characteristic shape, it's known as the mushroom house. What we really like here is the fun you can have with shapes. It might be true that your imagination sees something that someone else might see differently, but isn't that what art is really about? The key thing is to create something from your heart that you know you will love.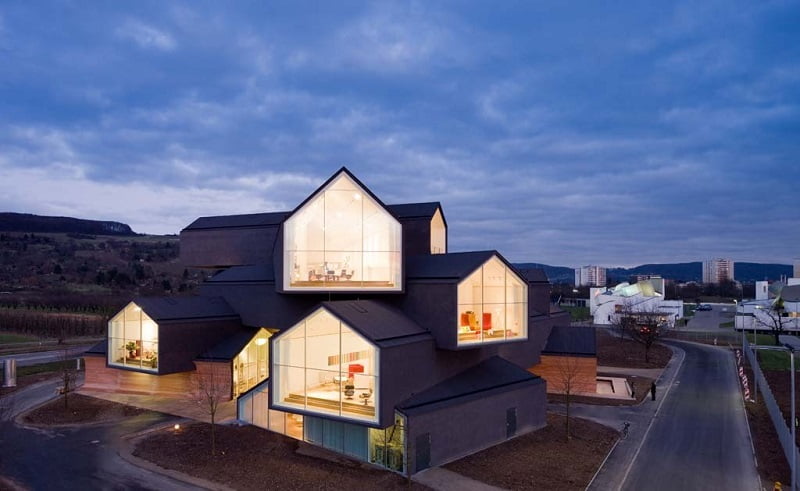 Swiss furniture manufacturer Vitra commissioned the architects Herzog and de Meuron for the construction of their showroom in Germany. What we like about this is that the house motif has been reduced to its very basic form, which brings a softer simplicity to what is in fact a very industrial design. With plenty of light allowed in through those full-wall windows, it would make a perfect garden office.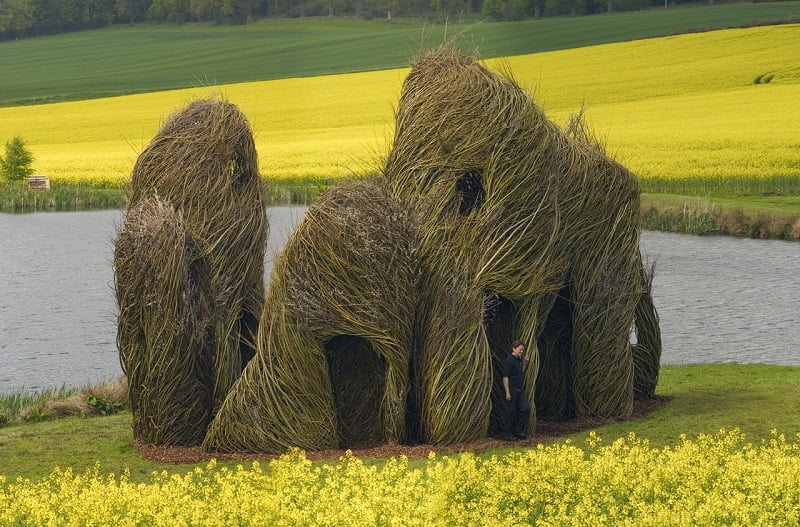 Close Ties is one of the many creations of North Caroline artist Patrick Dougherty. Patrick combines his carpentry skills with his love of nature and passion for primitive techniques of building. The woven walls and the undefined shape will make a very unusual summer house. Or a very magical playhouse!
Photo Fin McCrea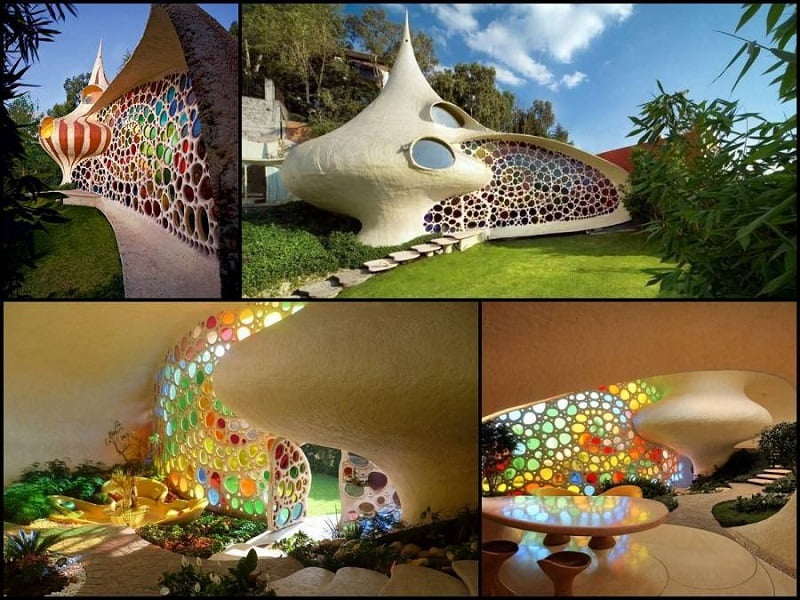 The effect created here by the colourful glass wall swirling about the building is just wonderful. It's actually quite hard to tell the outside from the inside! You can see the inspiration from the work of Gaudi and Frank Lloyd Wright in Javier Senosian's building. This sort of stained glass is something I really love working with in garden rooms. It is a very nice touch for a meditation room.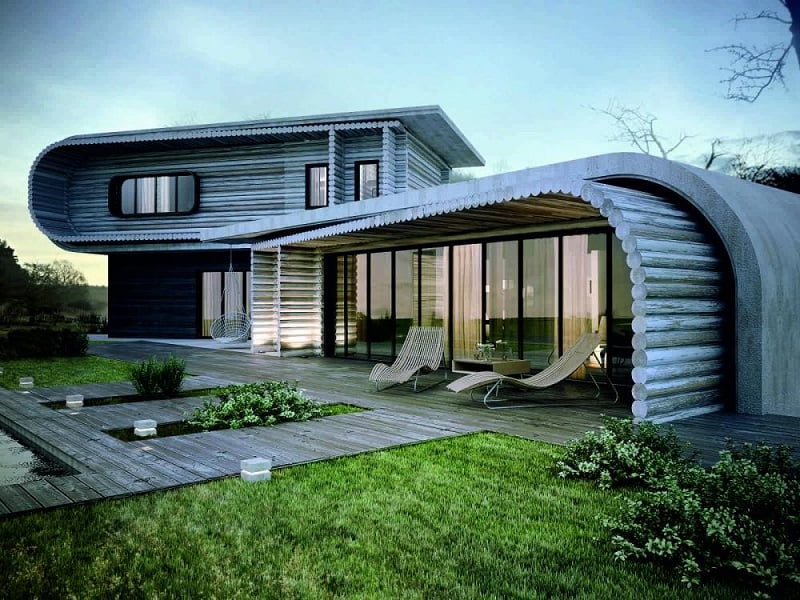 This is a fresh look at a traditional log house design by the Ukrainian architecture firm Ko+Ko. Wood and concrete combine to create something both innovative and ancient, and the look is beautiful but functional. A fantastic addition to any garden. There is also the really great idea of using the logs and raised section to create a lovely veranda for your garden room for those lovely summer days.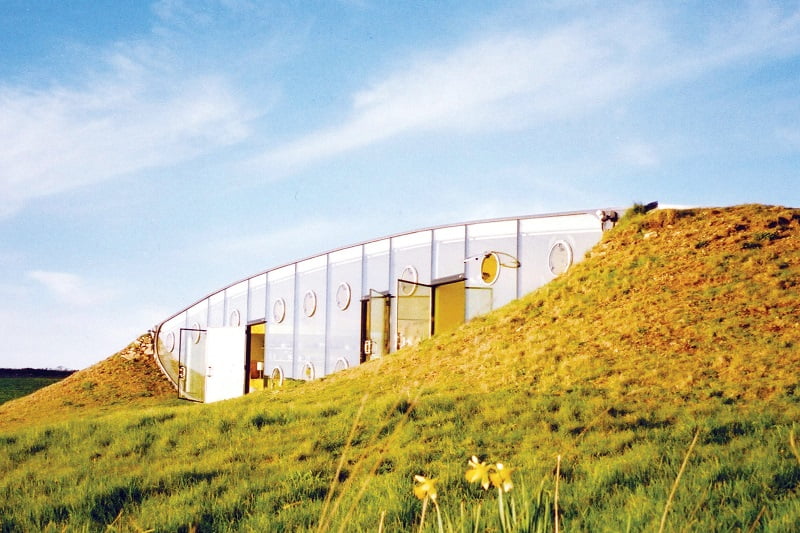 This one is really great if you have an uphill garden! The earth house with the glass front becomes an integral part of the landscape around it. Portholes are a really nice way to add an original touch to your teenager's garden room without going crazy. It was built in 1998 by architects Future Systems.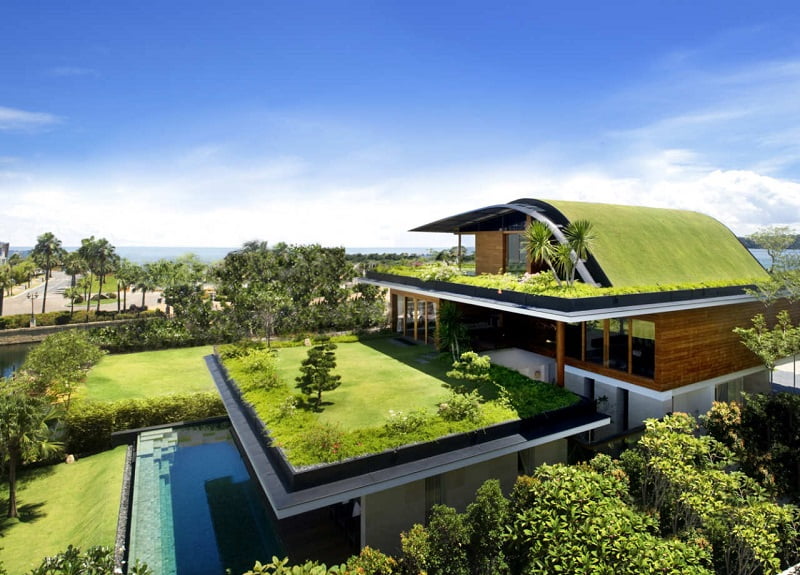 You can see where it takes its name from! And it's a very clear example of how you can have a summer house or garden office without having less garden. You just need to relocate it a bit. This was designed by Guz Architects, but having a green roof to your outside building is widely used. It helps with insulation and can let nature reinstate itself a bit. Alongside the greenery, the curved lines make this house really connected to the geography around it. It really is worth looking around with an artistic eye to see what shapes and styles fit in with where you are.

Niki de Saint Phalle designed a whole esoteric sculpture garden based on Tarot Cards, and we really love this bold-coloured, crazy-shaped playhouse. The great thing about the garden is that Niki started it in the late seventies and was still working on it when she passed away in 2002. It is a marvellous example of how a space can continue expand and change. Children do that annoying thing called growing, so the Wendy House you made for your 2-year-old doesn't work as a playhouse for your 5-year-old, or a hang-out space for your pre-teen. Like Niki's house, a design can be adapted, changed, and added to, and all the while you and your children are creating something utterly personal for your family.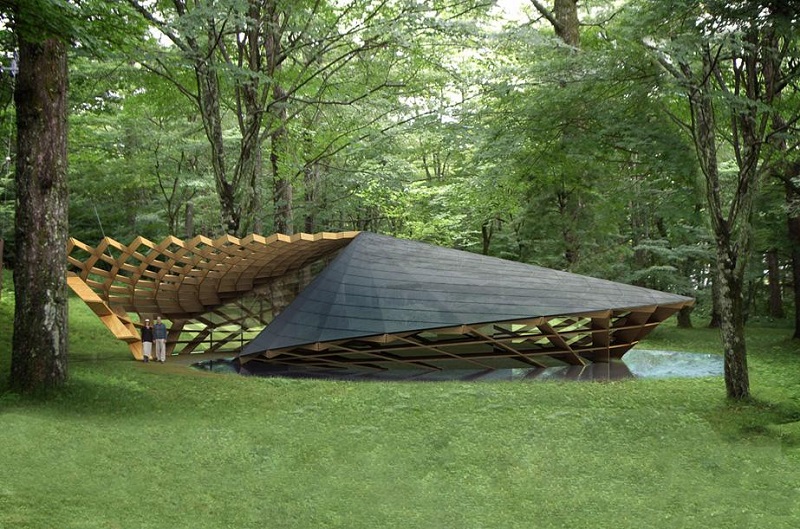 The meeting place for the town of Rikuzentakata was created as a gift by various organisations in Italy. The town was completely destroyed by the tsunami that hit Japan in March 2011, and they recognised that people needed a calm, quiet place, just to be together. The shape was inspired by a lotus flower floating serenely on the water. It's a good reminder that sometimes in life, everyone needs a calm place to just be themselves.
So you see, there is no limit to imagination. And when it is paired with skills and knowledge anything is possible. If you need a little help to put all your ideas onto paper, just give us a call. We love talking design!
For more inspiration read our article 20 great summer houses ideas to inspire you
Get A Quote
You are just seconds away from your new room in the garden. Send us your project requirements and we will be in touch shortly to discuss your quote. If you want we could even book a Free Site Survey, during which we will visit you in your garden to discuss your ideas. 
A Room in the Garden Ltd | Bespoke Garden Rooms