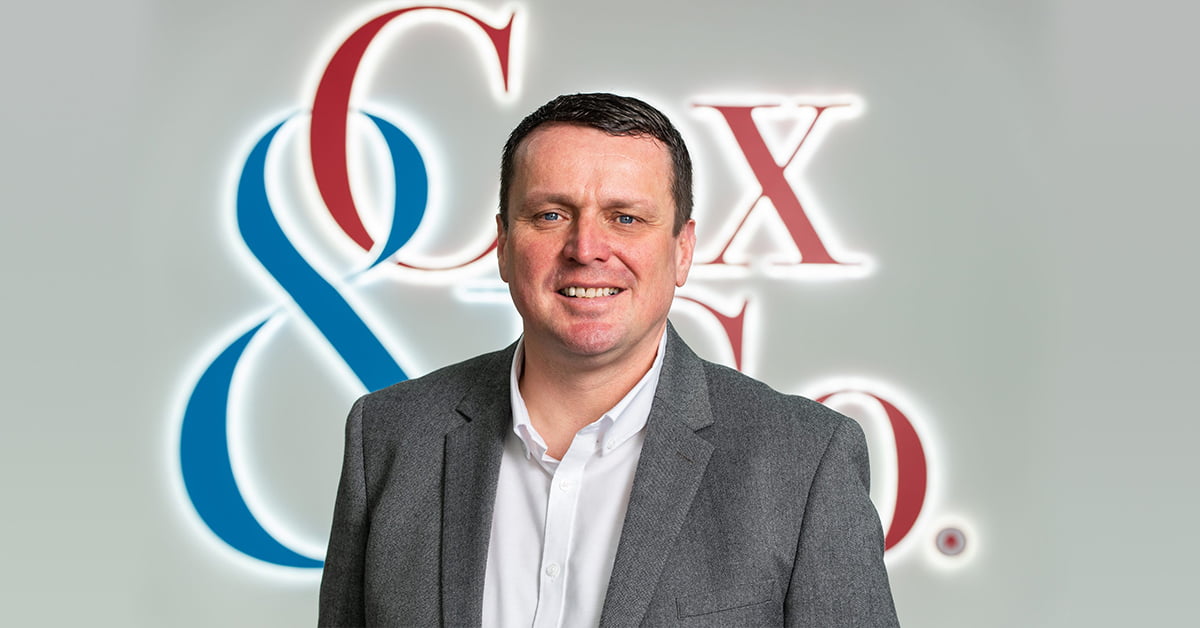 We talk to Marc Cox, a property expert, on just how much value a garden room could add to your property and whether it is a cost or an investment.
When you own a garden room, you open up many new possibilities. A Room in the Garden can build a lifetime of escapism before your very eyes. And with that said, we know that buying a bespoke garden room is money well spent.
But is what you spend a cost or an investment? You'll, of course, be investing in years worth of luxury and convenience. But will a garden room add to the value of a property when listing your home on the market?
We asked this question to a sales and lettings expert quite a few years ago (which you can read about here). But with everything that has happened since then, we believe that the answer would be different now.
To help us re-answer this question, we turn to Marc Cox, the managing director of the independent estate agents, Cox & Co. We were able to get some expert advice from Marc during our friendly chat.
Here's How it Started
Thank you very much, Marc, for your time. First things first, could you tell us a bit about yourself and Cox & Co?
No worries. So it's me, my friend Russel, and my father, and we opened last year.
That all sounds brilliant!
Well, you say brilliant, but it wasn't great timing. We opened in February and closed in March.
Oh yeah, of course! But even after the pandemic, you're still standing strong, it seems.
Exactly! So we're still quite a new company, but I've been an agent for 30-odd years. Russel's been an agent for 15, and dad has been a surveyor, so we have a world of experience between us all.
Fantastic! From what we've read, you've indeed had a lot of experience in the world of properties. You've worked with Fox & Sons, GA Property, and obviously, there was becoming a partner at Mishon Mackay.
You've done your homework! Russel's been at Oakleys, and he's been at Fox & Sons as well. So between us, we've got quite a bit of experience. And despite being a new company, we're doing okay.
It's nice to see that you're taking this professional yet independent approach as well. We think that's something the market needs at the moment.
Yeah, I'm trying to get Russel out of a shirt, which is going okay. He doesn't wear a tie anymore, so we're making progress. But anyway, we're not your shirt and tie, cheap suit, spiky hair kind of estate agents. We want to be a bit more personal and bring more honesty, integrity, and hard work. That's our ethos.
That's amazing to hear! So if you're ready, we'll crack on with some questions.
Fire away!
How Might a Garden Room Affect the Price of a Property?
Having a garden room is like, in some respects, doing an extension on your house.
An extension costs roughly 20 to 40 grand. But it doesn't mean that it adds 20 to 40 thousand pounds to the home straight away.
But what it does do, is make the property more saleable. And you could argue the more saleable something is, the more valuable it is.
Yeah, of course.
We sold a property recently on St. Andrews Road in Portslade. It came on for 600,000 pounds. It had a garden room, and it had side access, which was unusual seen as most houses on that road are terraced.
But that house got 625,000 when the asking price was 600,000 because the person who bought it wanted a garden room to use for a home office.
So there is a definite value that it adds, and it all depends on the size and whether it's in good condition.
Funnily enough, I valued a house on Norway Street, and the homeowner had a garden office, which I think you guys built for her about two years ago.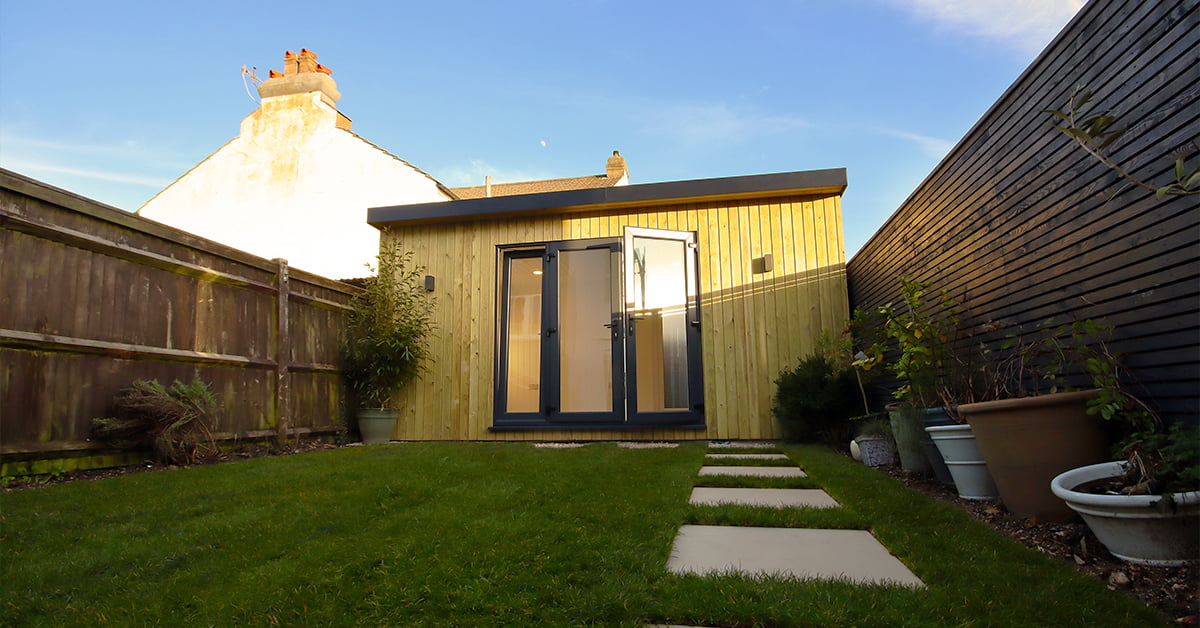 (A garden room we had built on Norway Street, in the same property that Cox & Co recently valued)
Ah yes! We know who you mean.
She has side access to that garden room, and she rents it out. She has a guy who comes and pays her 450 pounds a month. He runs a security firm from there, and it's just him and one other person. Because it's got side access, they come and go as they please, and she lets them get on with it.
So a garden room does add value; it adds saleability. But as for pinpointing this value, I'm sure you can spend 20,000 pounds on a home office. If you want to, you could spend 50,000. How far do you want to go with it? How big is it? Can you access it without going through the house? There are so many variables.
So we suppose there's an element of adding value in terms of appeal instead of just money.
That's what we mean when we say saleability. If you have two identical properties, one has a garden office, and one doesn't, the one with the garden office will sell first and probably sell for more.
How Much do You Think the Value of a Garden Room Has Changed in Recent Years?
I wouldn't even say recent years; I think it's changed drastically in the last year. The housing market came back on the 14th of May last year. That's when we reopened as well.
There was a huge appetite for people wanting a garden. The people who lived in flats wanted out. Because of that, there were lots of rooms on the market last year.
I was talking to a colleague from Mishon Mackay earlier today who works in the Kemptown office. He says that he's got many flats on at the moment that aren't selling.
We find that unless they have a garden, flats aren't selling as well. Because everyone now wants an outside space, or somewhere they can work from home. So properties that have that extra space are in massive demand.
And another thing we're seeing is a great deal of demand from people in London. Brighton has always been "London by the sea", and it's massively taken off this last year since COVID. People want to get out of London, come down here, and have that lifestyle change. You've got parks, beaches, open-air, good schools and that bohemian feel.
We would agree that it's probably a better time than ever to come down and live in the Brighton area.
So yes, things have certainly changed. There's much more demand now for a garden room in the Brighton area. So with you guys, doing what you're doing and now having that high-street presence will be a good thing. I think you'll see a great deal of demand in the future.
How Would You Compare Owning a Garden Room to Renting Out a Separate Space?
(Our client in Warninglid enjoys working from home in their bespoke office, built by us)
For me, I think the key is the value a garden room brings to the property. If you're adding a garden room to your home, it's going to add a certain amount of both value and saleability.
I think, from people that I've dealt with, who are going to get a garden room or have got one, it gives you that level of escapism without leaving your home. If you're working in a garden room and have kids, for example, you can still leave the kids in the house. So it helps with childcare too.
And, in an emergency, your home is just a stone's throw away.
Exactly! So I think that's very important.
What Kind of Garden Room Functions are in High Demand at the Moment?
Well, I think any garden room has got to have internet, lighting, and heating; I don't think running water is such a big thing. I'm assuming that your garden rooms are also well-insulated.
Yes, that's correct. We build our garden rooms for all-year-round use. So to have that insulation, heating, and air conditioning is all very important.
Air conditioning is, of course, a huge plus. But how much do you need it living in England, realistically? You can quite happily have fresh air coming in instead. So for me, the insulation, heating, and lots of windows have more appeal.
Would There Be Much Difference Between Selling and Letting a Property With a Garden Room?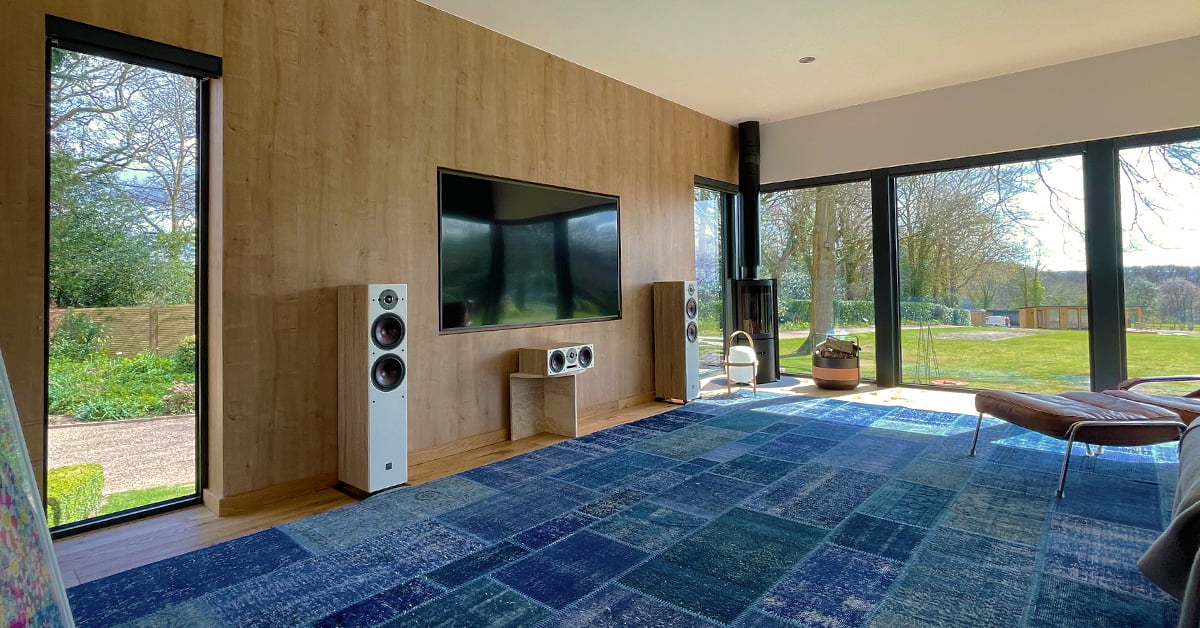 (Marc says that a garden room is like an extension. But for our client in Warninglid, we've built both)
As it stands, I don't do lettings here; it is something we'll do at some point, and we'll bring someone else in to do. But I think letting a property with a garden room would very much be similar to selling one.
If a property's got a garden room, it will let, or sell, much faster and probably for a bit more than if it hasn't. So having one adds value in either respect. It's not at all like you're spending 20,000 pounds and just kissing it goodbye.
One-hundred percent true! If you want to invest in a garden room, it's certainly possible to make a profit.
And of course, you can get so much use out of it as well. When anyone is spending money on a property and know that it's increasing the value, it's almost like having the garden room for free in the long run. So whether you're selling or letting your home, a garden room can give it the power to sell or let quicker.
Are There Any Other Things to Consider, When Buying a Property With a Garden Room?
If a property had a garden room, I would like to know how old the garden room is. Was it built by a professional? And is it more than just a glorified shed? I have seen that, where people have just tried to turn a shed into a home office.
A garden room is different to a shed in many ways.
Yeah, I agree. Sheds are okay, but they smell musty, and they get spiders in, which I hate. If you try to make that extra space, you have to do it properly. That's indeed a huge factor; getting a good one done.
We agree; it needs to at least look like a garden room, not a shed.
Having good lighting outside at night helps as well. And, of course, good internet; things like that are also essential.
What Do You Need to Consider if You're Selling?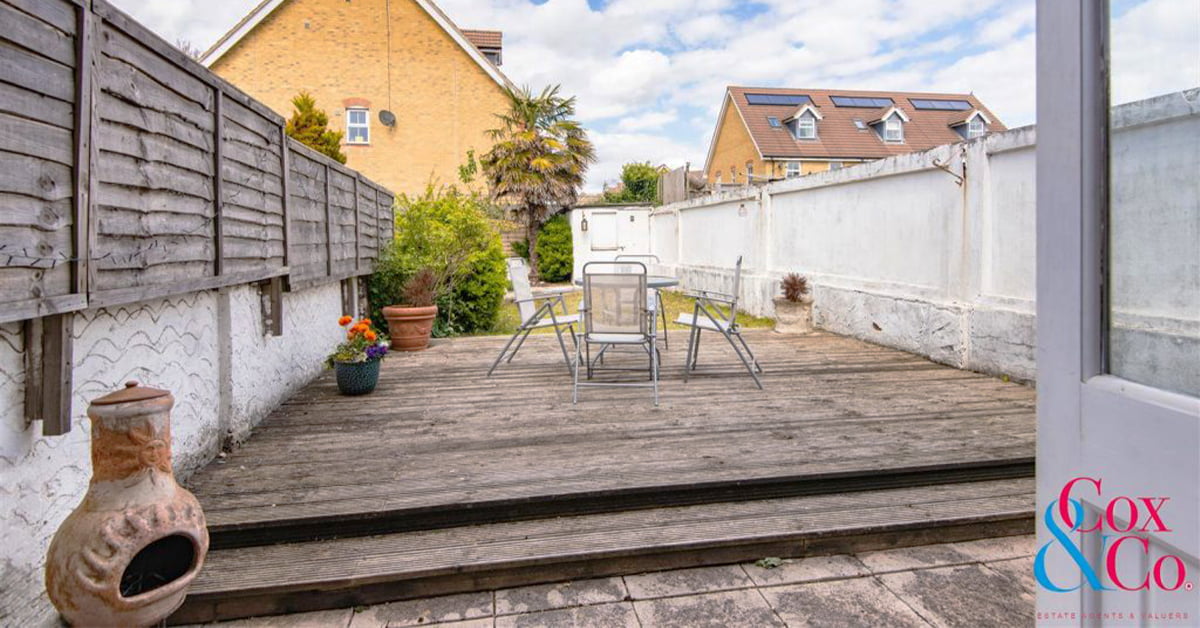 (The property that Cox & Co had recently sold on St Andrews Road, which comes with a small garden room)
I'll use the one we just sold as an example. It was a garden room, but the homeowner was storing bikes in there. So we said to her that, on the open day, make sure it looks like another functioning room; dress it.
If you're selling a property with a garden room, it has to look like a garden room; you don't want it to be a shed. So with that garden room, we made sure it was all cleared of bikes, took photos, and incorporated it into the floorplan.
And that's another thing too; you'll want to have your garden room be part of the floorplan. Because, if you're looking on Rightmove, for example, one of the most viewed photos is the floorplan.
So make sure that the floorplan incorporates the garden room and that on an opening day, you present it as a garden room.
That's everything from us. But thank you so much, Marc. It's been a pleasure to get such professional advice. All of this has been incredibly helpful.
No worries.
We always want to be as genuine and as transparent as possible with our clients. And we want to give them the correct information. With that said, we are incredibly thankful for Marc Cox's expert advice and the time he freed up for us.
We hope that this article has given you some inspiration to have a garden room of your own. Whether it's for investment or personal pleasure, get in touch with us today and bring your dream garden room to life.