Garden rooms or summer houses are becoming more and more popular. In addition to being an easy and cost effective way to add space to your home (with a few rules to be respected, but generally no planning permission is required) they often represent a good investment for homeowners. But for an investment to work well, you want to make sure that what you're getting will serve you for a long time without any problems.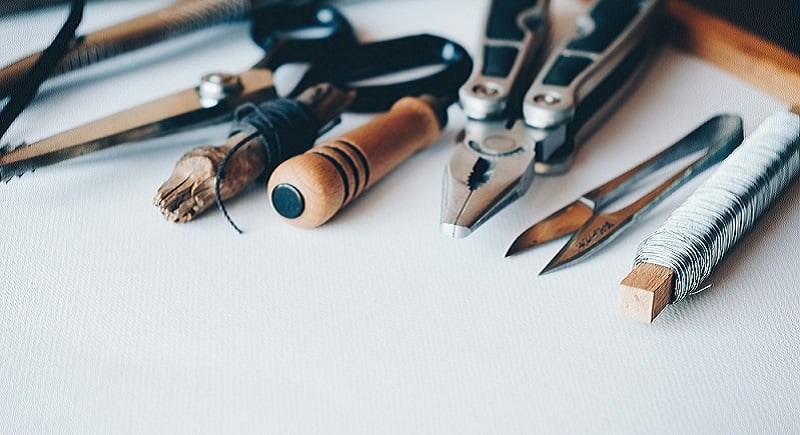 Many of our clients – especially those who are more technically orientated – like to know how we build garden rooms, and what materials we'll use, before spending their money with us. This knowledge often allows them to confirm their choice.
Foundations
Every garden building requires stable and reliable foundations. In our case, we mostly use ground screws. These are about 1 metre in length and are screwed right into the ground. This provides a perfectly levelled foundation, even in the most uneven garden.
The advantages of using the screw system are:
– You get a lasting garden building: the mounting plate is around 5cm higher than the ground allowing ventilation below the floor level, therefore protecting your garden room from humidity.
– There's no damage to grass, tarmac or paving: only the small area where the screw is to sit will be disturbed.
– It will save time: the screw will be installed in just a few hours and we can start building straight away
– There's no damage to the surrounding area: it will be clean and tidy with no mess or mud.
– It saves money: it's a smart and efficient way to build foundations.
– They can be installed all year round with no delay for rain or snow.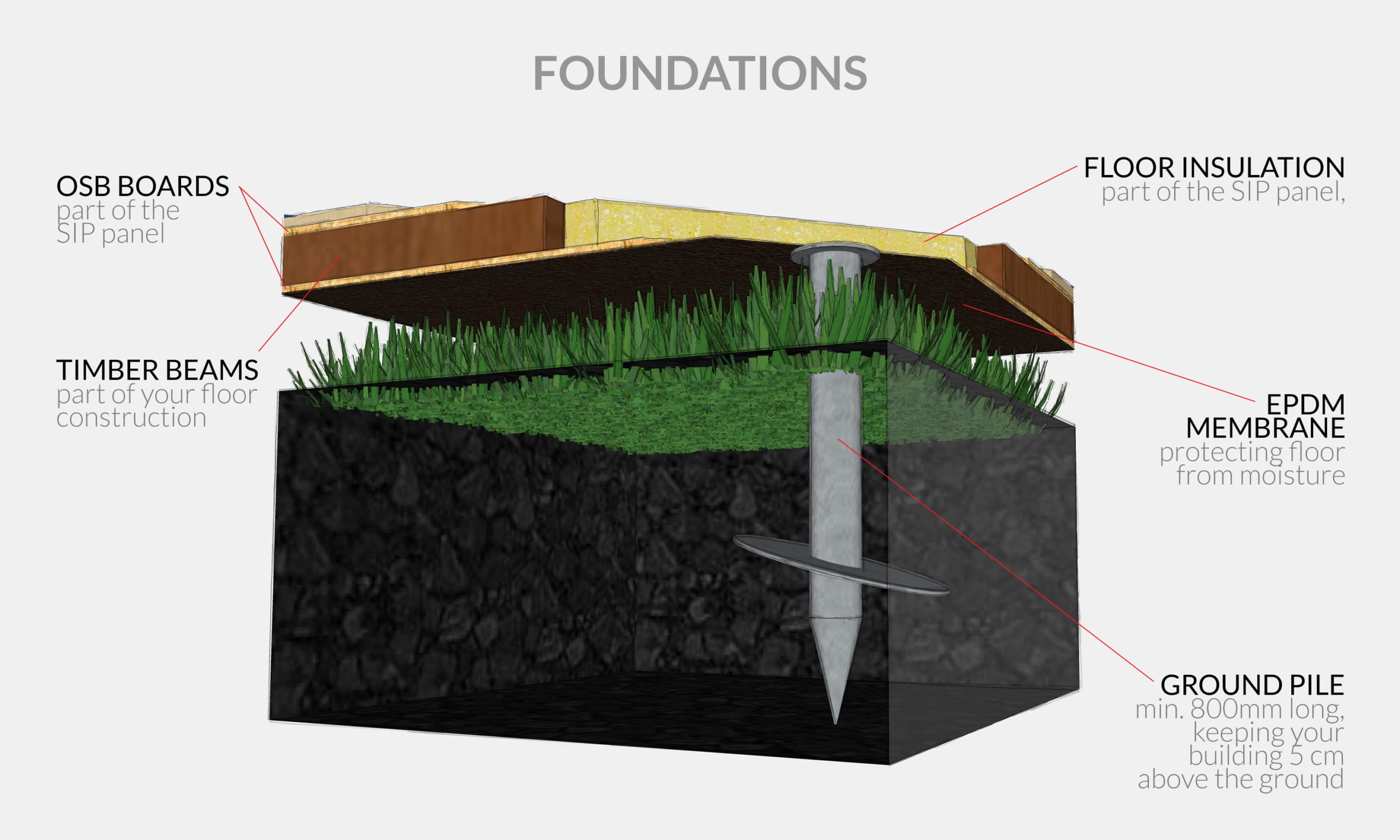 Main construction
To build the main frame of your garden building, we use SIP construction boards (Structural Insulated Panel). They provide amazing insulation, are sturdy and long-lasting, and allow us to build quicker than a traditional timber framework. The main walls and roof are often ready within the first 2 days of the build.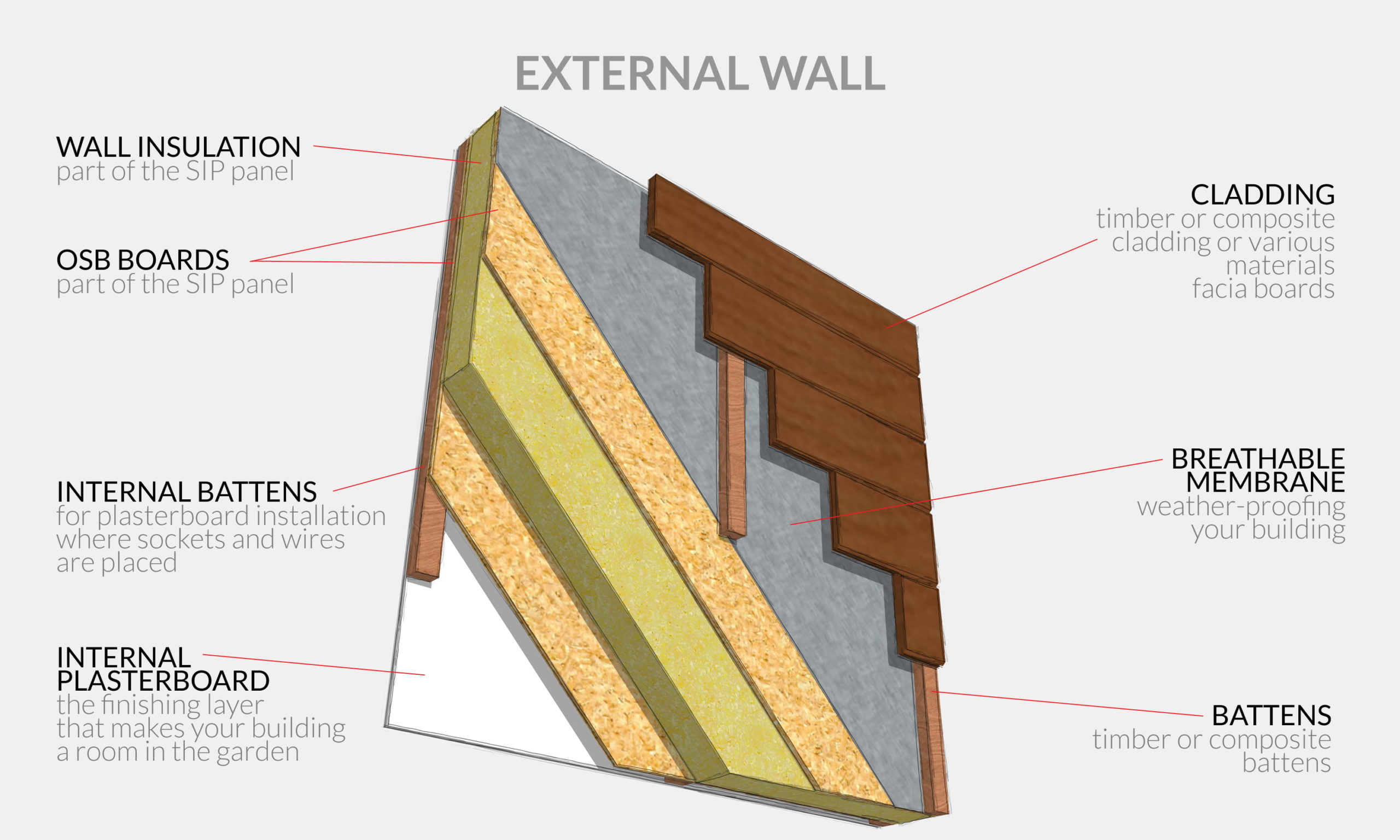 SIP panels come in various thicknesses. As standard, we use 100mm boards, which will provide 78mm of insulation. No other product on the market gives such great insulation value at this thickness. This makes your building larger inside, warmer in winter, and cooler in summer.
The floor, walls and roof are all constructed using SIP boards, effectively creating a thermos. We want to be sure that your room in the garden conserves as much energy as possible, so you won't need to use much heating, even when you're working in the middle of winter.
Floor
Your garden building floor is also constructed from SIP panels, which provide very sturdy support for desks and chairs. Again, it's all fully insulated to make a much warmer room.
On top of the SIP panels, we put floor underlay, and on the top of this, we install the floor panels. Our standard designs come with Luxury Vinyl Panels. They have a very nice wood-like finish, but because they are made entirely from plastic, they will not absorb moisture like MDF boards, so you get a perfect floor for years to come.
But the possibilities are endless, and depending on the use of your new garden room, you may prefer engineered wood, ceramic tiles, a hard-wearing metal floor or rubber (perfect for a home gym).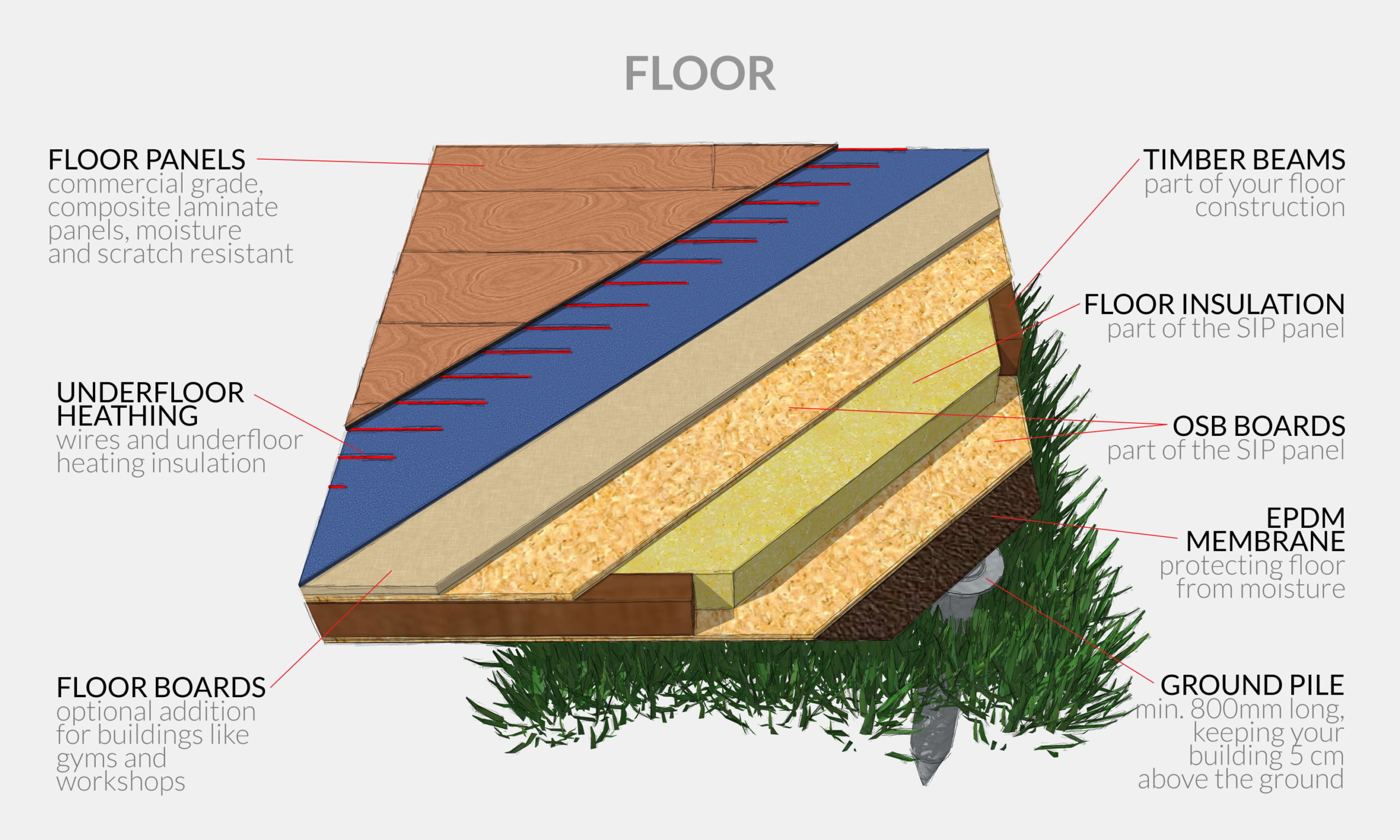 Internal walls and ceiling
Each of our buildings is finished with moisture resistant plasterboard, smoothed and painted, which creates a perfect finish; just as you would expect from a wall in your home. We spend a lot of time making sure that your building is utterly perfect for you. In the long term, it's definitely worth getting this part done right.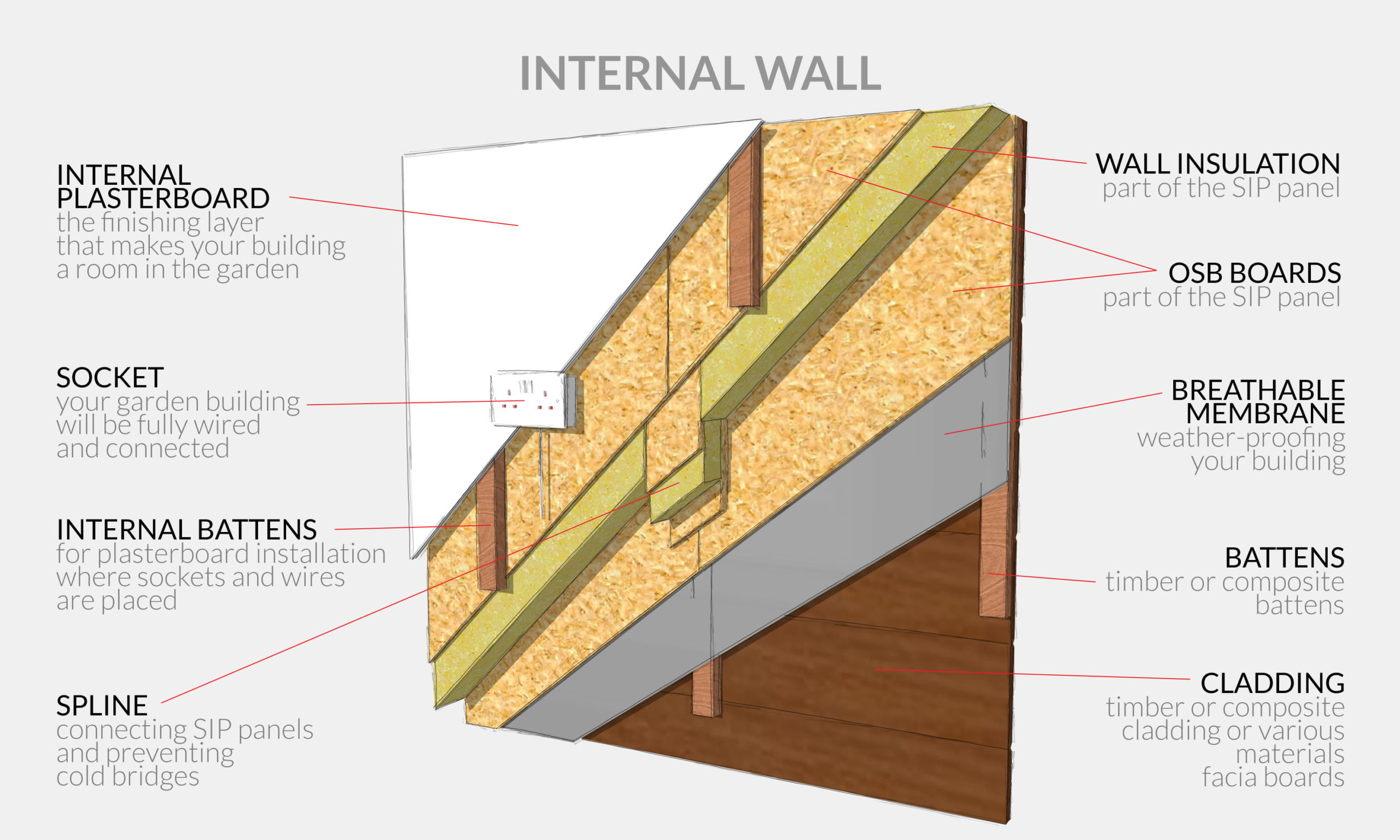 Roof
The roof will be made using 150 mm thick SIP panels covered with a EPDM RubberCover. This offers superior quality and gives a durable membrane, which offers 50 years' of life expectancy. This type of solution also allows you to choose an optional green roof if you would like to.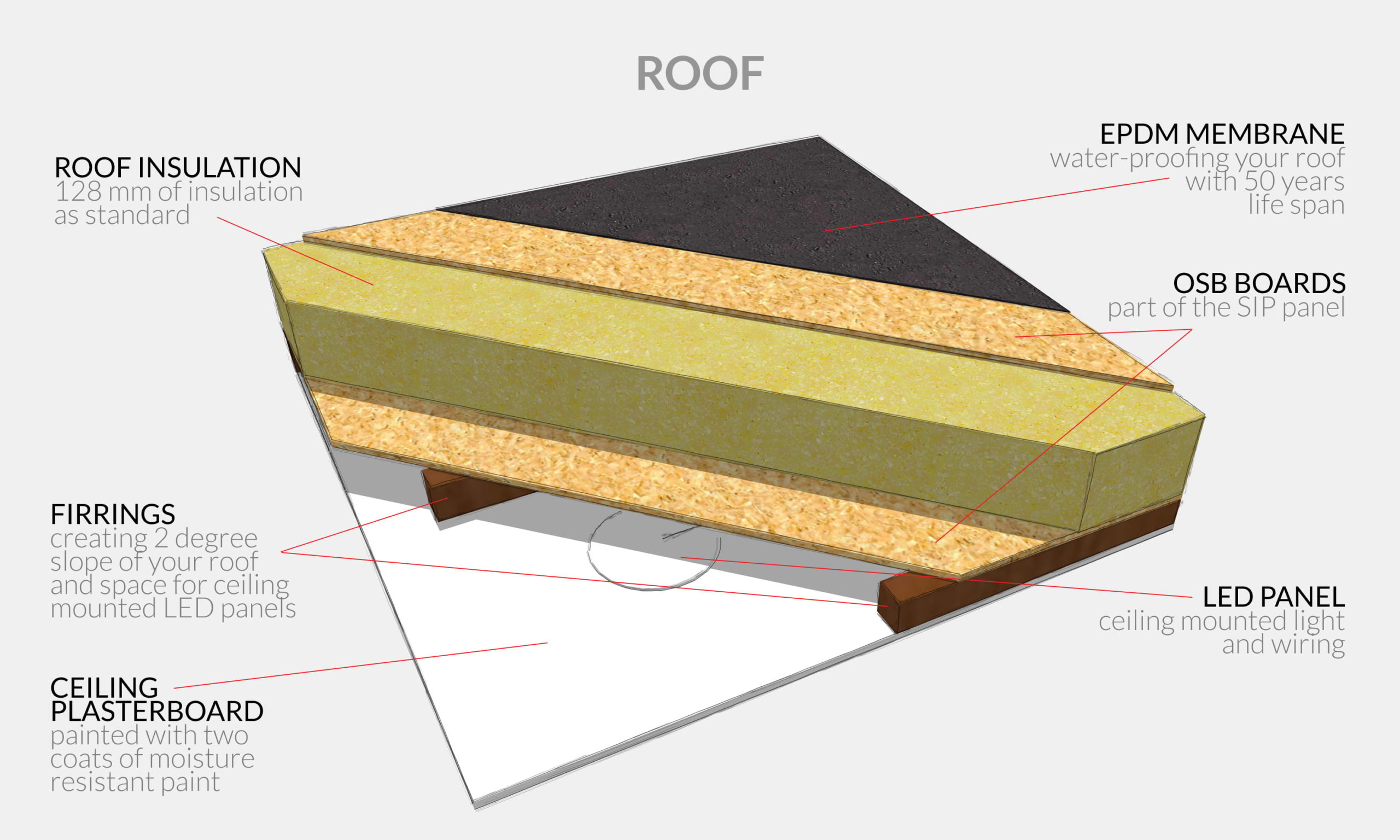 Lights, sockets and internet
All our garden rooms come with lights and electric sockets, complete with USB ports, which are installed by our certified electricians. The number of them depends on your needs, and if you would like to change them to chrome plated, just let us know. Depending on the size of your building, we will make sure you have plenty of light and several sockets. We position them based on your needs.
To make sure you have an internet connection we will also run an internet cable to your building, alongside the electric cable. This will insure you have good connection even far from home.
External finish
Depending on the model, or your imagination, we use various external finishes, from traditional British redwood cladding, to special facia boards such as cement particles panels.
Before any type of external finish is applied, your entire building will be wrapped in a breathable membrane, which will protect the main construction, and add additional wind and water protection.
Windows and doors
All our doors and windows provide you with great insulation and ease of use. Depending on the model you choose or your preferences, we install uPVC, aluminium or wooden doors and windows. They are all certified, and are exactly the same as those installed in all modern buildings.