When we think about a garden office, we often have an image of an amazing building, perhaps more luxurious even than a house. We are sure it's likely to cost a fortune. It doesn't have to be like that. It might be that you have the skills, materials, finances, tools and time to make your own office from scratch, but that sort of expertise is rare and if you don't have it, you can easily end up making an expensive mess.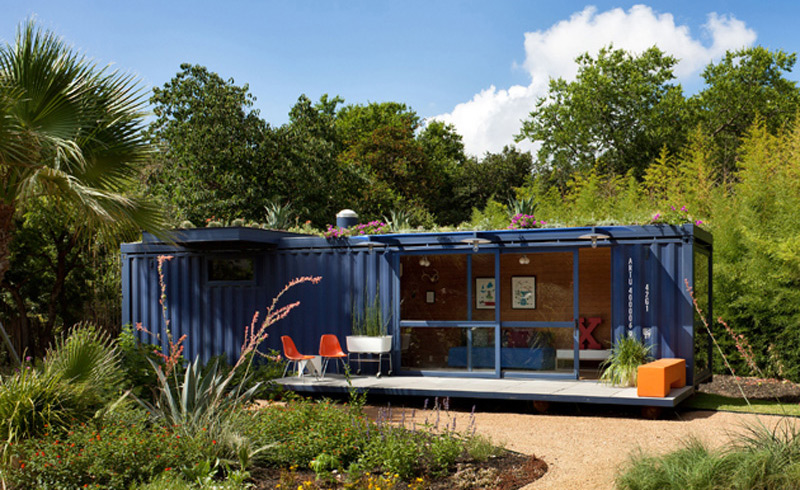 So, this article is aimed at those of you who need a little help with your builds. Depending on your budget, you can choose what suits you best from a number of possible solutions.
We have collected different options that can cover most budgets, and we've added a few ideas to help you get the best out of them. Do note that the retailers listed aren't a recommendation from A Room in the Garden. This is just what our research brought up when we were thinking about these office types, and we wanted to give you a rough idea of suppliers and prices. We recommend you to do your own research and read review before buying any online shed. We promise you, we do not make money from promotions!
Thinking about your new garden building?
Garden office, summerhouse or spare bedroom?
Let us inspire you by the gallery of buildings we have built so far.
1. Cheap, off-the shelf sheds – from £600
These are available online or in any builders' merchants. You can put it together yourself to make an extra saving or for an additional fee (between £80 and £180) you can have it installed for you.
To build a shed is more challenging than assembling your typical flat-pack furniture and is usually a two-person job. When ordering online don't forget to get the Shed Base Kit (around £100).
Be aware that cheap shed are usually made from very thin wood and the treatment used is not usually of the best quality, so we recommend you treat your shed with a preserver. To seal the wood even further, you can vanish it (for a natural look) or cover it with a good quality paint. You should do all of this prior to assembly – it's worth taking the time to make sure that every bit of the shed is fully preserved. If you want your shed to last, treat the wood with the preserver every 2/3 years. Don't wait for the wood to show signs of deterioration.
To convert a shed in an office, you'll need to insulate it from the inside. Cellotex, mineral wool or Styrofoam are all good options – we particularly like the latter one, which comes in a bright blue colour, but you can easily paint over it if it's not to your taste. It might not be quite as warm and cosy as a purpose-built building, but it will certainly keep you from the worst of the weather.
Make sure your building is secure, and that any electric supply is safe. You might prefer to bring valuables inside overnight.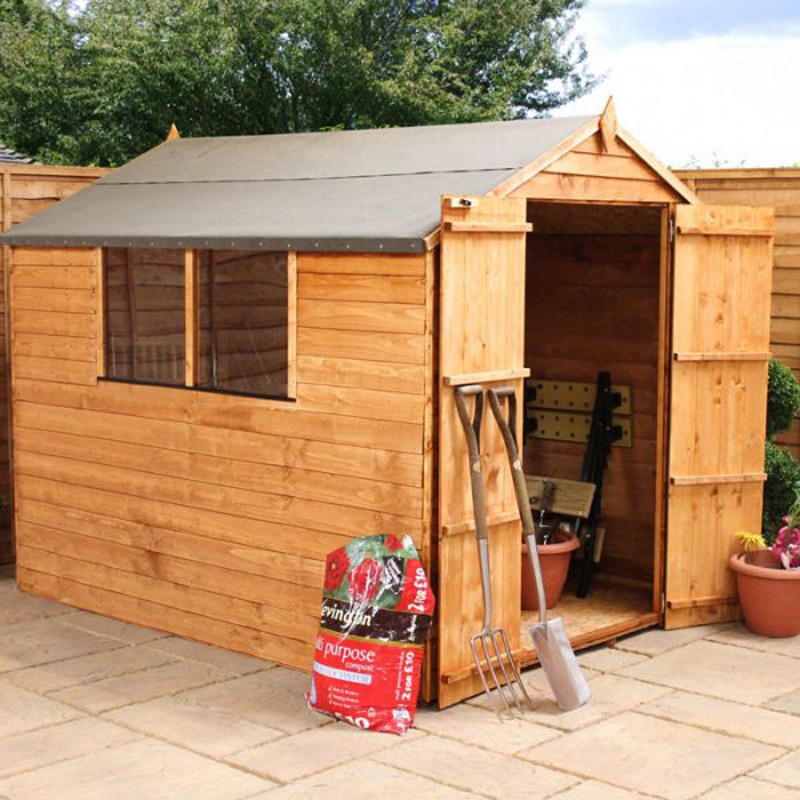 Image from www.sheds.co.uk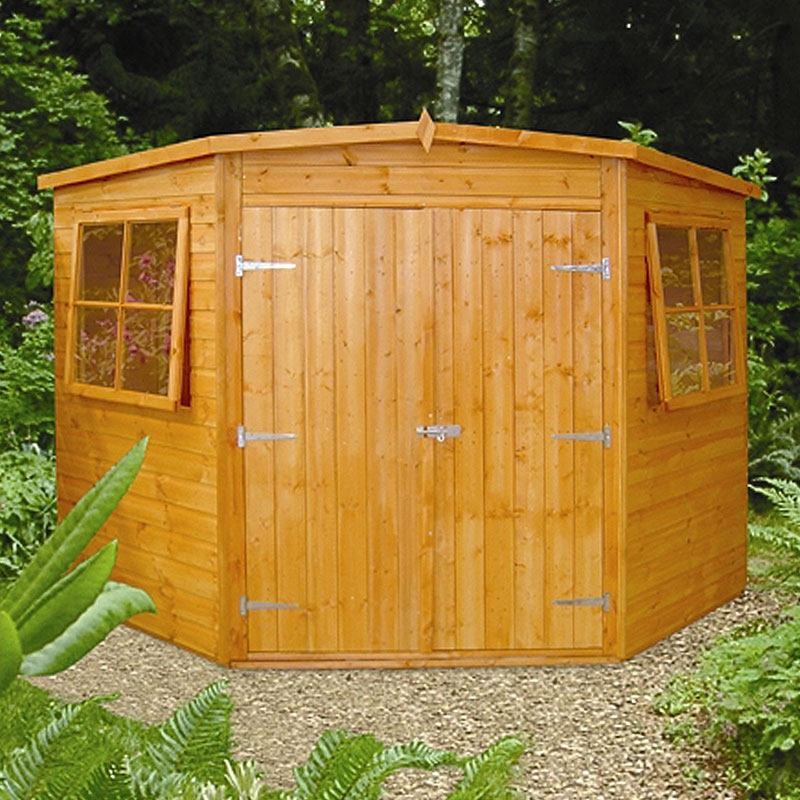 Image from www.buyshedsdirect.co.uk
2. Better construction, but still off the shelf – from £1600
These are available online, but you are also able to see show-models in most garden centres. The difference in quality to the first option is clear. In general, the material is more solid, the cladding thickness is increased, and you're more likely to have real glass windows.
Be aware that the price usually refers to the basic option which is rarely the one in the photo or at the showroom, so make sure you know exactly what you're buying!
Most of them don't come with insulation, so you will need to put this in yourself. It's not a particularly hard job with the right materials. Once again Cellotex, mineral wool or Styrofoam are all good options.
We still advise preserving the wood with paint or varnish if this has not already been done by the supplier.
Although it will increase the cost by around £800, we'd strongly recommend that you use the manufacturers certified builders to assemble your building. You might find that any warranty relies on this, and an expert will make sure it is perfectly fit for purpose.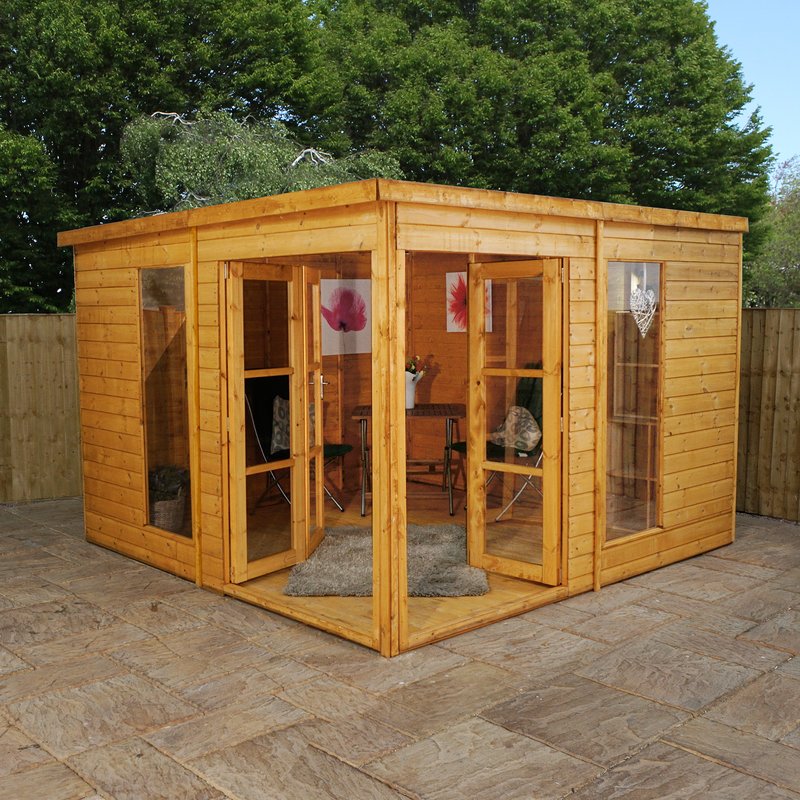 Image from www.wayfair.co.uk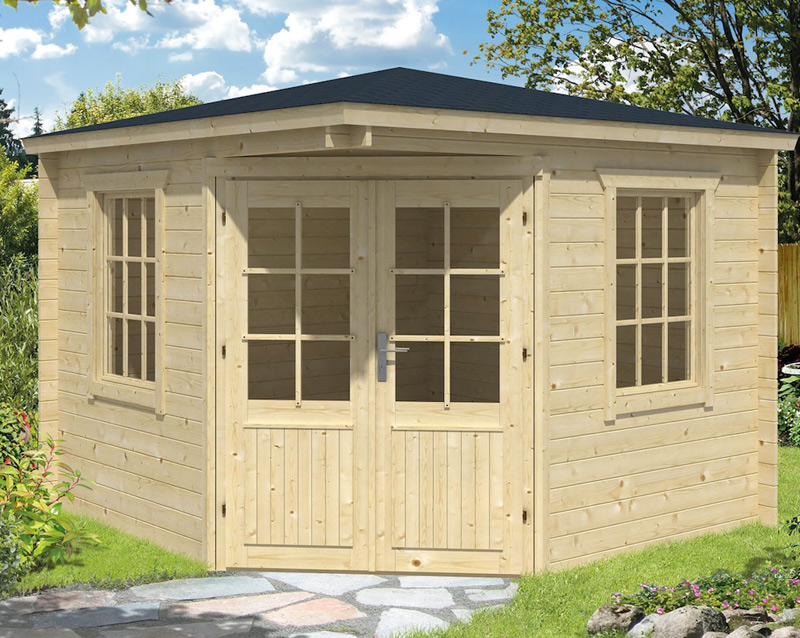 Image from www.tuin.co.uk
3. A caravan as a garden office – from £1800
If you have vehicle access to your garden, this might even prove to be cheaper than the previous option. With a bit of luck you can find second hand caravans for as little as £1300 for sale on the internet.
It has the benefit that a relatively new caravan is likely to have insulation already, will be waterproof and will, at the very least, have a lockable door. To keep you warmer during the colder months you can have a heating system installed or you could use an portable device that can be plugged in (electric) and fired up (gas) when needed.
Make sure that you check that any internal electric system is safe and intact before you use it. Also, be aware that these are designed to be light constructions, so strong gales might be challenging. Try to place it in a protected position if you can, and it's advisable to have hard-standing to rest it on, rather than straight onto soil.
You might think that a caravan is not the nicest thing to have parked in your garden, but you will be surprised by what a bit of creativity and some DIY skills can do. Pinterest is the perfect place to get ideas.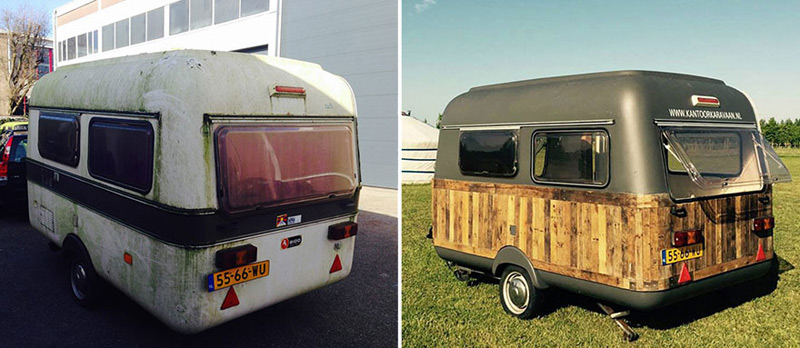 Image from www.trueactivist.com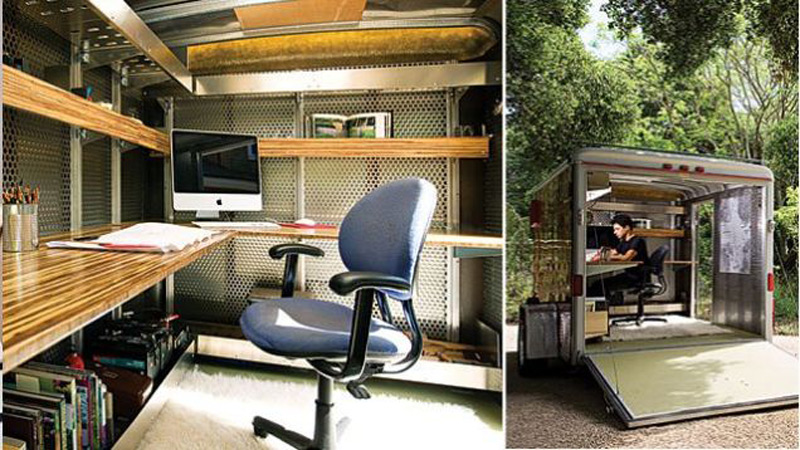 4. Adapt a shipping container – from £1900
Some of the container transformations that we've seen truly are amazing, and it's wonderful to see resources like this being recycled. They are easy to find and easy to adapt into a garden office. The cost of a used small container is around £1000. To that you will have to add the money needed for the conversion and to prepare the floor (containers need to stand on hard surface).
You will need to cut and glaze windows and add doors to your container, so you will need to work with people who are experienced with metalwork and glass. You will also want to insulate all the surfaces. After that, it is perfectly possible that you will have a comfortable, sturdy and safe office.You don't have to worry about aesthetics, as long as you have a little imagination. Once again, the internet is a great resource for ideas and inspiration.
The main drawback for many people is the space required for one, and that depending on where your garden is, you might well need a crane to position it. Shipping container conversions are now so popular that many companies selling them offer a full conversation service, the only think you will have to do is sending your design. So, if you do like the idea but your DIY skills are not up for the job, that is something worth considering. Obviously, this will increase the cost (around £9000 for a small office).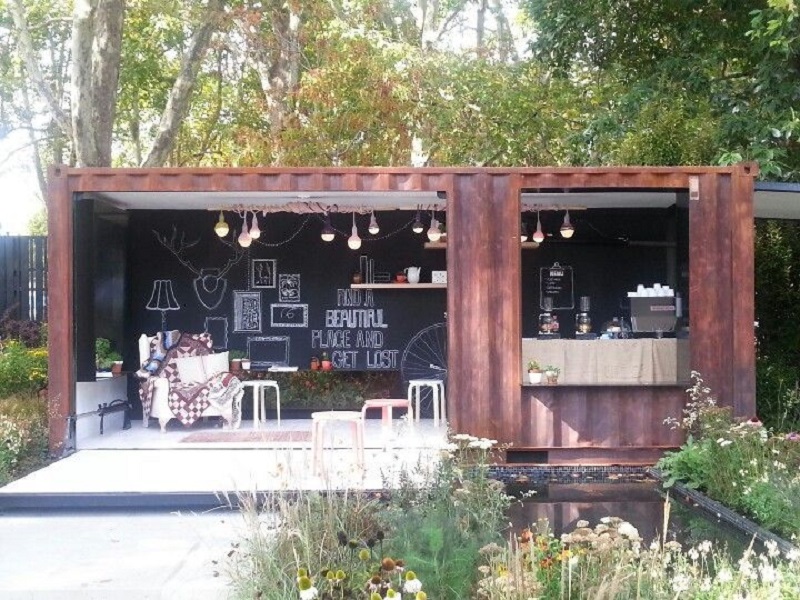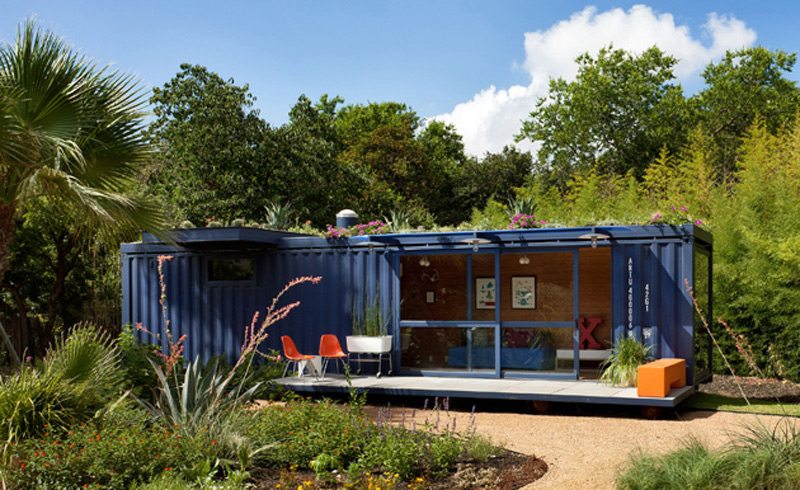 Image from www.poteetarchitects.com
5. Purpose built garden office – from £16000
These are the buildings that come to mind when we think about a garden office.
There are two different routes to a purpose-built office; there are buildings designed to a set blueprint that you can order and the materials will be delivered ready for assembly, or you can choose to have an architect design your building right into your space, with a build-team sourcing the unique materials for you. The latter would obviously increase the price of your garden office, but you will be able to create the perfect design, unique to you. This is what we are specialised in.
The great thing about a personally-designed garden office is that your architect will be able to make sure that the building fits the space you have, even if it's irregular or unusual. It's really important to specify what you need while discussing your order to ensure you are completely satisfied when the build is complete. After that, you can sit back while your office is built exactly how and where you want it. Wood construction offices like this don't usually require planning permission.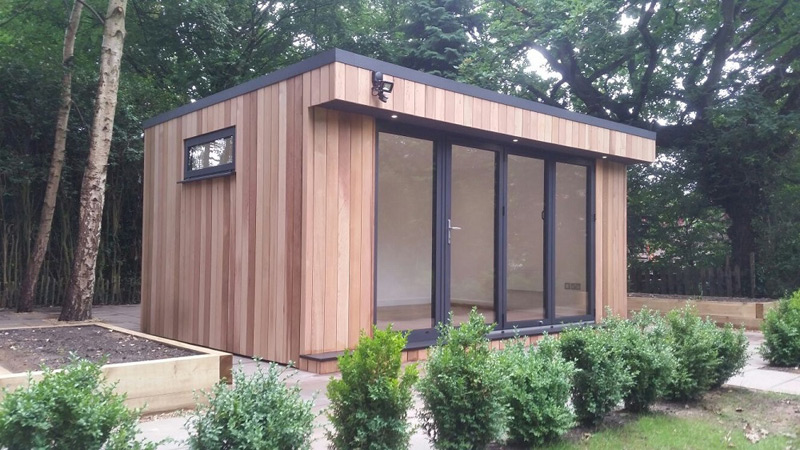 Image from www.gardenspaces.co.uk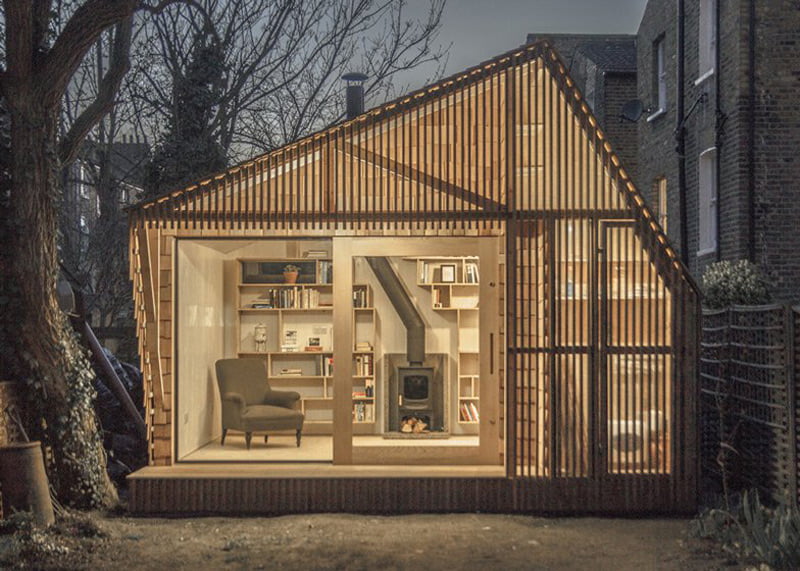 Image from www.dezeen.com
6. Garden office pod – from £16000
Garden pods have evolved from internal, quiet-space office pods, and they are becoming more and more popular. Like the internal office pod, they offer a place of quiet seclusion, but they are now fully self-contained with weatherproof walls and ceilings. They look like fancy, small, purpose-built offices that you simply place into your garden.
The advantage of them is that you can pick them up, and move them with you. There is nothing for you to do here; they come insulated, secure, windowed, with plug sockets all ready for use. The downside is that you can't really customise how they look; they are designed to be unpacked into whatever space you have, and then packed up and moved to the next space. We'd recommend that you play a little with the setting, just to make the office feel a little more it's your own. A smart path to it, or planters surrounding it can make it feel very comfortable.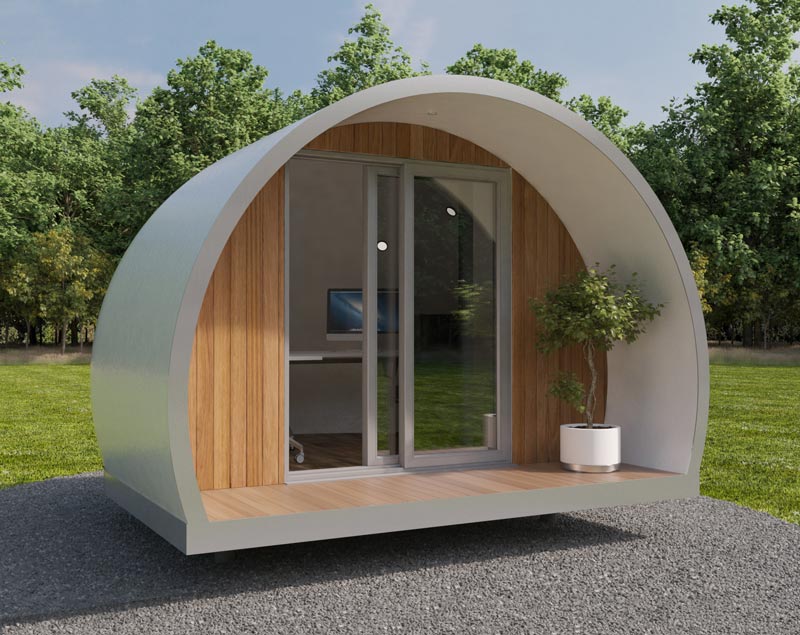 Image from www.intupod.com
7. Brick and mortar garden office – from £26000
If you have the space and do not mind going through the process of applying for a planning permission, this could be a viable option. Opposite to the example above, the input from you is to say exactly what you want and exactly how you want it, and to make sure your designer and build team are all able to fulfill those requirements.
The advantage of this construction is that you can always turn it into a separate, fully autonomous dwelling at need. Or wait, and let your teenager do it for himself one day.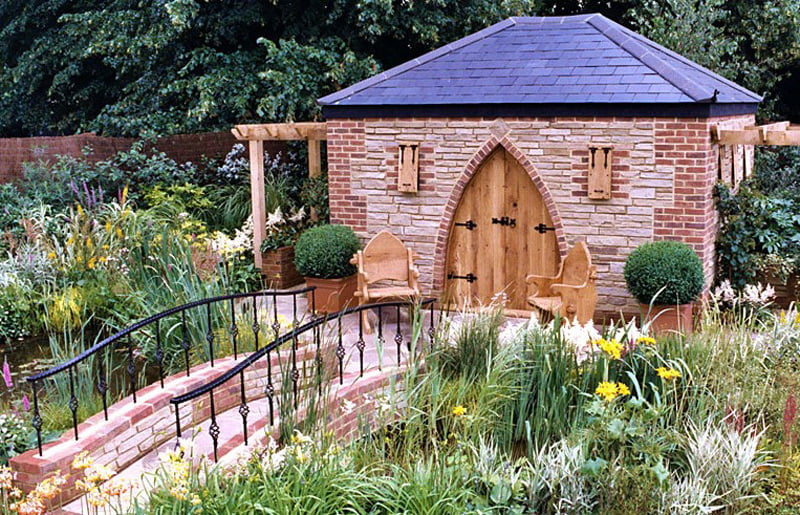 Image from www.petesims.co.uk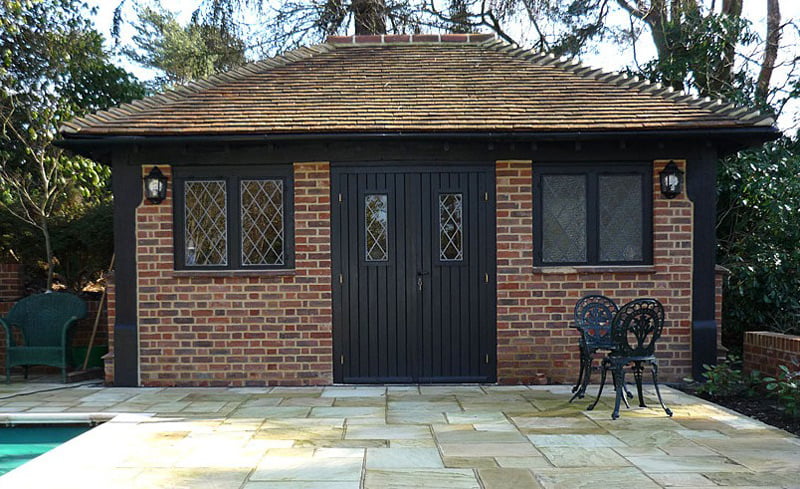 Image from www.petesims.co.uk