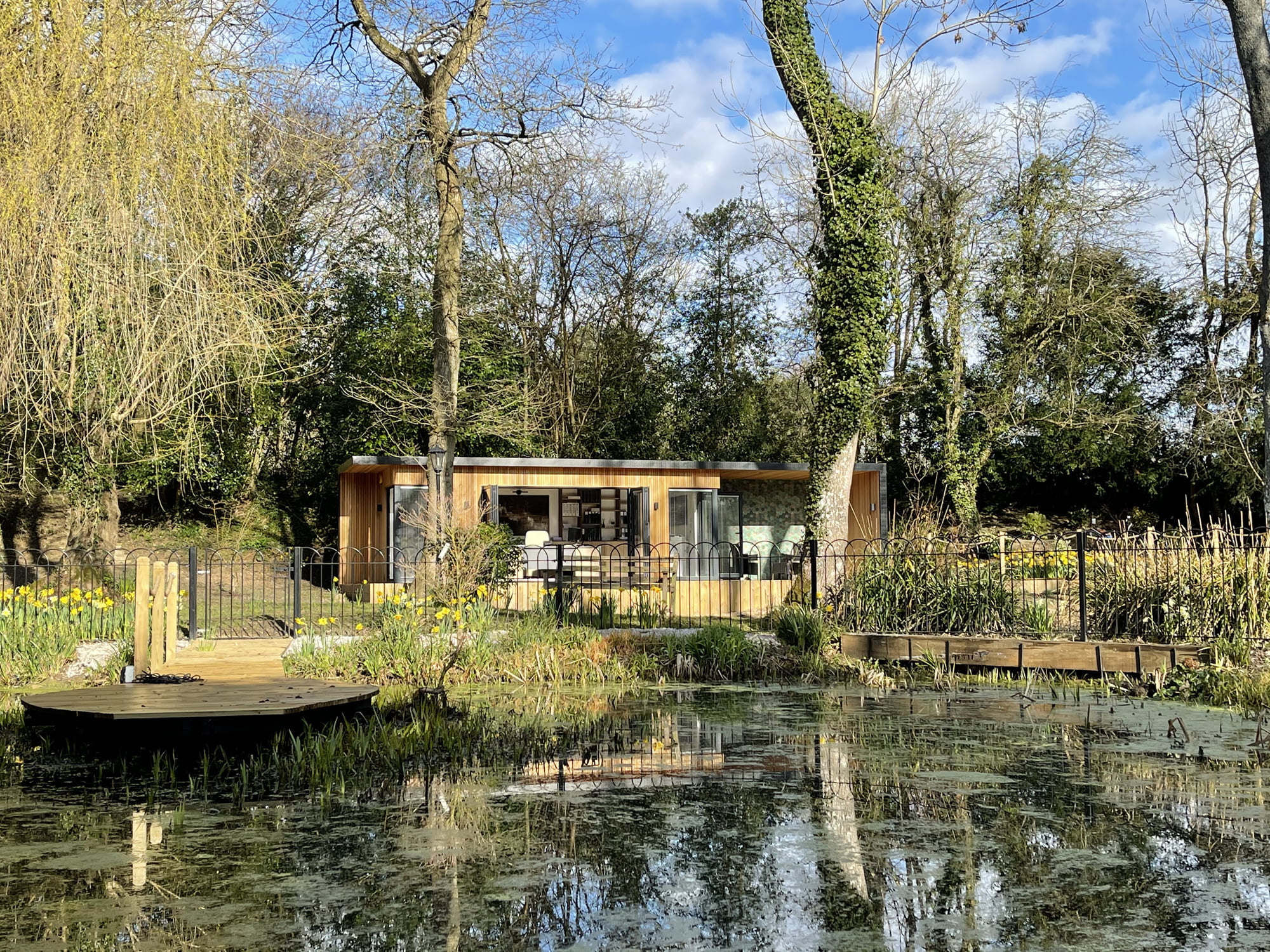 Our client is a lawyer overseeing complex cases which generate large amounts of paperwork. He has an impressive garden with a bottom section that includes a beautiful ornamental pond and mature trees. He wanted a garden room situated to enjoy the best views of this area, it was to be shaped by the way he works and to allow him relaxed moments away from his taxing job. We needed to bring his vision for this beautiful building to life and be ready to blend form and function to deliver an unforgettable experience in this space.
Specifications:
Highly insulated walls, underfloor heating, full electricity and internet, plastered internal finish, covered outdoor area, cedar cladding, raised decking, fully lit outdoor area.
Special features: Bespoke office furniture, huge walkway bridge, large pond fountain, underfloor sockets, 2 independent internet connections, fully automated and voice-controlled electrics.
Dimensions: Office footprint – 9m x 5m, Internal space – 7.2m x 4.2m, Decking area 3m x 9m
Cost: £125,000
Location: East Grinstead, West Sussex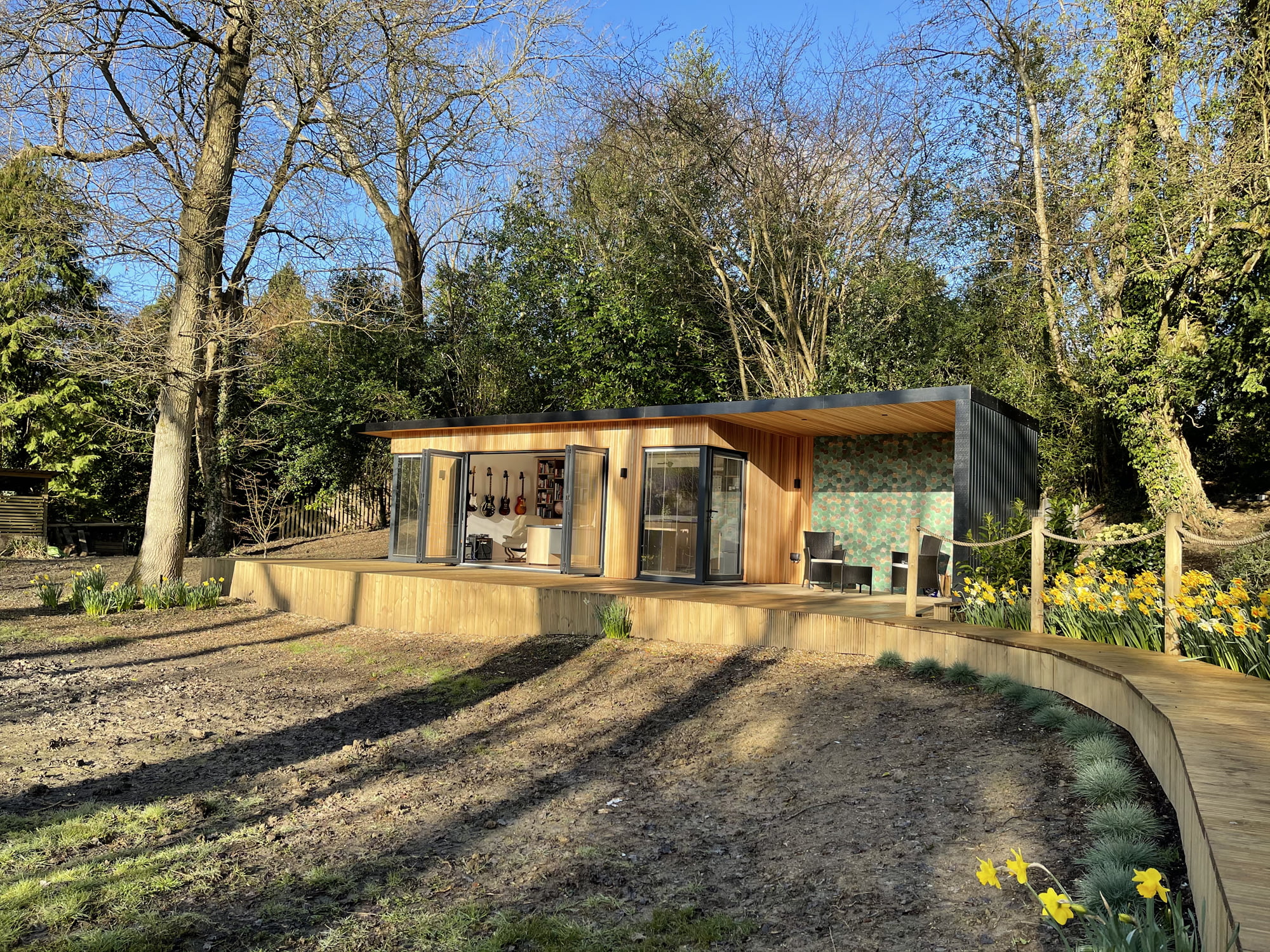 The Interior
The garden office by the pond was a completely bespoke design, conceived to meet our client's every need. To create his perfect office space, we needed to know more about how he worked, what he needed to store or have close to hand, and what he did when taking a well-earned break. As we discovered his workflow and passions, it became clear to us as we found the correct proportions and floor plan for the client that we needed to design and build bespoke shelving unique and stunning one-off desk to establish his perfect layout.
With meticulous attention to detail, the desk was proportioned ergonomically, taking our client's movement and work habits into account. We shaped, sized, and placed it to aid the way he works and take advantage of natural light. The view from the garden room's perspective is spectacular during winter. However, it completely transforms with all the doors fully opened on a warm day. We needed to frame this bucolic scene from his most usual seated position. The desk includes an Italian leather pad area for writing and hidden sections for all the cable runs. We positioned the wall-mounted TV specifically to work well whilst video conferencing.
The client's work generated large numbers of documents, and the ability to spread these out was crucial. Therefore, we created a vast storage and shelving unit, giving him a countertop spanning the entire length of the office. Not only does it function as a spacious sorting area for documents and stationery, but it also displays personal treasures. Notably, it contains a large central spot-lit compartment for one of his favourite paintings. There is also a dedicated area for printing and scanning.
Our client has a passion for music and likes to play the guitar when relaxing. We wanted to help him indulge in this activity during breaks or whilst pondering the universe. We created an area for his guitars to hang on the wall to keep these beautiful objects visible and accessible. Should he want to blow off some steam and make a little noise, his tools for doing so are all within arms reach.
The Exterior
The setting for this garden room was already quite majestic. Therefore, we needed to enhance this feeling without altering the surrounding area too much. We gave this building a large raised deck, helping to root the building into the bank. But it will also be great in the warmer months for enjoying a view over the pond and wooded area. An outdoor covered area on the right-hand side allows a similar vantage point on days of inclement weather. It's backed by amazing weatherproof Italian outdoor wallpaper, from Wall&Deco, in a hexagonal pattern. The front of the office has a lot of glass to give unobstructed views of the whole area. We positioned single doors at both ends and bi-folding doors centrally. Installing the doors this way created a completely open feel when sat at the bespoke desk.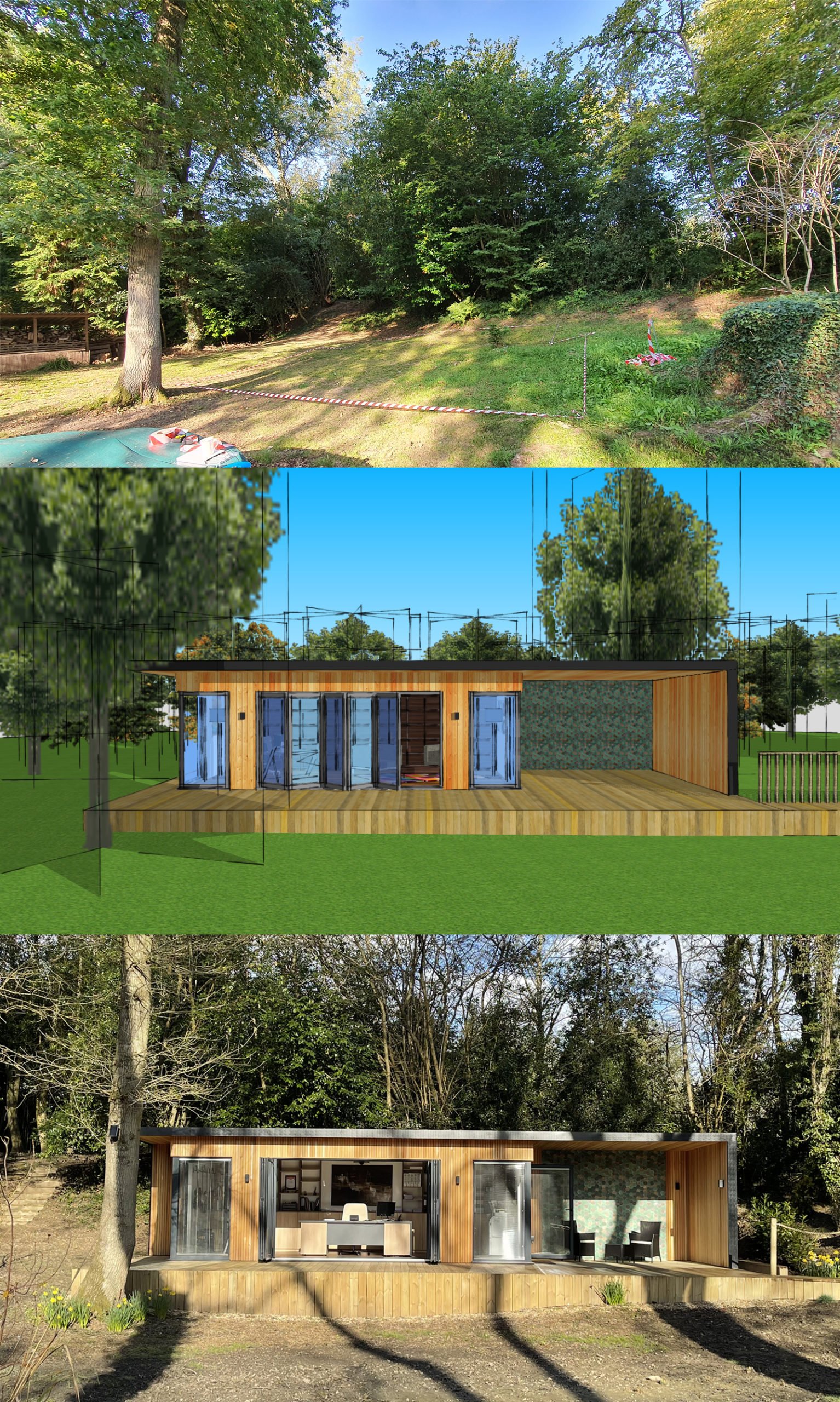 Our client requested that we address his journey to the office, as the garden becomes muddy in autumn and winter. We solved this by creating a 29m long bridge to cross this part of the garden. This bridge also meets the decking area level without any steps. Another convenient feature of the bridge is the retractable section. With this, it allows a ride-on lawnmower through into the wooded area, a first time bit of engineering for us. This garden room is fully accessible at night, thanks to the bridge and decking being well-lit. Our client can control all of the lighting and heating remotely.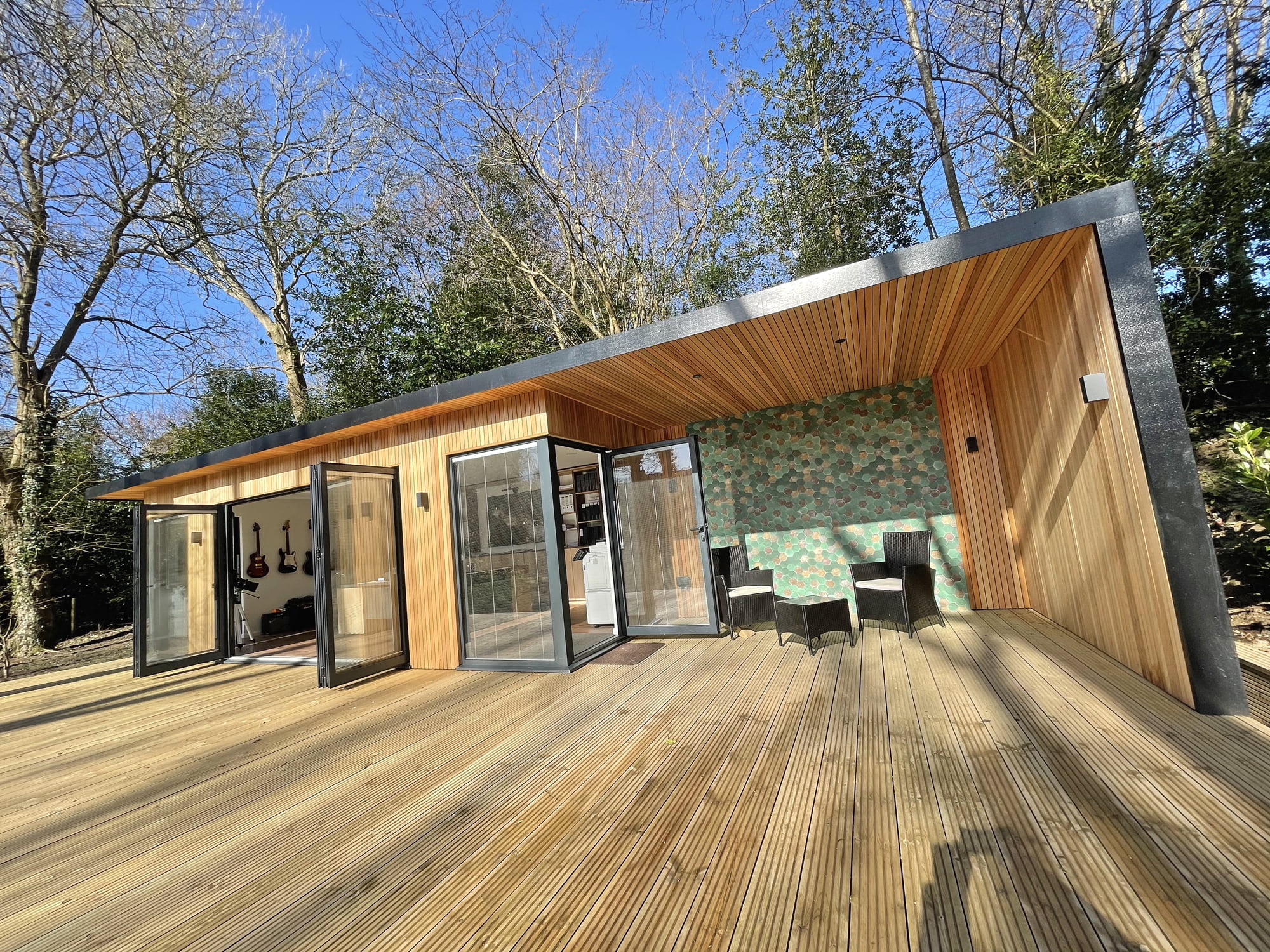 We are obsessed with features, large and small. With that said, we put extra time into selecting the correct components for the environment. By optimising the materials chosen, we ensured the final build quality is evident for years to come. To bring more movement to this area, we even created the pond's new fountain. This visually exciting element of the garden pond adds a soothing backing track of running water.
Adding a bathroom or a kitchen to your garden room is a huge undertaking. Beyond fitting the units themselves, we would need to create a whole new water system. This job is another example of something that will cost both time and money.
You have to consider that we will need to run the piping through your garden room safely and unseen. Creating a path to the garden room itself for the water supply will also require a lot of digging. The same type of work applies to pipes that carry wastewater out of your garden room. You may also require a sewage pump and may need to waterproof floors and walls.
Connecting a water supply to your garden room may involve tonnes of labour. Both that and the supplies we would need to order will influence your garden room's final cost.
The Finished Garden Office
A complicated project brief with specific needs created a focused design that nailed what our client was after. By being attentive to his needs and innovating to devise adventurous solutions, the finished office enhances an already magnificent garden. Our client believes he has "the best office in the world.", and we are not about to disagree with him.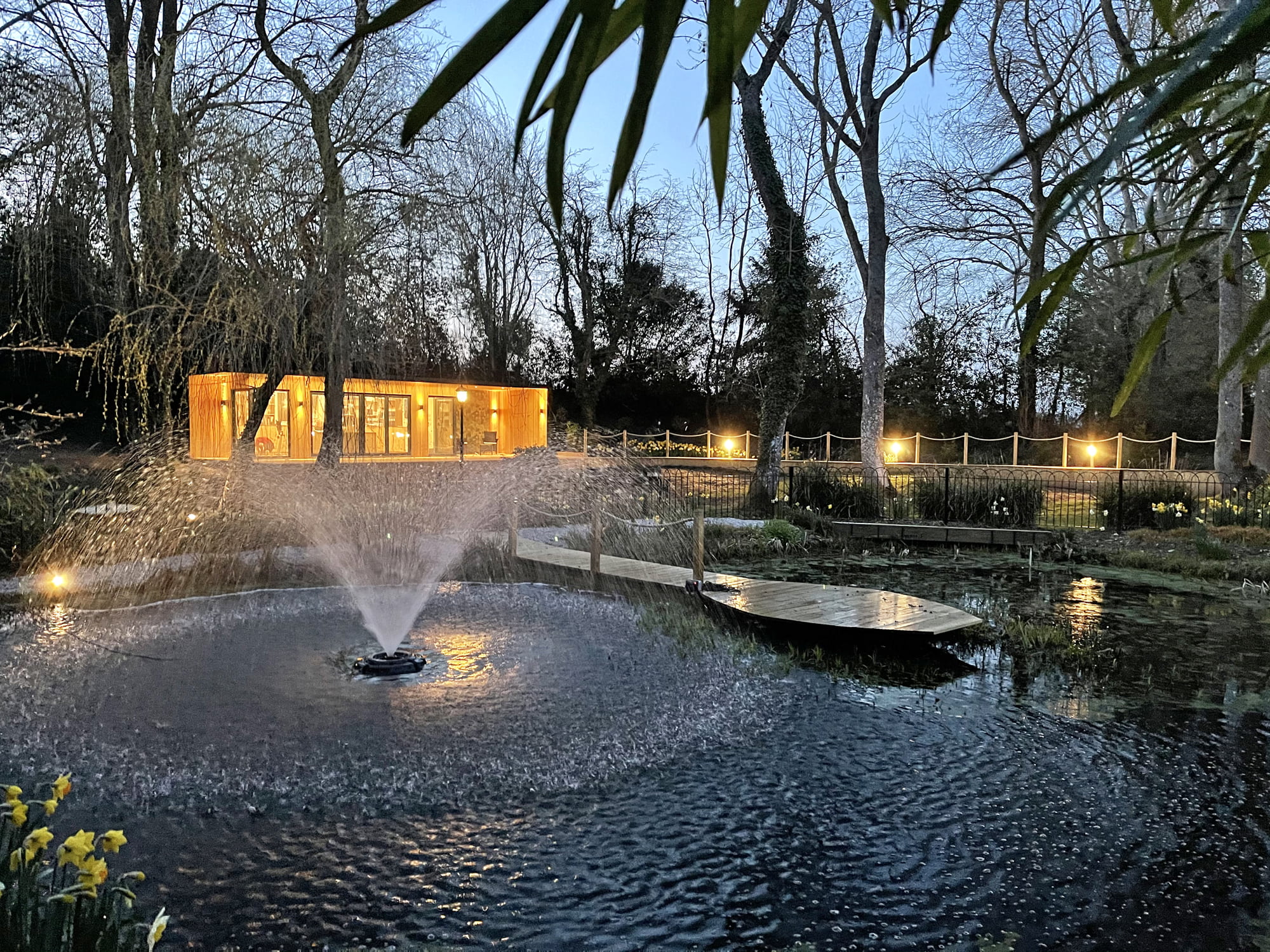 This garden office by the pond has been one of our most exciting and fulfilling projects to date. It looks gorgeous in its setting and achieves all of our client's wishes. Our bespoke, comfortable and practical garden office design enhances the appearance and utility of this fantastic area of the garden. When working on his own, our client has a stunning view to inspire him. We hope that visiting clients and colleagues can admire the bespoke workspace as much as the office's picturesque surroundings.
To see more of the unique garden office by the pond, visit our gallery. Alternatively, you can get in touch if you feel inspired by this project or any others, and we can help get your very own project realised.