Garden rooms are a great addition to every garden. They are not only practical but also beautiful to look at, especially when well-designed.
At A Room in the Garden, we build designer garden rooms, which are designed from scratch to match not only your need for extra space but also to blend in (or stand out if that is the idea) with your garden.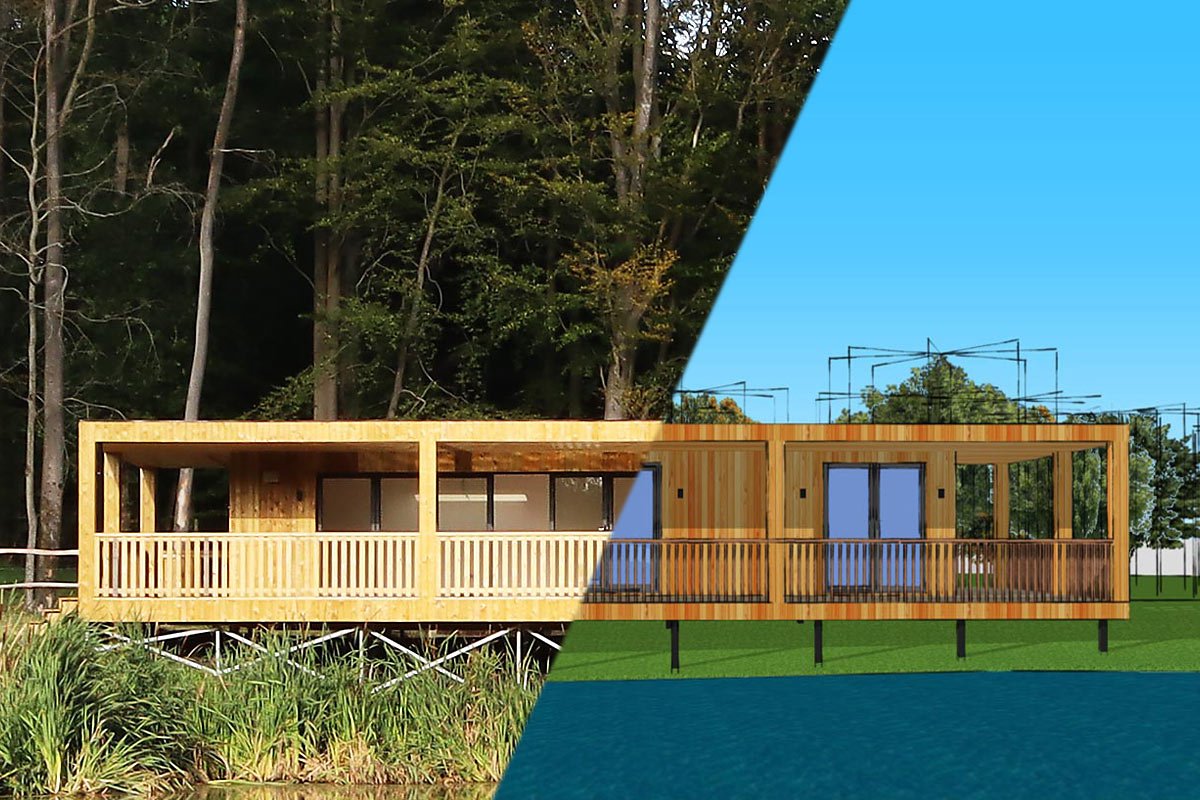 During our Designer visit we take time to carefully listen to you, making sure we gather all the necessary information which will allow us to then go back to the drawing board and design your perfect garden room. Once we are satisfied with the final product we will send you our proposal, containing a 3D visualisation, a blueprint and a detailed estimate.
You may be sceptical about a visualisation and are probably thinking, "OK, on paper it looks fantastic but how accurate is the drawing really? Will my garden room look exactly like the one on the proposal?" The best way to answer your questions and ease your doubts is simply to show them to you!
Below you will see 3 very different garden rooms – in size and style – we have built next to the visualisation sent to the client.
Designer art studio in Shoreham-by-Sea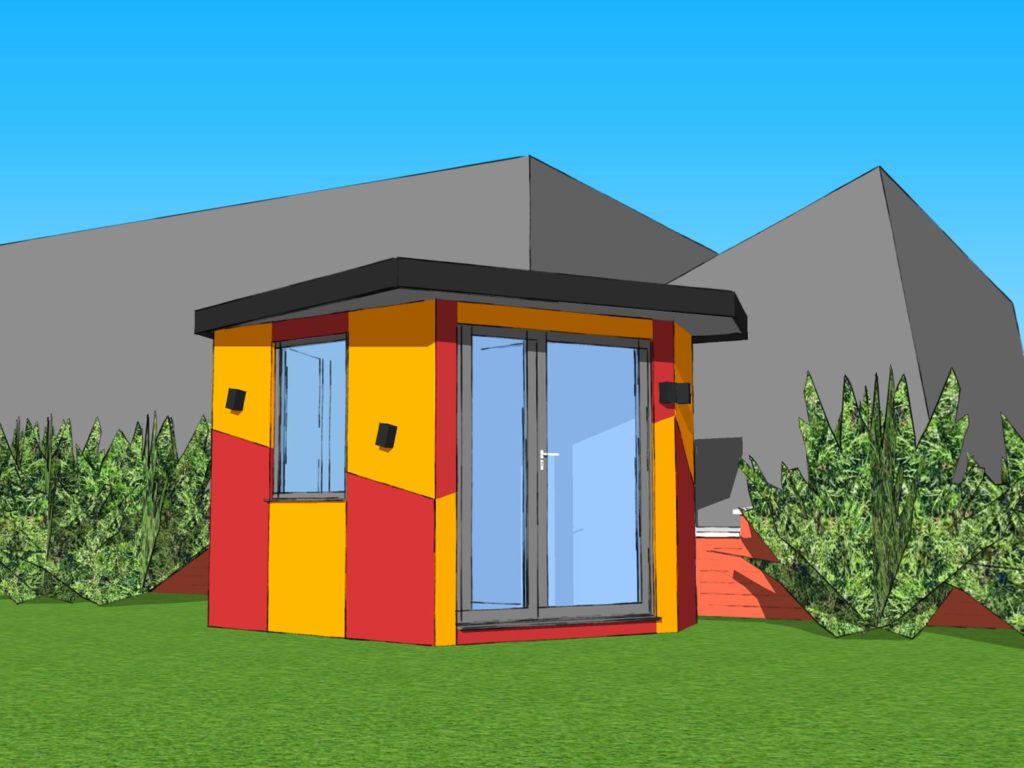 Designer art studio visualisation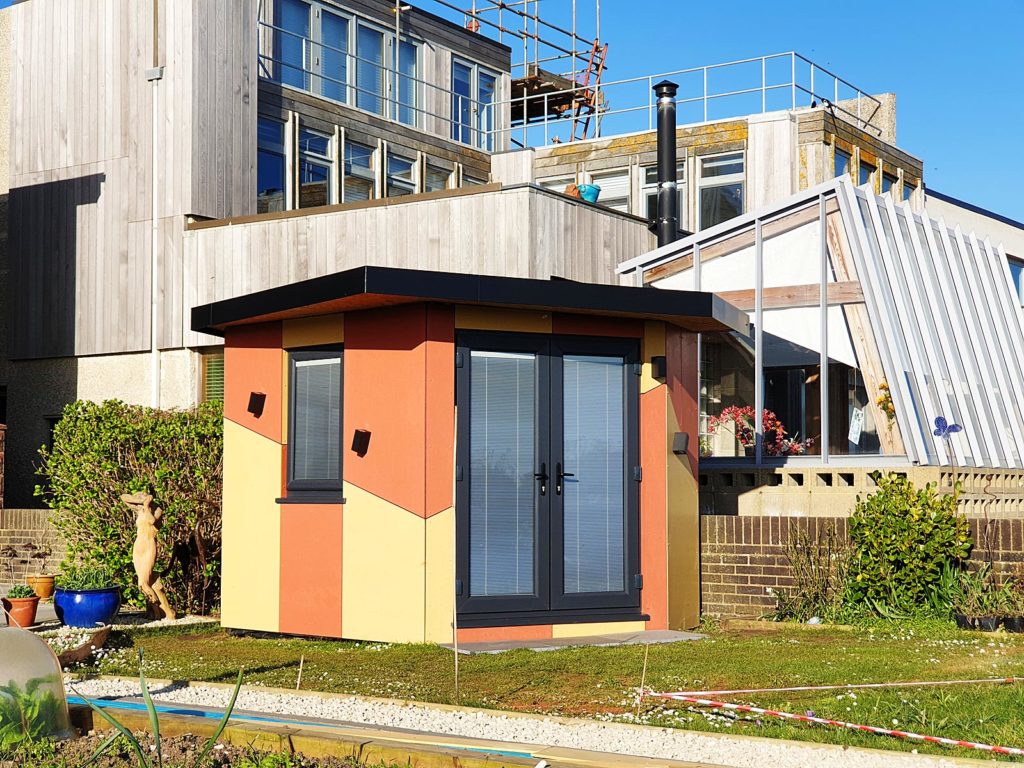 Designer garden art studio
This is a very unique garden room. In addition to a very unusual shape, the whole exterior is covered with cement particles boards instead of the typical timber cladding. Our choice of materials was dictated by aesthetical and practical reasons. Standing directly on the beach (you can see it if you walk alongside Shoreham Beach) we needed it a facade that could withstand the salt water.
The lines and angles were creative and not simple to achieve. This is why we think it is a good example to show here. Quite simply, the project is visually attractive, but also technically demanding, so how the visualisation relates to the final result is important.
Summer house and garden office near Hove Park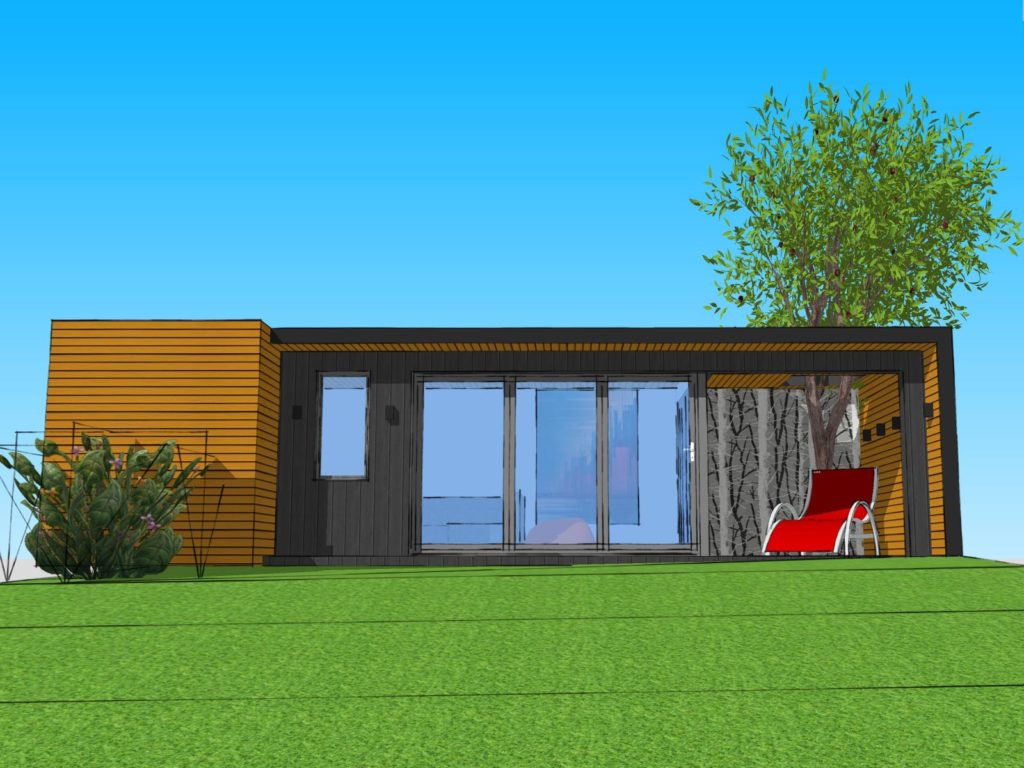 Designer summer house visualisation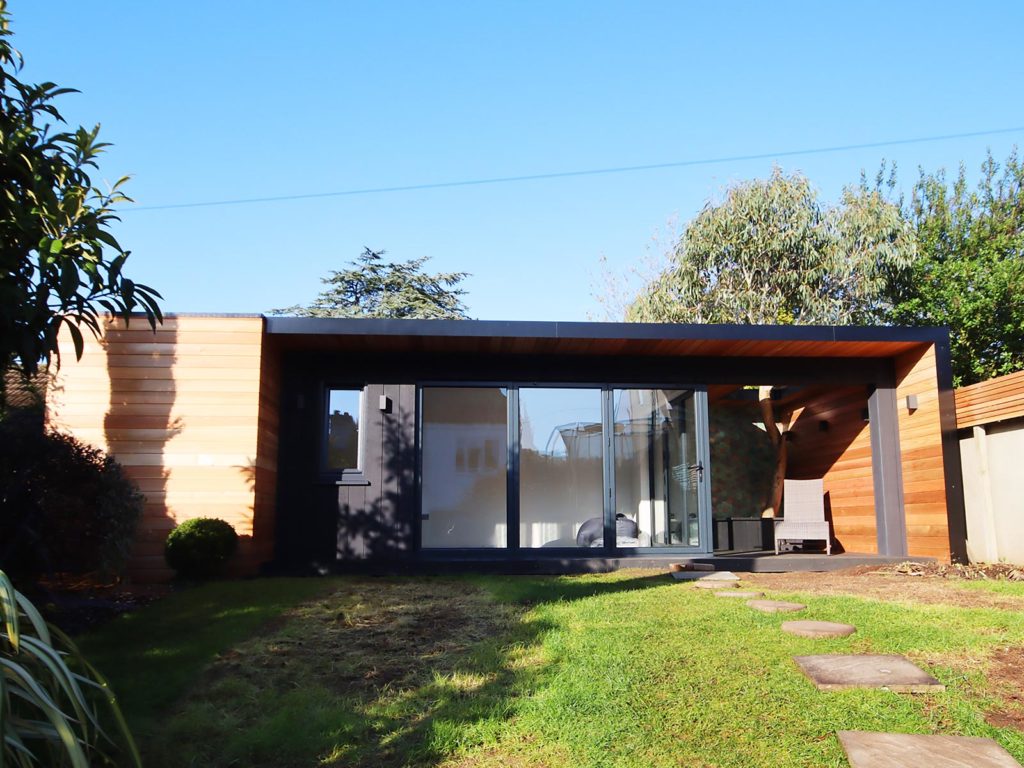 Packed full of unusual features, this is a pretty special garden room. From the use of outdoor wallpaper and technical solutions to accommodate the beautiful eucalyptus this is for sure one of the most creative garden rooms of 2019.
Cedar cladding, cement composite cladding, composite decking and external wallpaper are mixed together. Corner-less bi-folding doors, which open fully on both sides and a eucalyptus tree inside the extended decking area make this garden room a special example to show how visualisation compares to the finished project.
Cabin on the lake in Chelwood Gate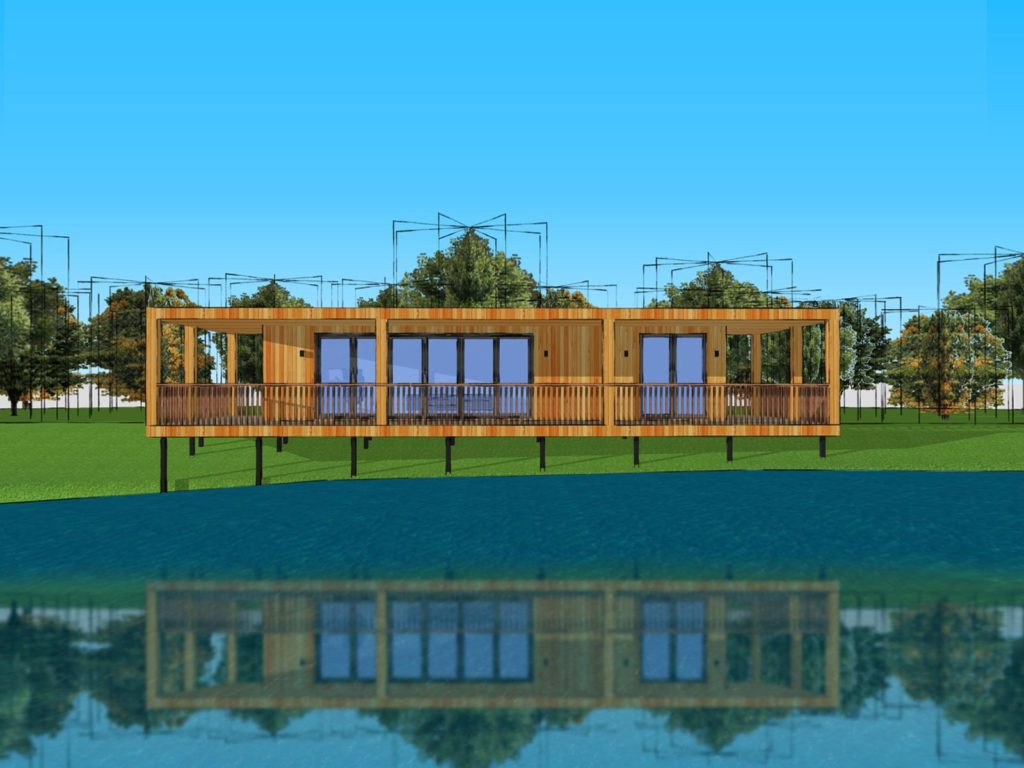 Designer cabin on the lake visualisation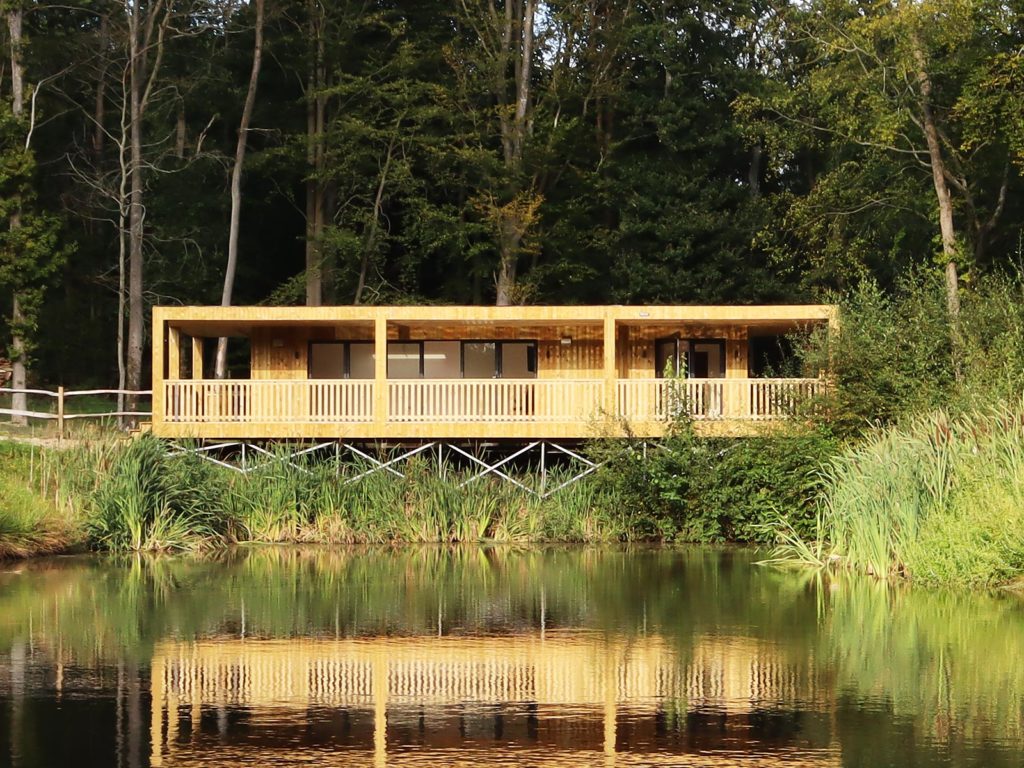 When your garden allows you to put your garden room next to the water, you can be sure the visual result will be stunning. This designer garden room was modern, but with similar architectural features to the main house.
Built right next to the water, with some ground piles used for foundation as long as 5 metres, this large garden room was covered with treated redwood cladding and features a bathroom, sauna and kitchen. The large decking platform surrounding the main room guarantees plenty of space to admire the view whatever the weather.
Would you like to know how we come up with a designer garden room? Read our article on how we design bespoke garden rooms.