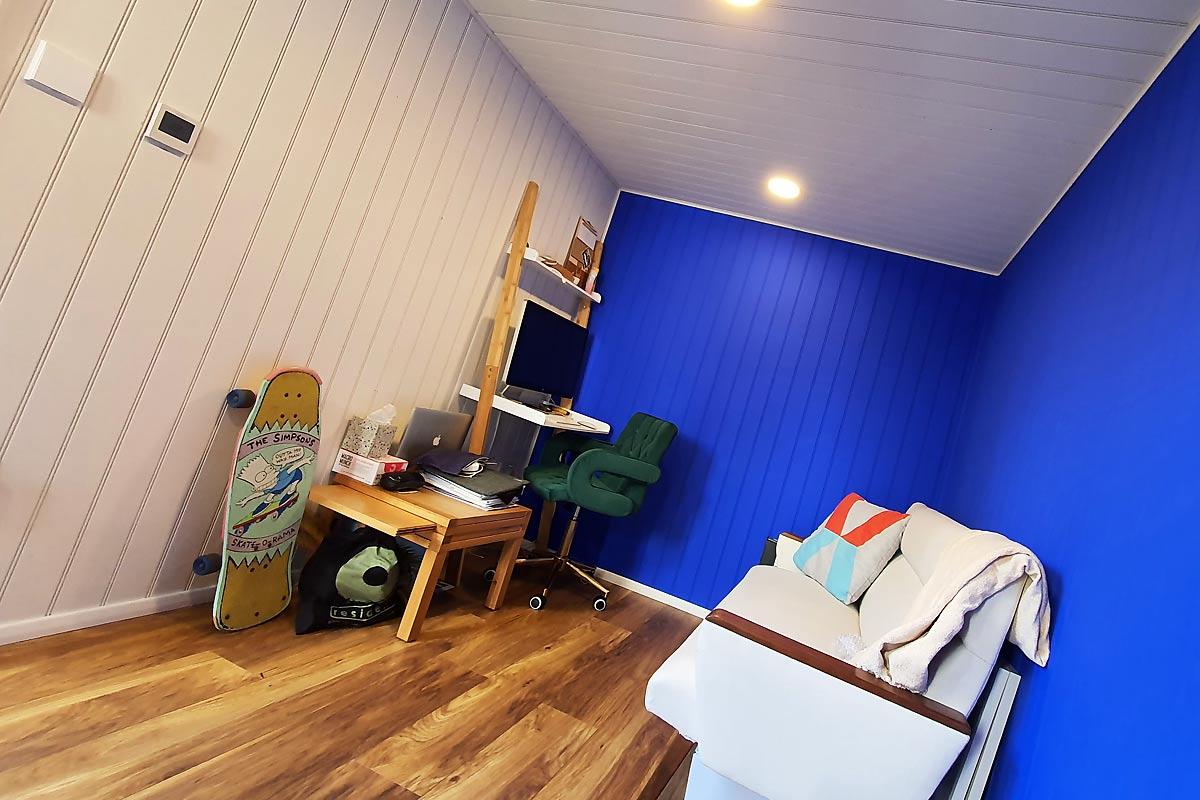 Insulated Garden Rooms can change the way you use and enjoy your outdoor space, not just in Summer but in all seasons and weather. All our Garden Offices, Gyms, Playrooms and Summerhouses are fully insulated and come with underfloor heating as standard but how do we make sure this heat stays in your room whatever the temperature outside?
Insulated garden rooms are a great addition to every garden. Whatever fantastic uses you have in mind you will get to the point where you will start asking yourself one question: "Will my garden room be warm in Winter and cool in Summer?" in other words "How well insulated will it be?". Discussing contemporary construction will quickly bring up the topic of insulation and heat efficiency. As you will see below all our garden rooms are insulated better than the majority of the houses in the UK, so you can rest assured that you will be warm in the winter and cool in the summer. We can also fit air conditioning to Garden Rooms as an optional extra, however maintaining a lower than outdoor temperature is also dependant on great insulation. Achieving a comfortable temperature with only a small outlay of energy will not only save you money but will also help protect the environment too.
SIP Panels – Incredible Insulated Garden Rooms
The core material we use to build the walls of our garden rooms is something called a SIP panel. SIP stands for Structural Insulated Panel, they offer very high levels of insulation whilst allowing us to build an incredibly strong structure both quickly and safely.
These long lasting factory constructed panels have a closed cell foam core that rejects the moisture you find in mineral wools and blown cellulose fibre products, preventing these conventional materials from performing efficiently. A construction built with SIP panels can provide huge energy savings (40%-60%) compared to a traditional timber framed building of equal scale and insulation U-value.
We once built a garden office for a computer programmer who told us he loved to measure everything and analyse the data. After his 3m x 5m office was built and in use, he contacted us to say that to maintain 21C inside the structure, with an outdoor average temperature of 4C, our standard underfloor heating only had to run for 1.5 hours per day. Although this is just one client's anecdote, we think that for a well situated garden room our very high level of insulation should perform this well on average.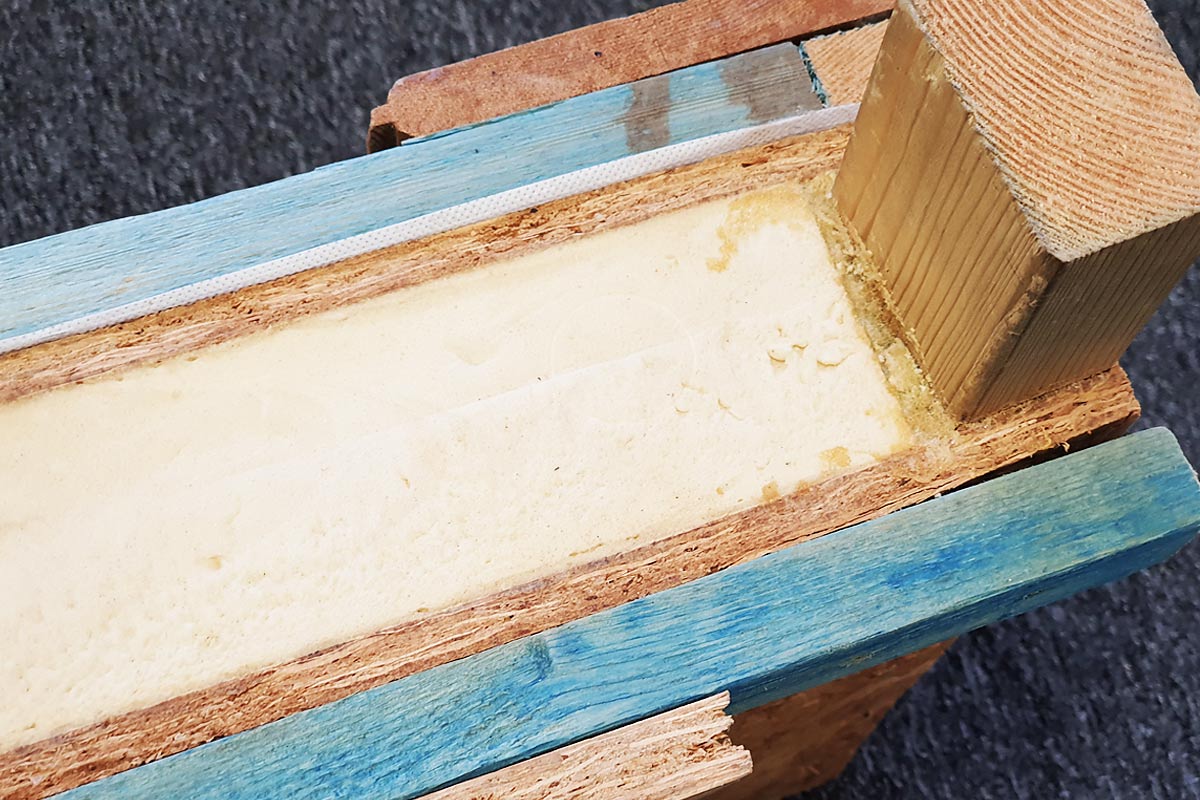 Profile of a SIP Panel wall you will find in majority of our insulated garden rooms.
SIP Panel Specifications
We use panels of varying thickness and insulation depending of the purpose and location of the garden room. Our most commonly used panels are 100mm and 125mm thick but we will also use 150mm & 175mm thickness for some projects. We can also use 200mm, 225mm & 250mm thick SIP Panels if required to create the correct level of thermal performance.
U-Values vs Cost and Space
As the thickness of the SIP panel increases so does it's thermal efficiency, but the increase in efficiency begins to diminish as the panel thickness gets closer to 250mm. U-values with a lower number give a better level of insulation and U-values with a higher number offer less insulation and energy efficiency. Building control recommend a U-value of 0.3 and below for walls, the minimum we aim for is 0.27 and we look for even better U-values where possible. Have a look at the below chart to understand how the increased insulation U-Value gains tail off as a percentage of the whole at the larger thicknesses.
Thickness: 100mm U-Value: 0.27
Thickness: 125mm U-Value: 0.21
Thickness: 150mm U-Value: 0.17
Thickness: 175mm U-Value: 0.14
Thickness: 200mm U-Value: 0.12
Thicker walls will also mean less internal space and higher material costs. Size, location, use and budget all play a role in our design decisions for the correct thickness of SIP panel for the different parts of your construction. We use concepts like thermal mass and solar gain to avoid unnecessary extra cost whilst still achieving the correct level of energy efficiency and thermal performance.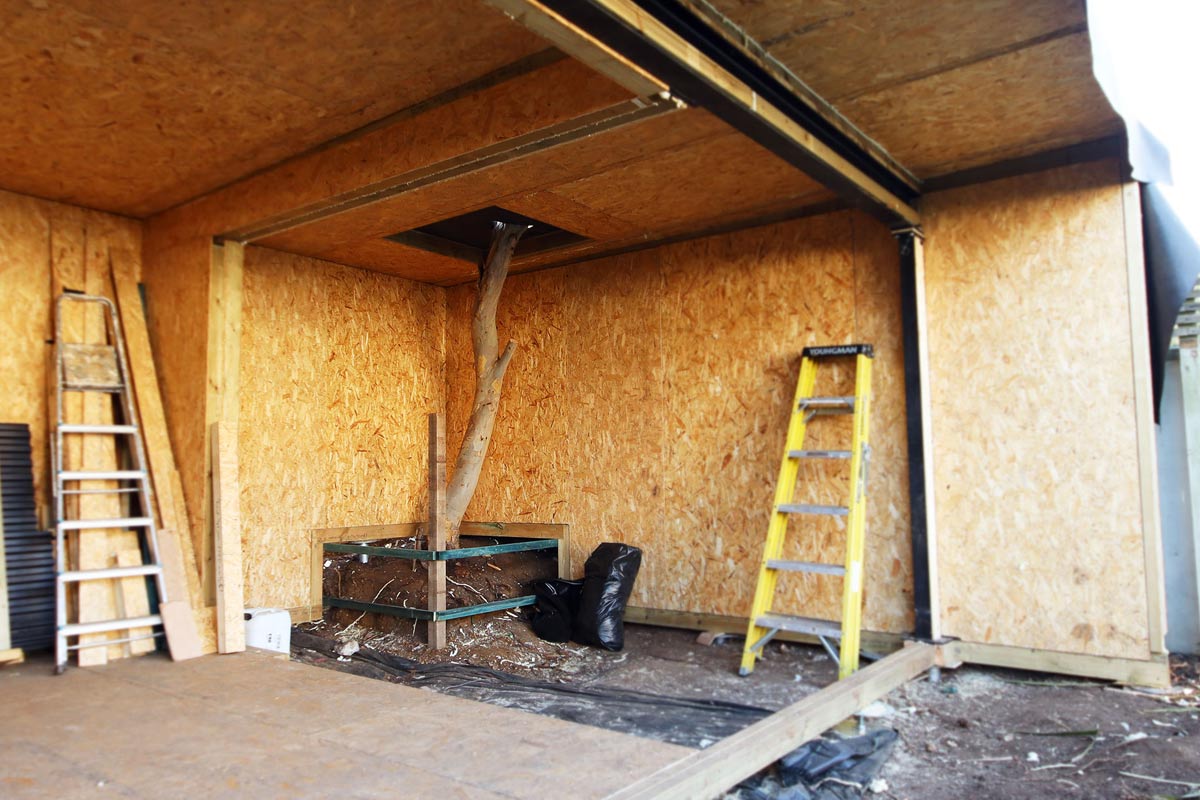 Insulated garden room structure built using SIP panels
Once completed, our insulated garden rooms should be much more energy efficient than the average UK home and, because of this, easier to keep toasty in Winter and cool in the Summer. This room is nearing completion and is fully plastered and painted. The chosen laminate flooring covers Wifi controlled under floor heating and the room is sealed the same highly efficient doors and windows you will find in modern family homes. Electricity sockets are placed as desired by the customer and include optional USB charging, the ceiling contains ample recessed LED lighting.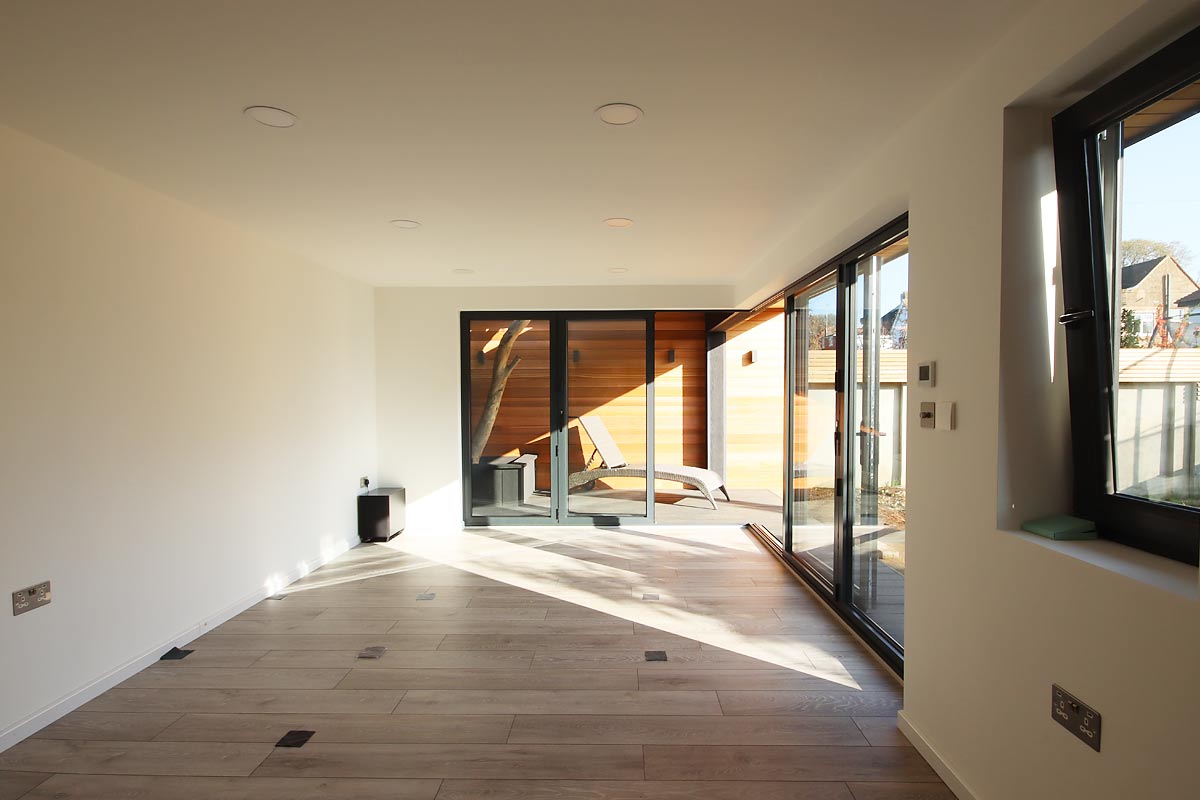 Interior of a completed insulated garden room – the same as the structure picture above.
What to look for when searching for other insulated garden rooms?
Many small wooden framed structures, such as log cabins and other timber framed buildings, are advertised as insulated but often contain relatively thin layers of insulation. Unlike SIP panel constructions, where 100mm+ insulation is normally present in all the walls, floors and roof, many log cabins have loosely packed or very slim insulation sheets which are often only 25 – 40mm thick, not enough to create a energy efficient space. Also, when insulation isn't incorporated into structurally integral parts it adds thickness, removing space from the inner dimensions. This advantage is one of the main reasons we use contemporary SIP panel construction, creating thinner yet better insulated walls which are just as strong and long lasting.