20 Amazing Garden Office Ideas to Inspire You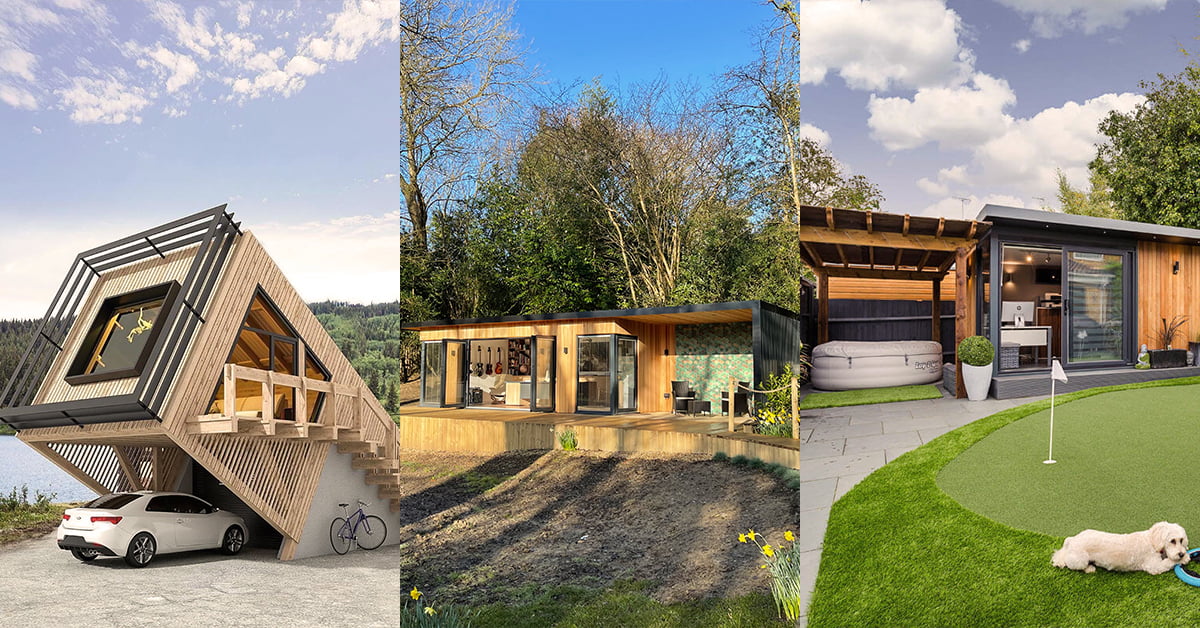 We are living in an age where many businesses are taking their products and services online. Where e-commerce and online shopping is rising in popularity, working from home is also seeing a rise. And we feel there is no better way to work from home, than with your very own garden office.
Heading off to work is rarely the experience it used to be for many people. Fewer and fewer people see the need to travel to a designated office at a local high-street or business park. Time is a valuable luxury, and we understand that no one wants to waste it stuck in traffic or running late. We also all want to get back to the comforts of the home quickly when the work is over.
And while working from home provides a solution for these inconveniences, it can still be hard to separate work from home. Being surrounded by your home comforts can be distracting. So how can you still have the luxury of working from home whilst still having that space to focus? Our answer would be a garden office.
But how would your perfect garden office look? What features would you want to add? Would you make it small and cosy, or large and luxurious? We hope to fire up your imagination through this article, where we will be going through 20 unique garden offices to inspire you.
01. Professionally Rustic
(source: Watimas)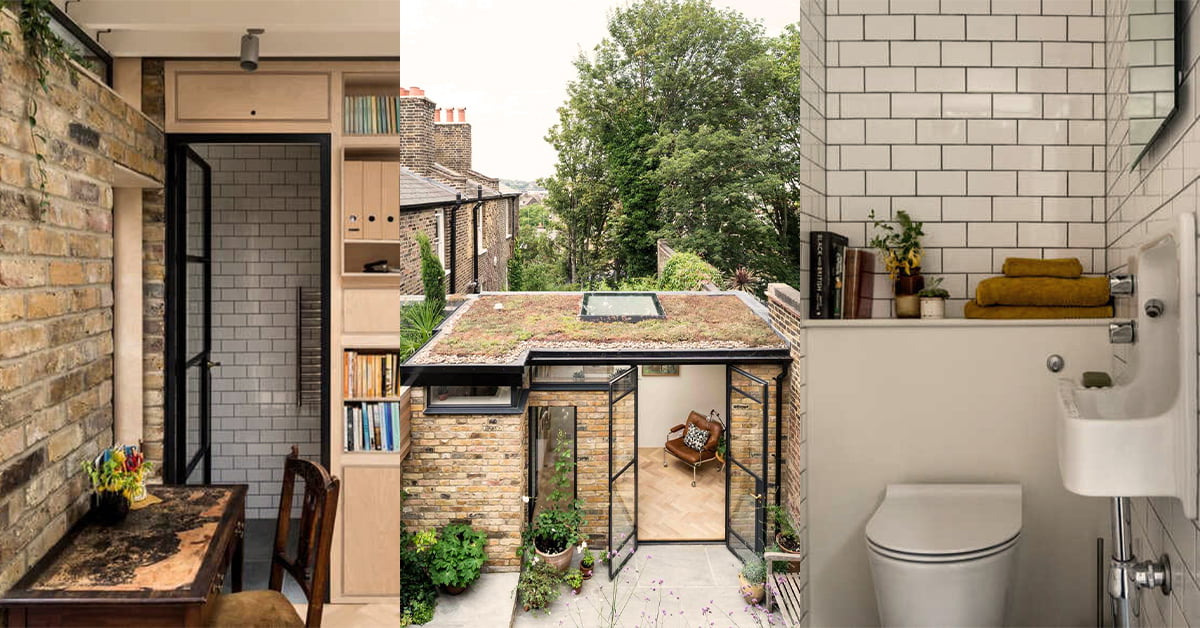 The use of brickwork and green roofing gives this garden room a uniquely rustic and natural look. Its large glass doors, windows, and even a skylight allow natural light to flood the office. The occupant also has a great view of their garden as a result.
Despite being situated in a small garden, this rustic office has some great features while still having enough space inside to work comfortably. There was even enough space to install a small but very smart looking bathroom and a shower unit.
02. Working on the Go
(source: Inn Town Campground; photography by Kat Alves)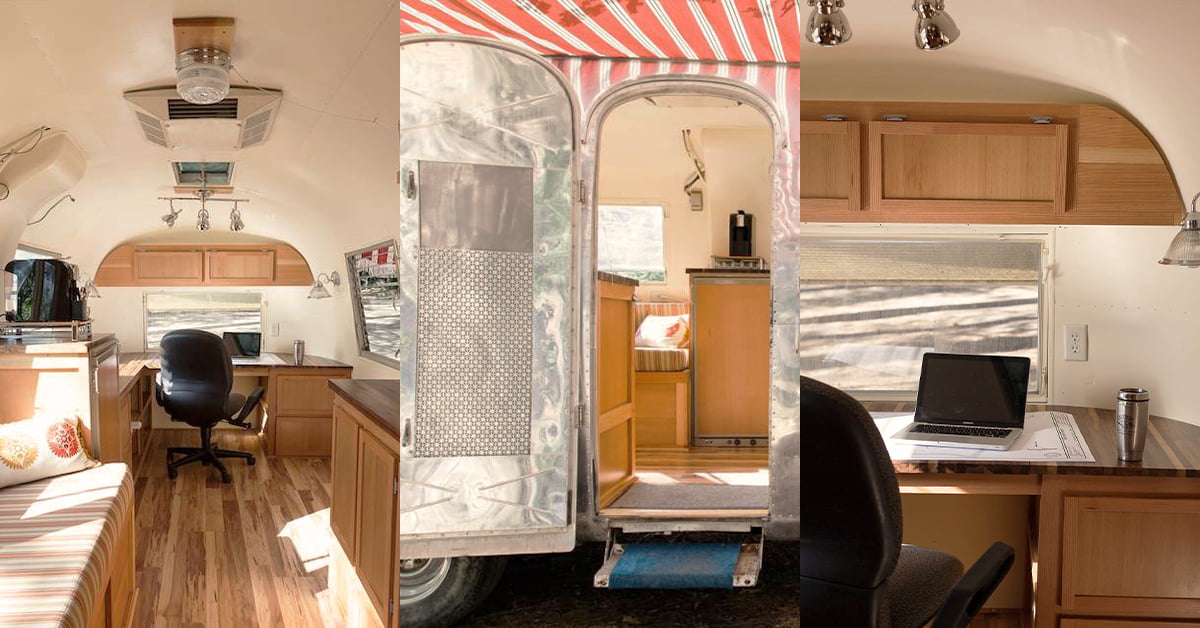 This caravan conversion is a brilliant example of a mobile office. Designed to be towed safely, the occupant can take their work with them, wherever they go.
A mobile office is a perfect solution for those that are bored of the same view from their office window. With a mobile office like this one, you can change that view every day.
This caravan office also makes good use of natural lighting and ventilation so that the occupant can always work comfortably.
03. A Warm Workspace
(Source: A Room in the Garden)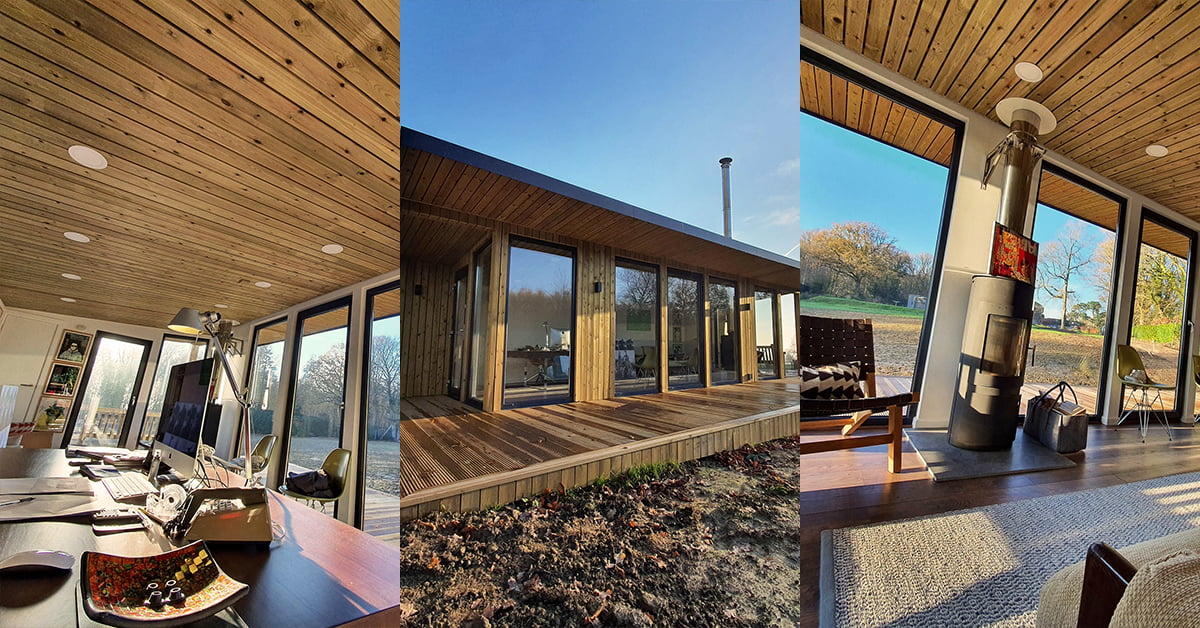 We certainly haven't shied away from making amazing garden offices either. For example, we built this spacious garden room, complete with its very own fireplace.
Especially when our client is working through the colder months, this fireplace provides them with perfect warmth and comfort. Along with this, this garden office offers tonnes of space and amazing views of our client's garden.
04. A Great All-Rounder
(source: Archipod)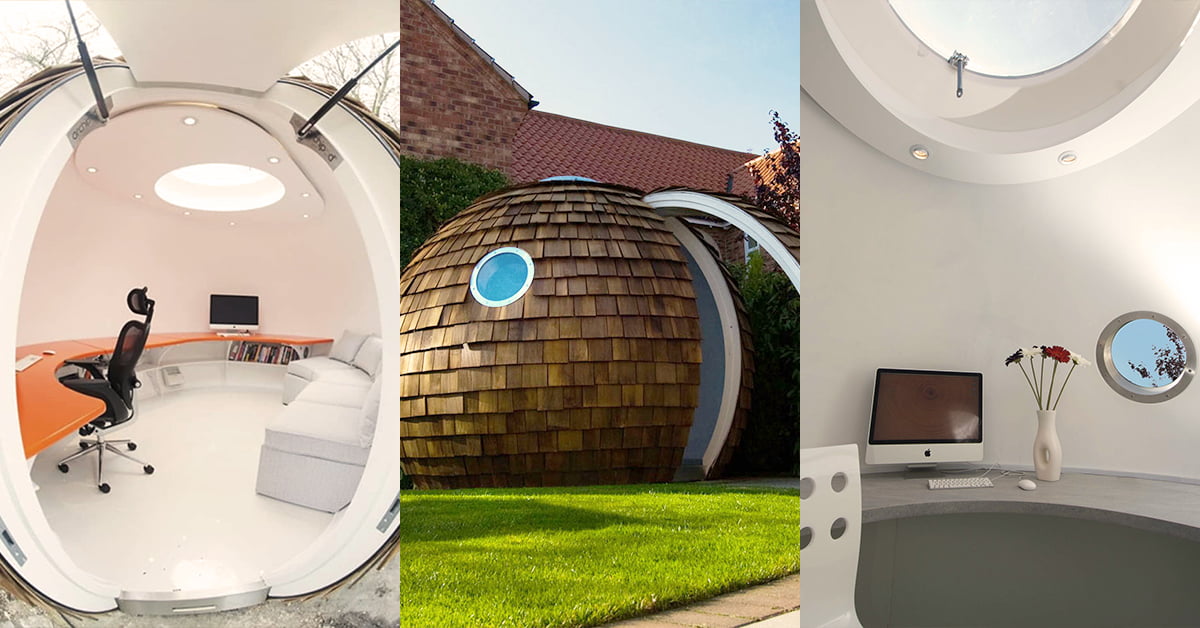 A garden office doesn't always have to be box-shaped, as shown by this unique garden pod.
Designed by Archipod, this spherical shape gives this garden office a very eye-catching and minimal appearance. Furthermore, it allows this office to look way more spacious on the inside than from the outside.
These garden pods are fully insulated and provide loads of natural lighting, thanks to their dome-shaped skylights.
05. The Smaller, the Sweeter
(source: A Room in the Garden)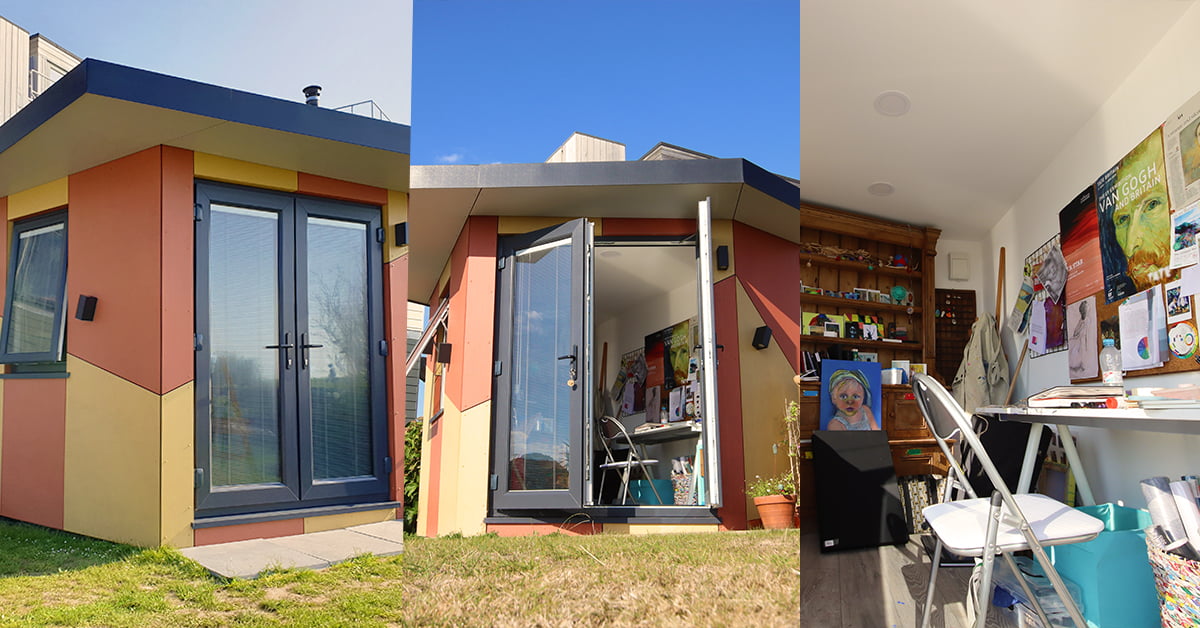 Sometimes, bigger isn't always better when it comes to focusing on your work. Some people prefer a smaller and quieter space.
This small artist's studio that we created is proof that a garden room doesn't need to be huge to be a spectacle. The colourful and angled design of the outer walls really gives this studio that artistic look and feel.
With a studio as cosy as this, our client has everything they need within arms reach. This means that they can fully focus on their creative passion. 
06. A Problem-Solving Shape
(source: Design Milk; designed by Architensions; photography by Cameron Blaylock)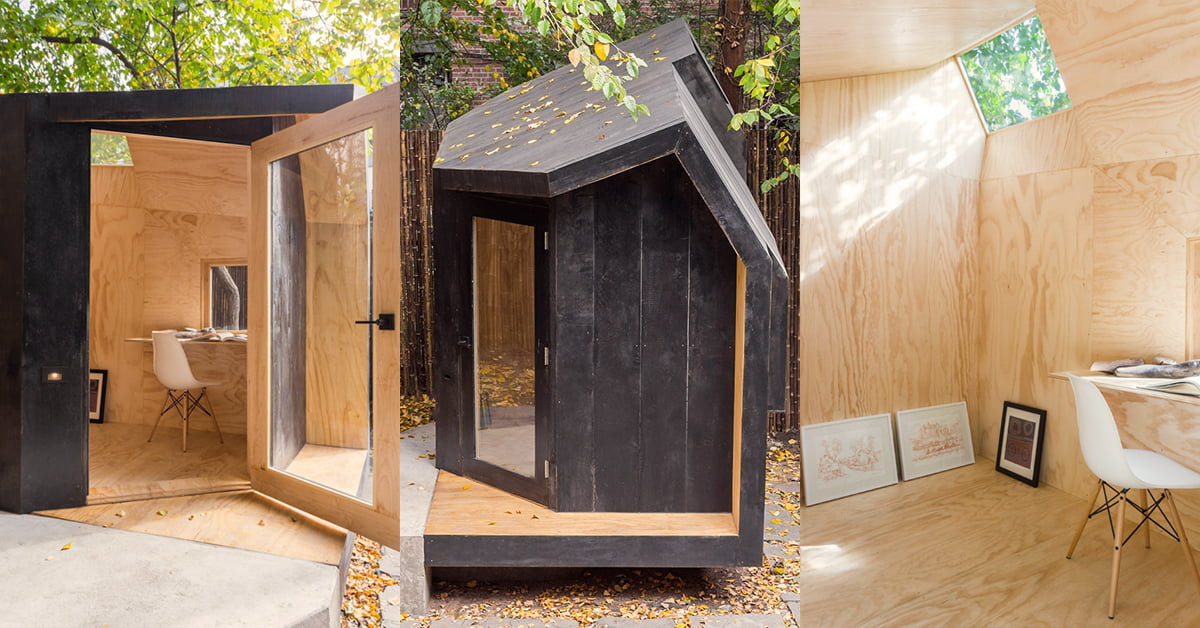 This garden office solved a dilemma the occupant had. They wanted their new workspace to gather as much natural lighting as possible without compromising privacy.
Based in Brooklyn, New York, a highly urban environment surrounds this garden room. However, Architensions still manages to make the office, and its surrounding area, look completely natural and peaceful.
07. A Fun Day at Work, Every Day
(source: Engineering Discoveries)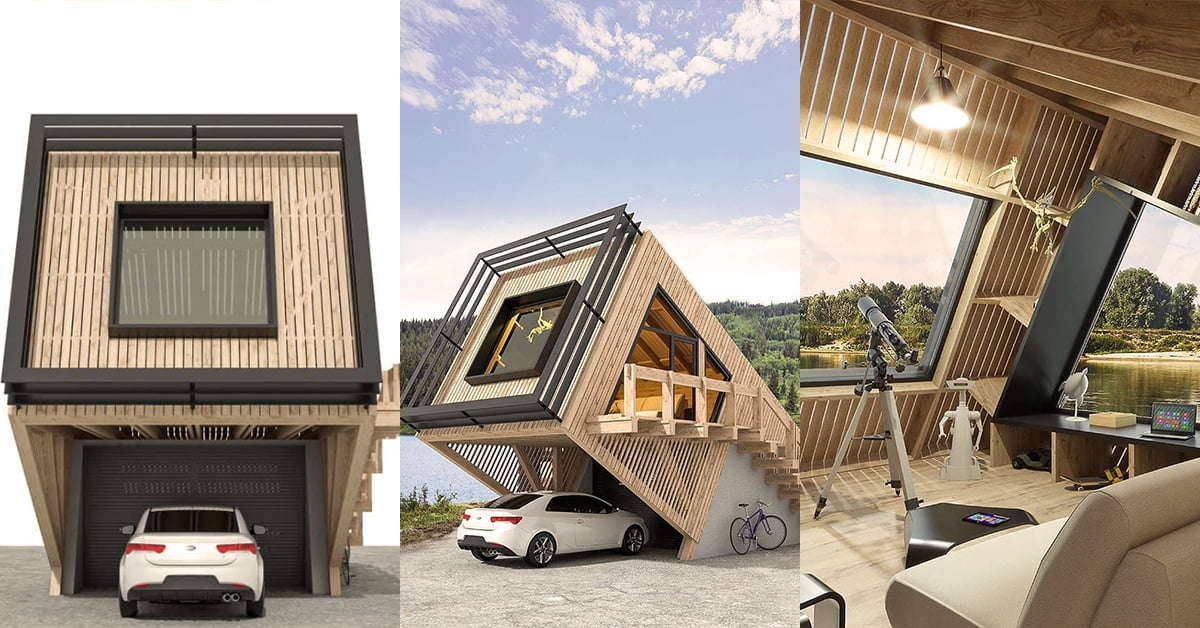 We are in love with this truly unique garden office design, decorated to let the occupant's imagination flow.
Imagine driving up to this office, parking up in the built-in garage, and setting foot in this inspirational space. A uniquely positioned window provides remarkable views. With an office like this, no working day would be a dull slough.
08. Keep Your Work Contained
(source: Contemporist; designed by Randy Bens)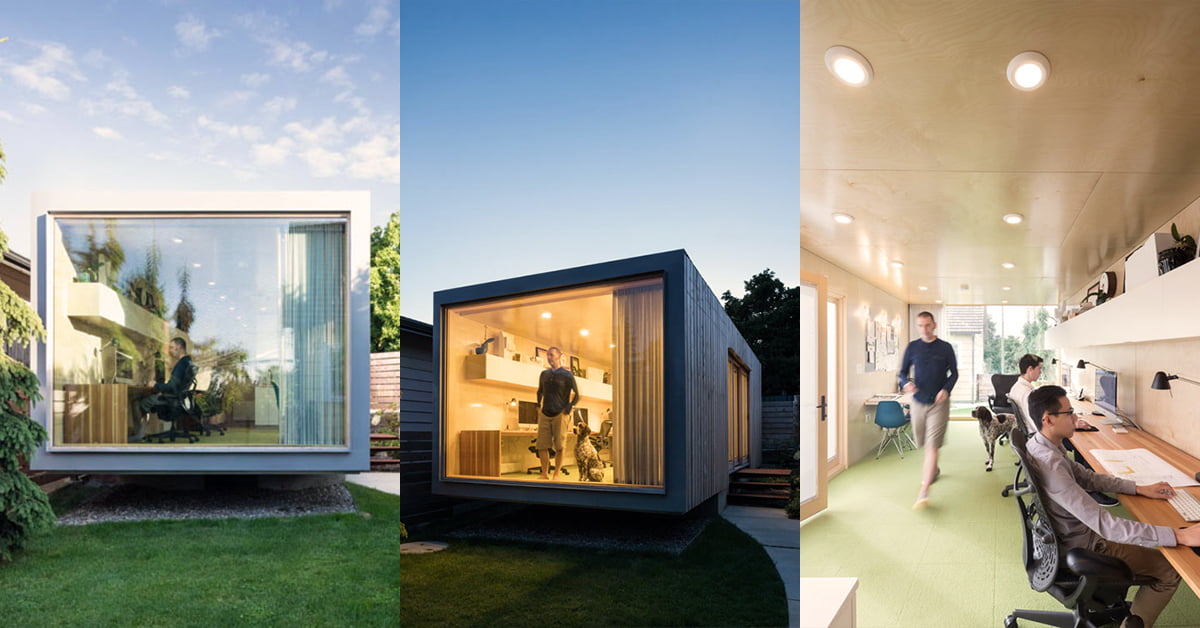 Canadian architect and designer Randy Bens converted this storage container into a garden office for him, his employees, and even a designated office dog.
Being more than spacious enough for Bens' close-knit team, this container office is the perfect way for him to communicate with his team in person, all from the comfort and familiarity of his garden.
09. What a Corker!
(source: Surman Weston; photography by Wai Ming Ng)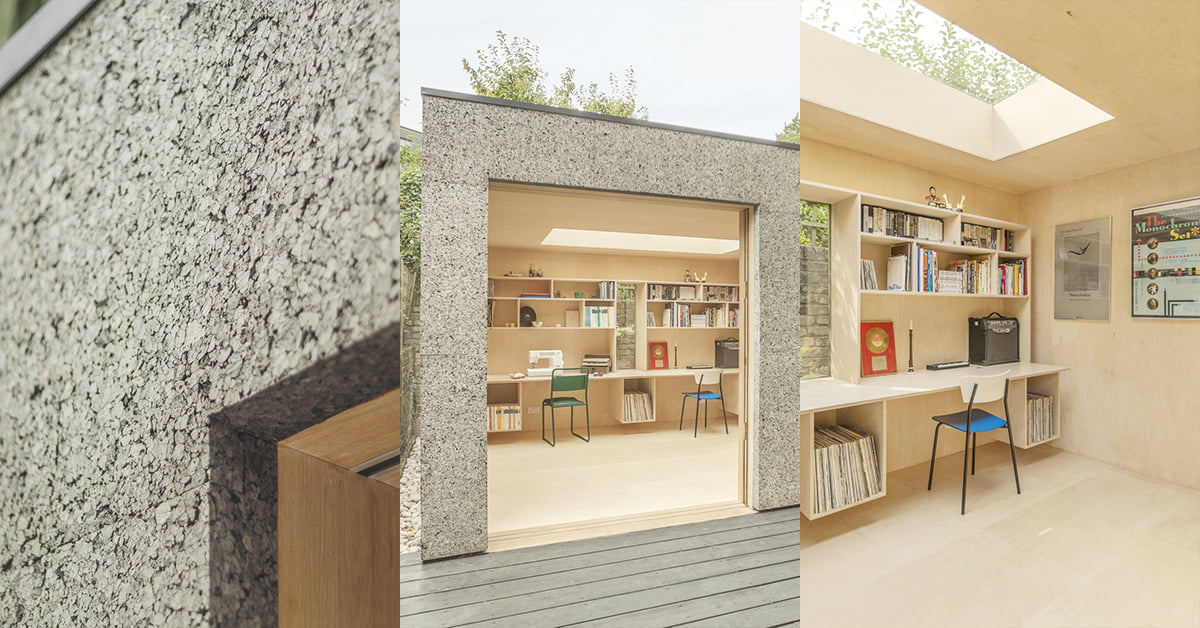 This garden office has an incredibly unique exterior, which is composed of cork. While this is far from your typical cladding material, it provides much thermal insulation and soundproofing.
This office is just as beautiful on the inside as well. The material used for the walls and furniture is birch plywood, elevating that natural and rustic feel.
Built for a musician and seamstress couple, they each get a spacious desk space next to each other.
10. Tall, Dark, and Handsome
(source: Contemporist; designed by Richard John Andrews)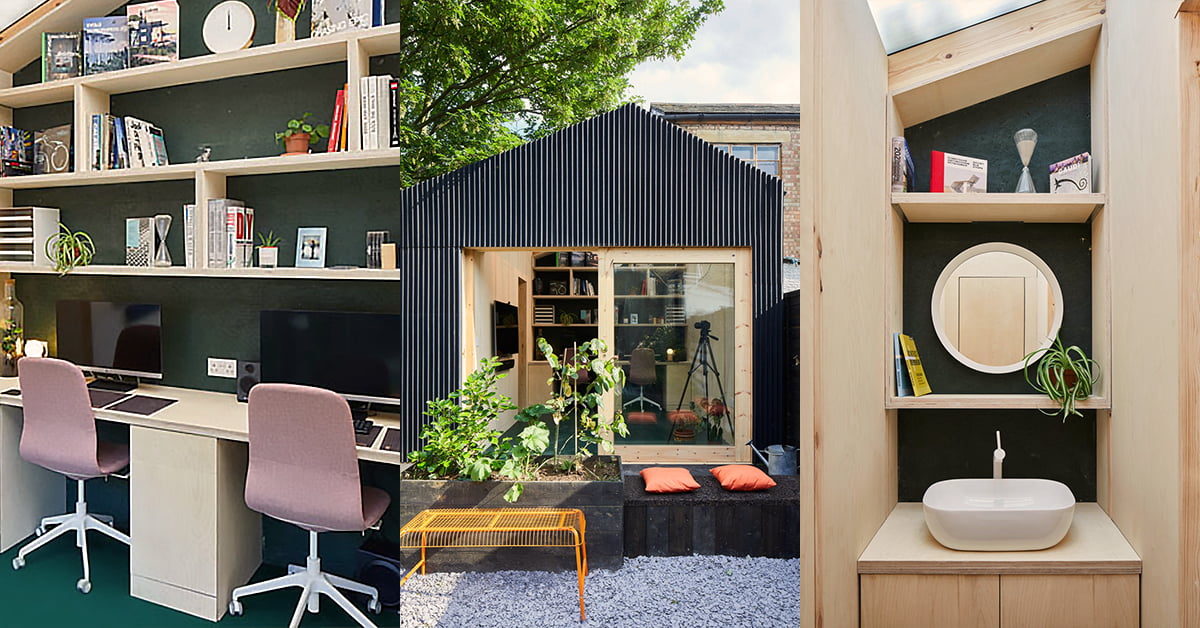 The black, vertically aligned corrugated fibreglass panels give the exterior of this garden office a brilliantly bold appearance.
Richard John Andrews, who designed this building, gave it the name of "The Light Shed" because of the natural lighting that the bespoke timber sliding doors provide.
This garden office even has a small built-in bathroom, complete with a vanity and open shelving.
11. A Beautiful Office by a Beautiful Pond
(source: A Room in the Garden)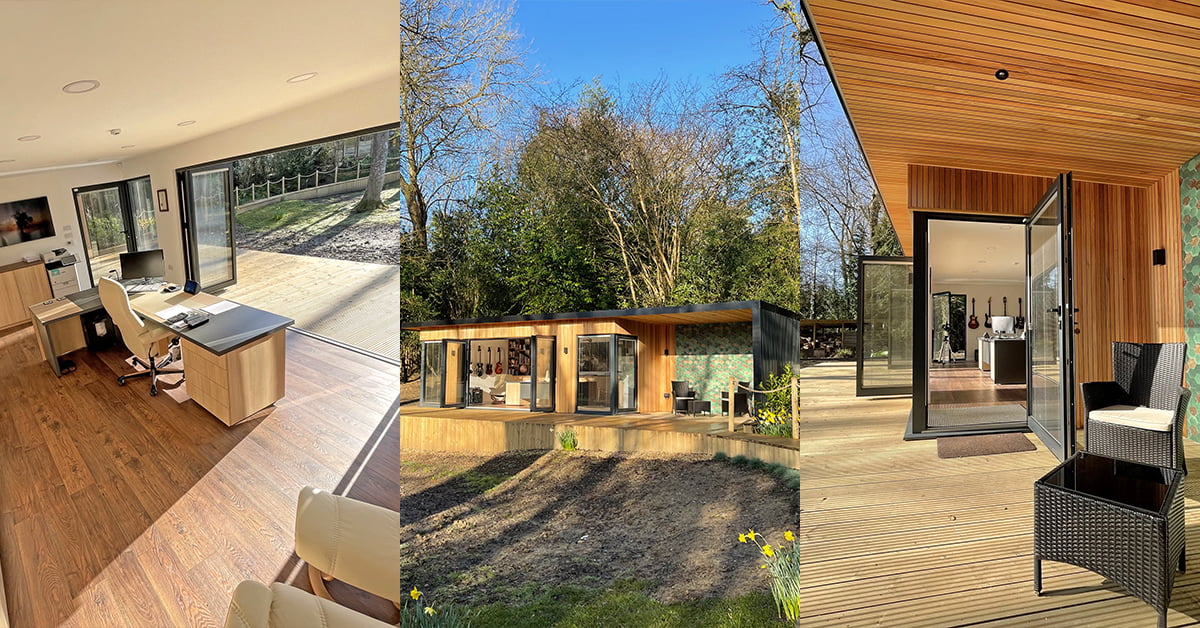 We designed this luxurious garden office for a reputable lawyer, and it is truly one of our proudest works so far.
Everything about this office was bespoke. From all of the furniture to the 30-metre long bridge that leads through the client's garden, it is jam-packed with features.
Being the dream workspace that brings our client's demanding job to his prized garden, this garden office by the pond is what the owner is proudly calling "the best garden office in the world".
12. Whiteboard-Walled Workspace
(source – Humble Homes; designed by Romero Silva Arquitectos; photography by Bruno Giliberto)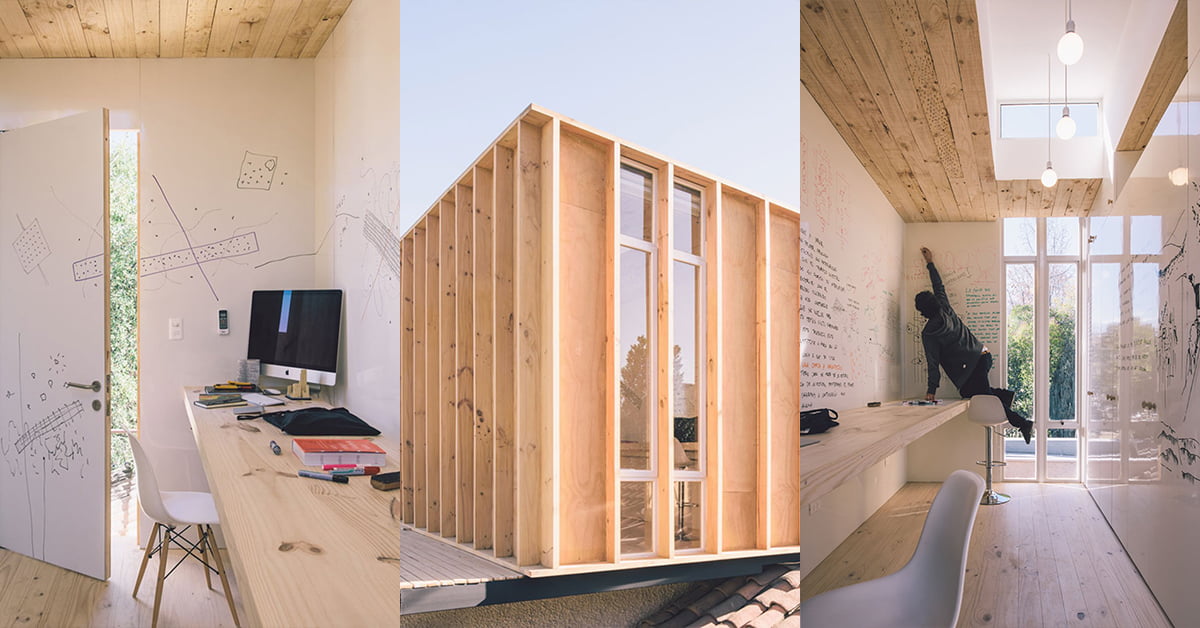 Designed and built for an architecture student in Chile, this office brilliantly reflects their architectural passion.
This small and cosy office is situated on the roof of the occupant's house. Not only is it visually striking, but it also provides some great views.
The best feature, however, has to be the whiteboard walls. This lucky architecture student can jot down notes and create drawings on whichever wall they choose.
13. Creativity Cubed
(source – OfficePOD)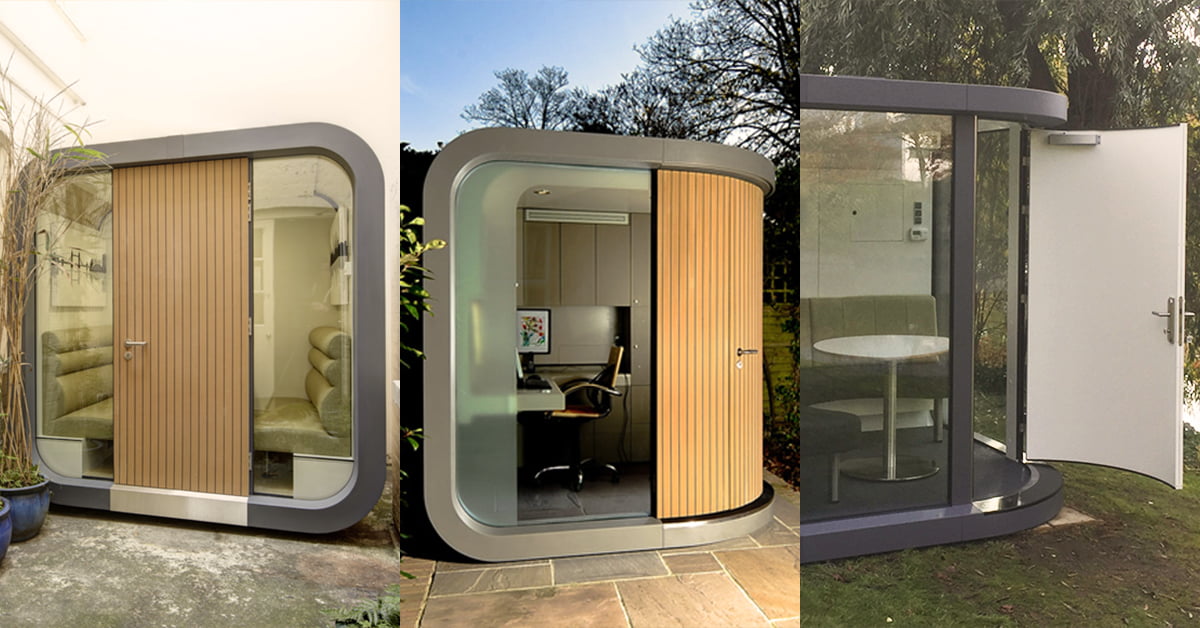 Small, sleek, and especially cubed office designs are widely popular. That said, these office pods seem to carry all of these qualities.
The more compact design will allow anybody to focus on their work with no distractions. However, these pods also make for great meeting rooms, where you can brainstorm the next revolutionary idea.
14. Step into the Light
(source – Dezeen; designed by Serge Schoemaker)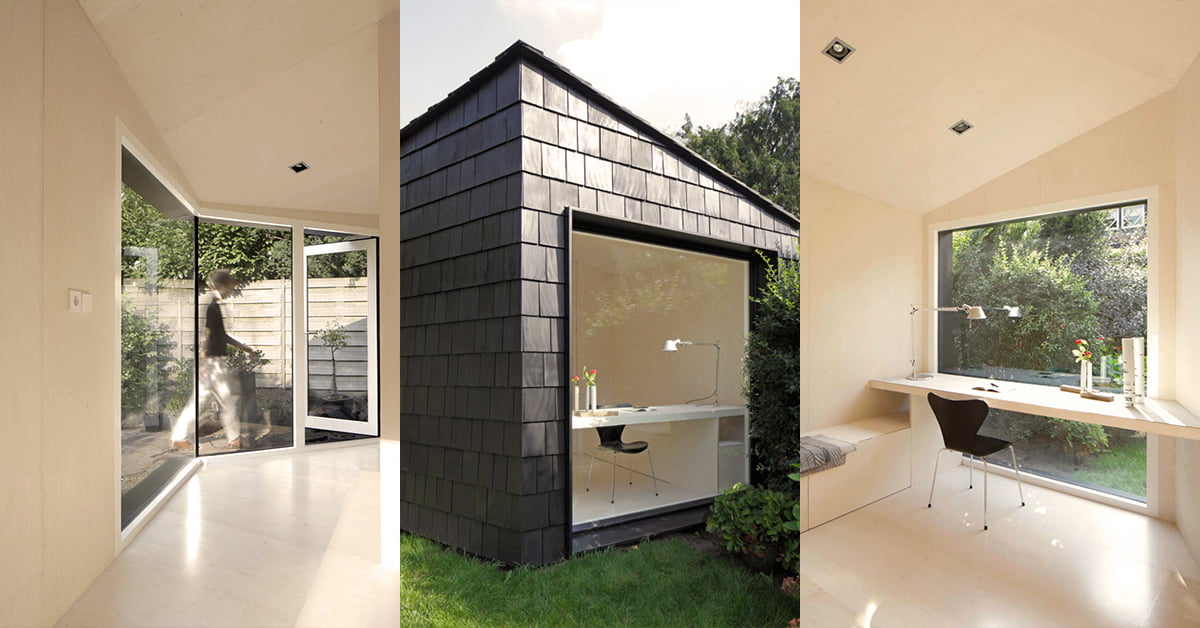 Dutch designer Serge Schoemaker has designed this gorgeous garden office, which uses different materials to its advantage.
The exterior of this garden room is composed of cedar shingles, painted black by hand. However, birch plywood, lacquered with transparent white, decorates the interior. We love the contrast between the dark and light that this room has.
15. All Work, All Play
(source: The Garden Office)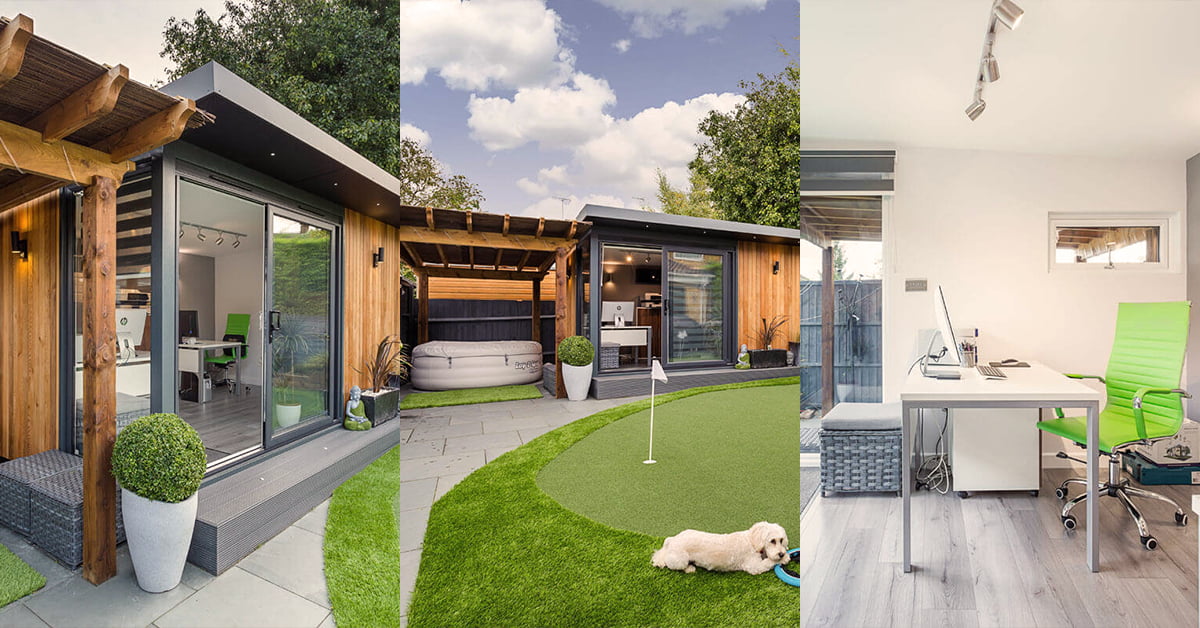 Imagine having a dip in a hot tub after you finish work. This garden office has precisely that, to create the perfect marriage of business and pleasure. The occupant of this office can step straight out to enjoy some time in their Lay-Z-Spa, placed under a pergola. 
There is plenty of luxury within the office as well. Spacious windows and a modern, clean interior create a bright and fresh work environment.
16. Stories High
(source: Architizer; designed by Ashton Porter Architects)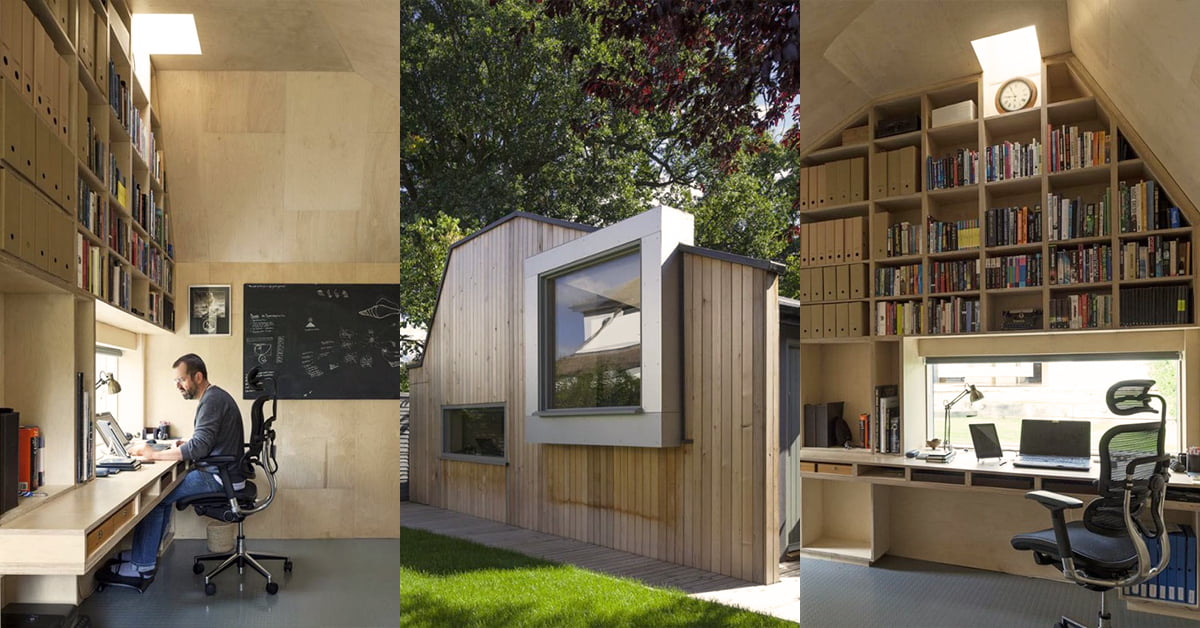 Many of the best business people read a lot of books. But the more books you buy, the less space you have to organise them neatly. 
This garden office solves that problem beautifully. The highly generous amount of shelving space fits perfectly with the ceiling's unique shape. We also love how each of the ingeniously positioned windows brightens the most prominent areas.
We only hope they have a ladder to reach all those books.
17. Branching Out your Business
(source: ArchDaily; designed by RPA; photography by Eric Staudenmaier)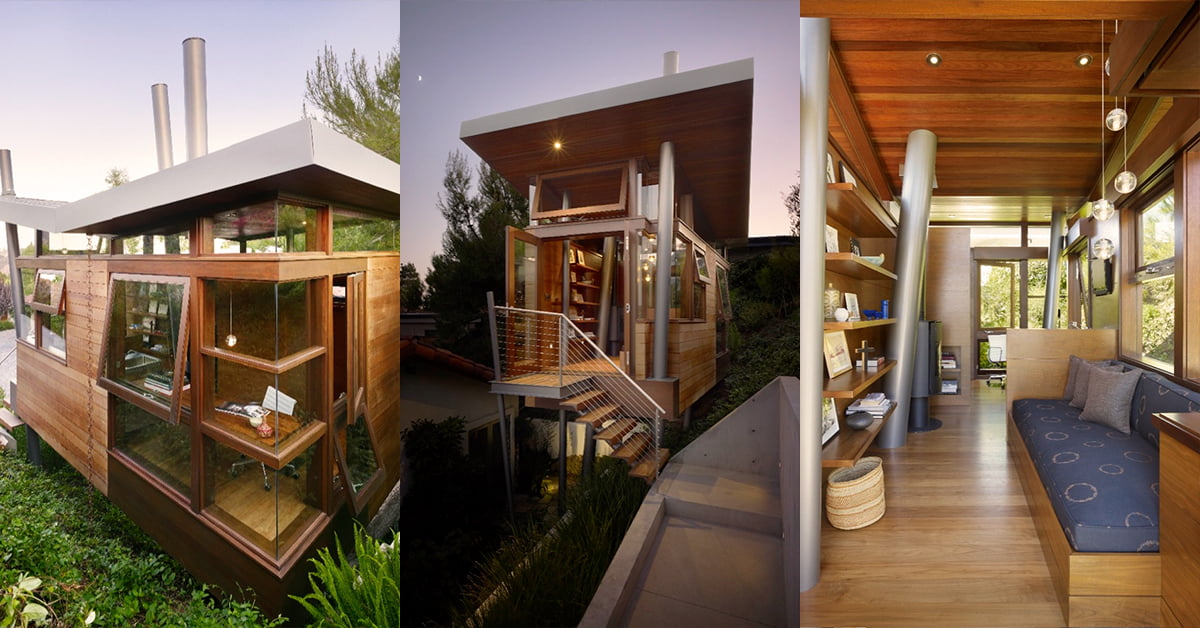 What could be a more peaceful and fun workplace than your very own treehouse office?
The occupant uses this bespoke treehouse as a peaceful art studio. It comes with many brilliant features, including a butterfly roof and an outdoor shower on the stairway. 
However, the best feature has to be the stunning view of the city of Los Angeles that this treehouse studio provides.
18. A Shepherd's Hut, Now a Shepherd's Office
(source: The Micro Life; designed by Contemporary Shepherds Huts)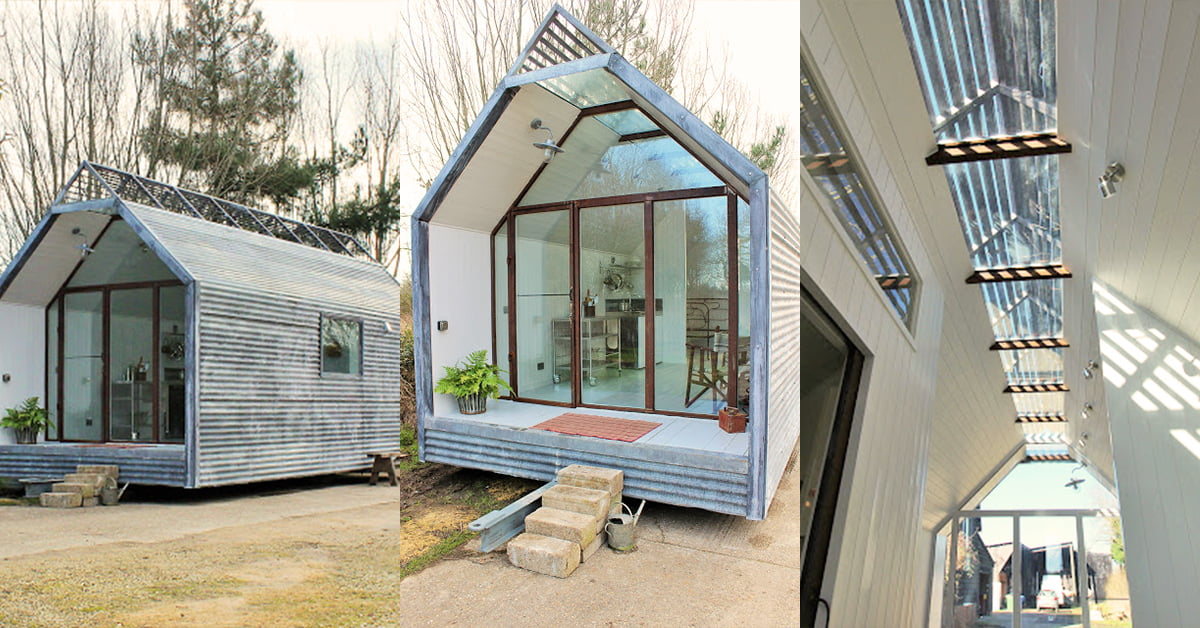 These shepherd hut conversions provide a uniquely rustic look and feel. On top of this, it can provide the perfect canvas for a garden office.
These conversions, designed by a company based in Suffolk, come with a narrow skylight and plenty of space to play around with. Their design makes them fully functional and fully mobile.
19. Naturally Modern
(source: Rooms Outdoor)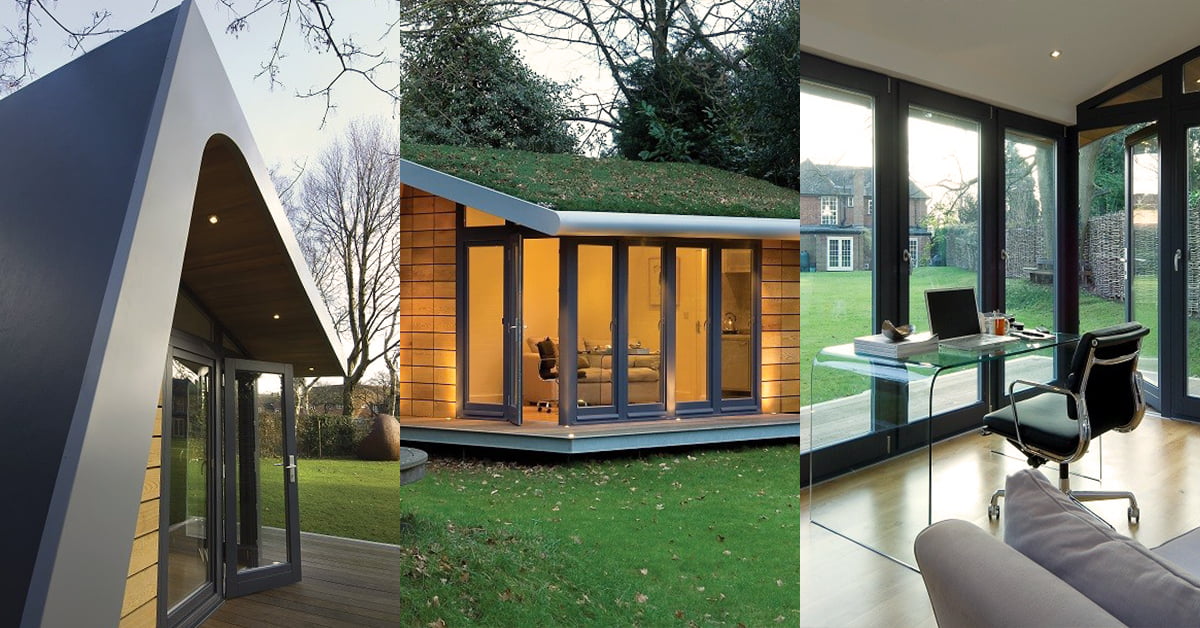 This writer's retreat has an incredibly bold design that offers a perfect blend of natural and futuristic.
The vaulted green roof allows the building to blend in with the surrounding garden. On top of this, it also makes the room appear more spacious on the inside. The angled design remains consistent, all the way from the roofing to the cedar panels that make up the exterior.
20. A True Classic
(source: A Room in the Garden)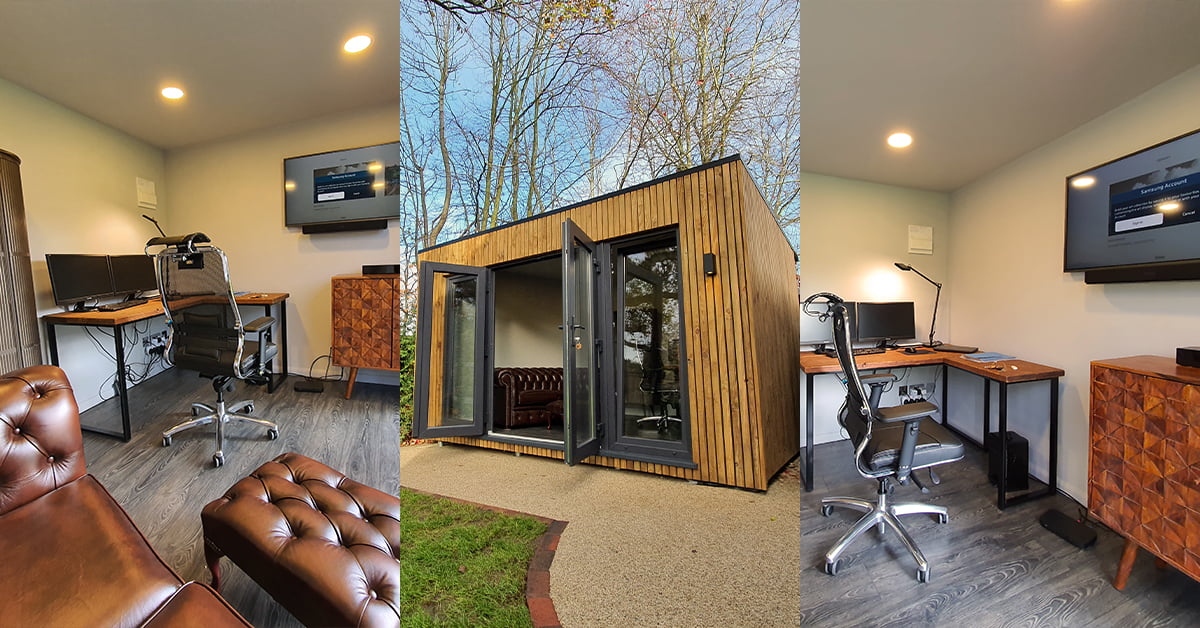 Sometimes, a straightforward design can be the best. This garden office we built is a shining example of this.
We love how our client has decorated our classic Primo silhouette with some luxurious looking furniture. They have taken full advantage of this cosy space to have everything they need at their disposal.
We hope that you have gotten inspired by the splendour of these projects. We thrive when working on unique and exciting projects, and we always love to outdo ourselves.
If you are looking to bring your working life to the familiarity of your back garden, get in touch with us today. But if you still need some more inspiration, you can take a look at our gallery here.
Get Started
Whether you just started thinking about a possibility of having a garden room, or we are the next company you just want to check the prices with, our Get Started page offers you an easy option to check what you need.
A Room in the Garden Ltd | Bespoke Garden Rooms