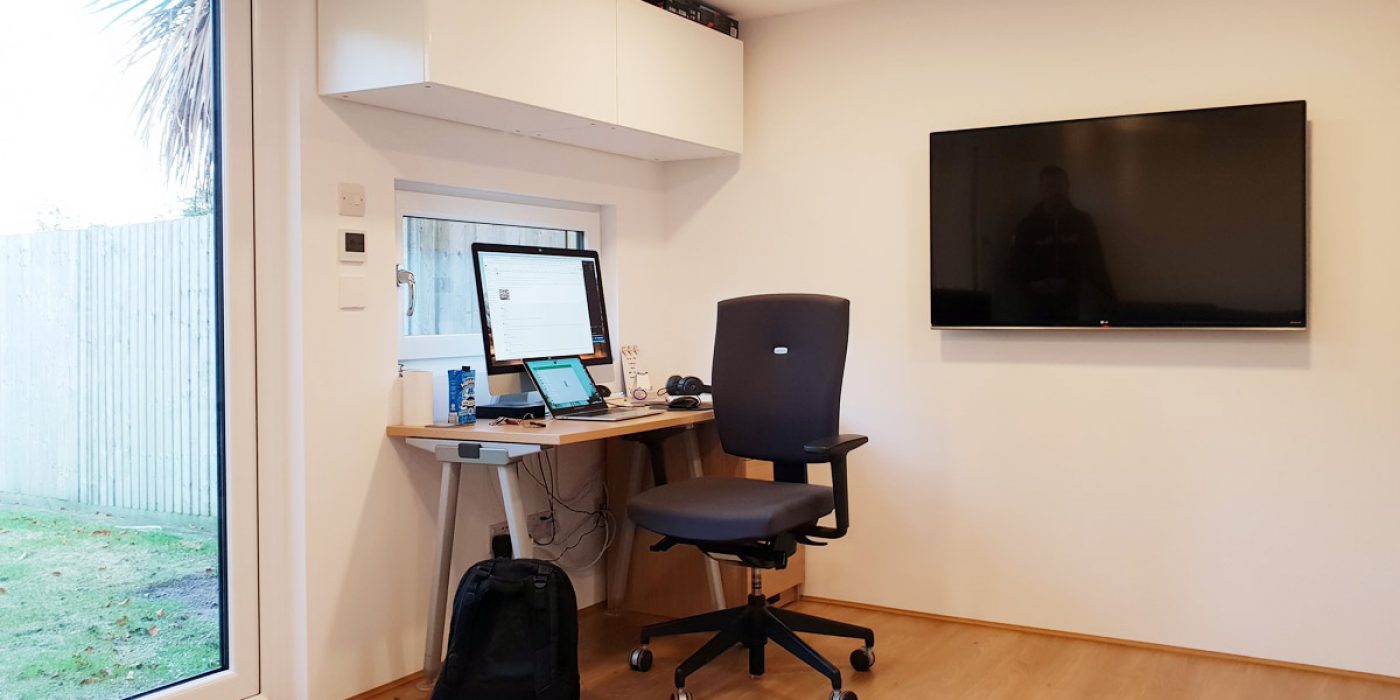 As office rental prices go up and more businesses reach their audiences via the Internet, company owners are starting to save money by running the show from their home. We feel that a garden office pod is the solution to the modern challenge of having a professional space that's not only productive, but also cost-effective.
To show you what we mean, here are our top five benefits of having a garden office pod instead of a traditional office space.
The Benefits of Having a Garden Office
1. You Avoid Frustrating Commutes (more time for you and your family)
A great number of my Brighton friends have attempted to live out the dream of working in London. But soon the reality of the daily commute kicks in and waking up on Monday to catch a 6am train becomes a chore.
Some have chosen to find employment in Brighton whilst others have decided to set up their own businesses. What this then creates is the dilemma of where to have your office.
On the one hand, you can choose somewhere nearby, but I'm sure you can take an educated guess on what the office rental costs are in Brighton. That then leaves renting a space out-of-town as the alternative and you're back to the early morning commuting again. A garden office pod allows people to drop the frantic mornings and expensive rental prices in favour of a leisurely 30-second stroll across the garden. Saying goodbye to commuting also means extra time to dedicate to yourself and your family!
2. You Save Money
I did some research when writing this article and looked at some of the rental costs for an office space in Brighton. Generally speaking, it was quite difficult to find spaces that charged under £200 per person, per month.
A small garden office pod will cost you around £9000. Let's now do some math. Write down the cost of your monthly office rent, add the money spent on travelling and those spent for your lunch. Now multiply by 12. How many year will you need to make up for the cost of your garden office? If you live in the Brighton area it should take you around 2 to 3 years. From that moment own that sum of money that you have written on the piece of paper in front of you will not be coming out from your pocket anymore! That'll be very handy when it comes to planning your next holiday.
Read our article on How to fund your garden office
3. The Value of Your Home Increases Instantly
This is something we've discussed before when interviewing Clifford Estate Agent's Ben Hooper last October. According to Ben, having a visually attractive garden office pod could "easily add about 10/15k to the price of the property" and also be of help when it's time to sell your property. You can learn more about it in our article Is building a storage room, a summer house or a garden office a cost or an investment?
4. Your Working Environment is Comfortable
Renting an office space means you have to adapt. There may not be enough plug sockets, the room might have maintenance issues or the neighbouring businesses are a nuisance. At A Room In The Garden, we build bespoke garden buildings that are tailored to your business and personal needs. This means you get something that'll help your business run smoothly and put you in a productive working state.
A comfortable space is also useful when you have client meetings, as they can feel at ease when discussing business with you. The more comfortable your prospect is, the more likely they are to buy from you. It's a nice opportunity to create a positive first impression and build a strong relationship off the back of that. This can then lead to more loyalty from your customers.
Scientist have proven that looking at green plants and trees lower the heart rate and relax the mind. That is an extra bonus!
5. You Achieve a Better Work-Life Balance
One of the greatest annoyances in my life are delivery companies. You get an estimated delivery time that covers most of the day and somebody has to be present in order to sign for the package. If you try to reschedule, the only times available are when you definitely aren't at home.
By working from home, this is no longer an issue. Neither are ill children, as a garden office pod allows you to have that flexibility when the unexpected occurs. You are able to catch up later in the day after nursing your poor child back to health. As an added bonus, you can also catch up on your housework when necessary. It won't take much time out of your day to pop on a quick laundry wash, or a dishwasher load.
Some offices that are available to rent have a strict policy on hours of operation, meaning nobody can be in the building or on the estate between certain hours. This isn't very flexible if you fancied taking the kids out for a daytrip, but with your own garden office you can take the kids out for the day and catch up with work at night. It's very handy!
Garden Office Pods Are The Future
Technology has improved to such an extent now that people can run hugely successful businesses from their home with ease. You don't need big servers or expensive computers, thanks to The Cloud and Smart technology.
Our prediction for the future is that office spaces for small businesses that have fewer than five employees will become a thing of the past. Instead, garden office pods will become the modern, up-to-date choice.
Having a successful business is based upon high productivity and low costs. As discussed in our five benefits above, having your own garden office can prove to be cheaper than a traditional rented office space and also boost productivity. If you would like to know more about our garden office pod solutions, please get in contact today to book a free site visit.